As regular readers know, every year we experiment with a new round of tulips, choosing ten or so varieties and thirty of each to expand a palette of favourites. When we moved here initially we grew them in orderly rows and, with room here to have plenty, we cut them liberally and with abandon for the house. Each year we have selected a different colour palette, diving off into the deep end with varieties that appealed in an image and usually going back to a couple that we know from the past for the joy of familiarity or the experiment of a new partner.
It was picking the flowers and feeling uninhibited about doing so that started to open up a new way of looking at these extraordinary flowers. Mixed together and evolving as the bunches aged, they leaned and reached for the light and grew into each other in a way that was impossible to replicate in the order of the cutting garden. We enjoyed the freedom in a bunch with forms and colours apparently juxtaposed and colliding unexpectedly. So, when the new kitchen garden was completed three years ago, we started to grow them differently, dispensing with the order of rows and instead throwing the bulbs together so that their combinations were random. Strictly judged in our initial selection, so that we have control over the aesthetic, but massed together with six or eight inches between the bulbs, we have found joy in the riot.
Every year the outcome has been different for the choice and juxtaposition of varieties. Choosing forms that span the tulip season has assured us a smattering of earlies which age as they collide with the next in line and so on. Tulips last a long time and change as they move from bud to fully blown flower, so the combinations evolve from day to day as they rearrange themselves in height and colour saturation. We aim for a variety of flower shapes and sizes and tend to choose forms with good long stems, those with shorter stems must have something extra in the flower to justify their presence. We cut them randomly as the mix evolves to refine more intended bunches for the house. In a cool spring the process of looking and cutting and then living with the flowers inside again can last almost six weeks. As the mix moves towards its climax there is usually a moment when you stop looking at the individual and take in the field of colour as if it were a textile or an abstract painting. It is a point of saturation and satiation and usually the point at which it becomes time to move on to the summer garden.
We move the tulips around from beds to bed each year to avoid Tulip Fire occuring more than it should. Last year, with a wet spring, it was bad and I am guessing that our West country damp doesn't help, for there is almost always a reappearance. This year the tulips made the pumpkin bed their home and the dry spring has seen us through, removing the odd plant that has shown the twist and distortion of the Fire. When the bulbs are finished I must confess to digging and discarding them to start again next year, but the best and strongest varieties that show signs of resistance will be found a more permanent home in a dry part of the garden where they will be less tested by our heavy ground.
In order of flowering our selection this year was;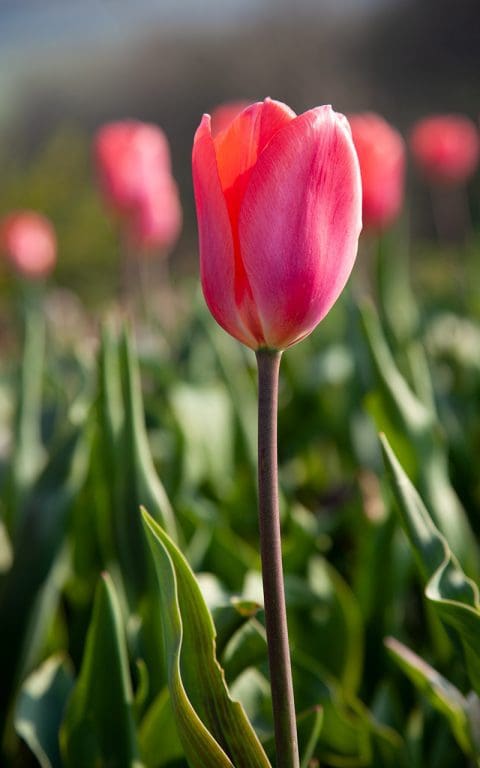 Very early to flower in late March. Good strong stem. The coral pink flower intensifies in colour as it ages. 50cm.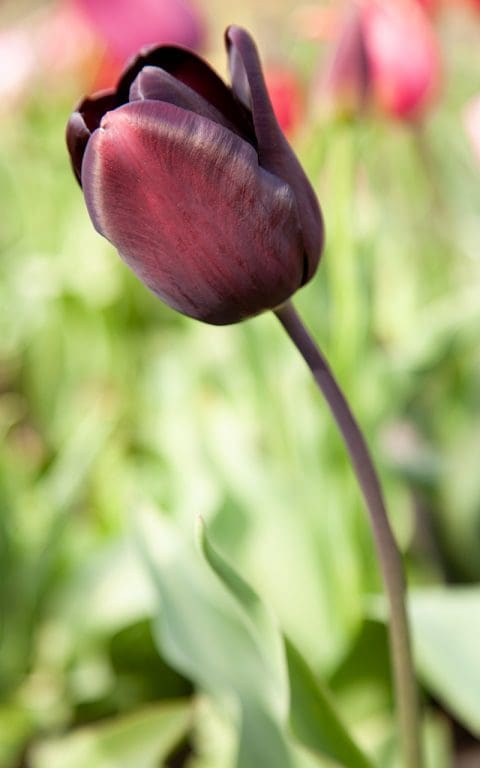 Unusual shade of brownish maroon with fine dark stem. Perfect egg-shaped flower. Very elegant cut flower. 40cm.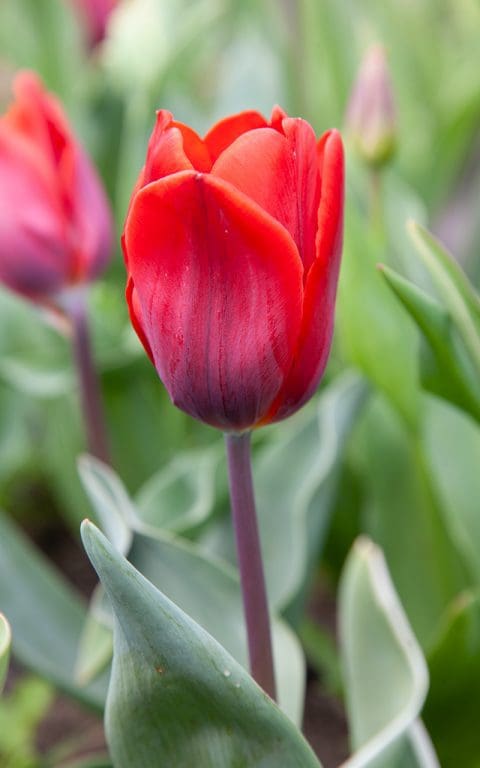 An old favourite, although threatened with being taken off the market in favour of newer varieties. Vibrant scarlet with a heavy bloom to the new petals. 25-30cm.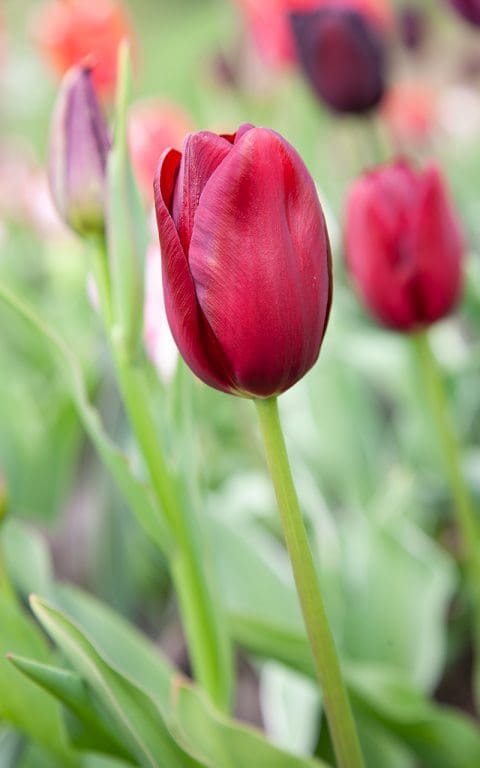 Another we return to from time to time. Another elegant flower in a restrained shade of cardinal red. Upright grower. Strong stem. 30cm.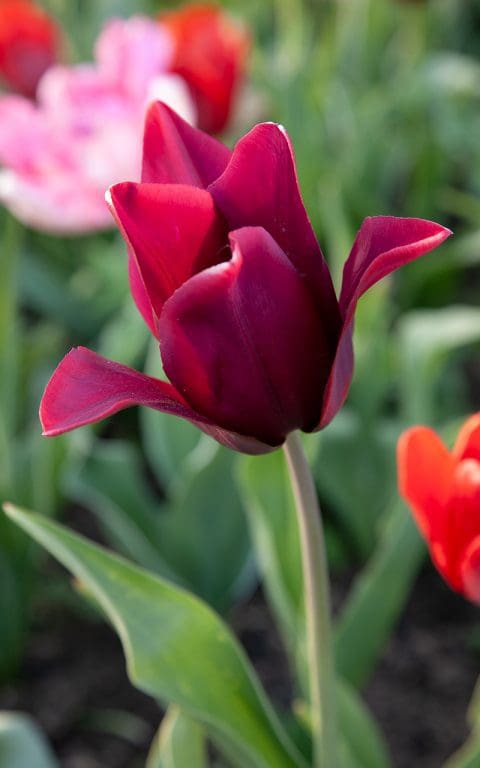 A large lily-flowered tulip in an appropriately named shade of wine. However, the flower seems too large for the stem length and the petals too large for the flower, looking disturbingly like livid tongues. 50cm.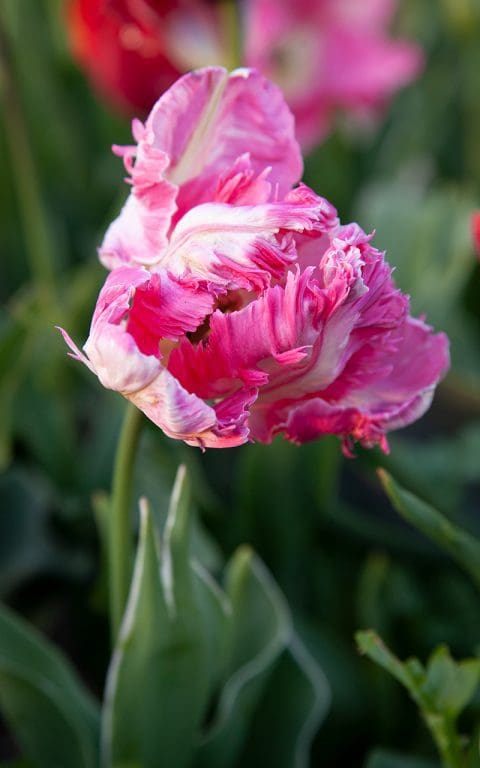 A substitute by the supplier for Tulip 'Fantasy', a deep pink parrot tulip with green veining, this also has variegated foliage which is usually a complete no-no. Although brighter in the mix than intended it made a dramatic cut flower. 40cm.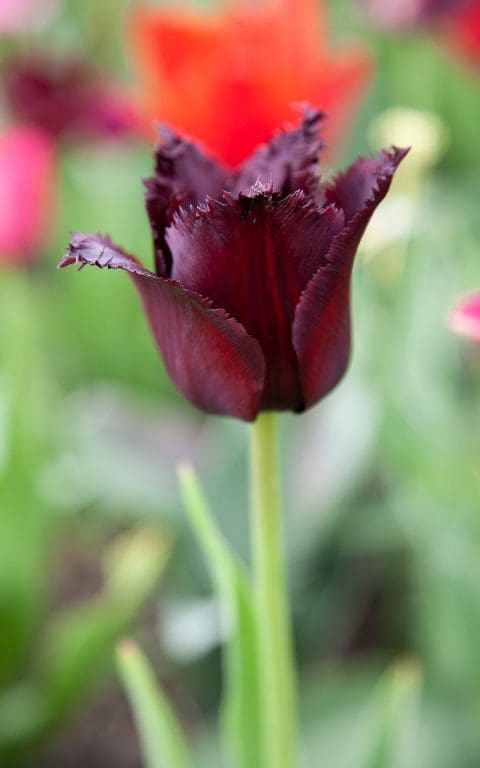 A tall, very elegant fringed tulip of deepest burgundy. Very upright, making it a little stiff when cut. 45cm.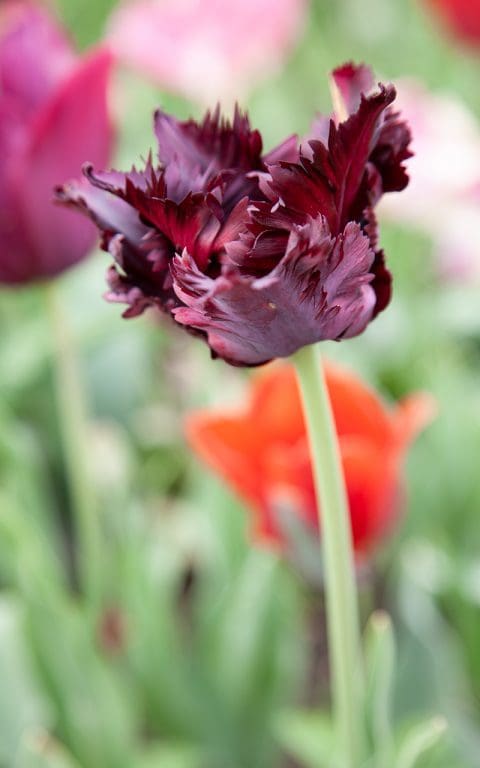 Our very favourite parrot tulip which we return to again and again. Very tall for a parrot tulip. Slender stemmed and with smallish, deeply cut flowers with a heavy bloom. 55cm.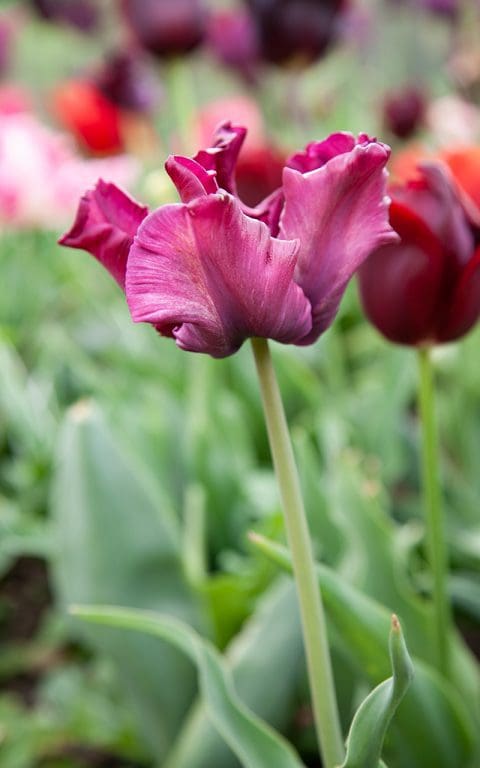 A new variety for us, which we wanted try despite the off-putting name. A semi-parrot in a shade of deep old rose. The shortish petals twist and turn which give it the appearance of a pair of the eponymous frilly undies. 50cm.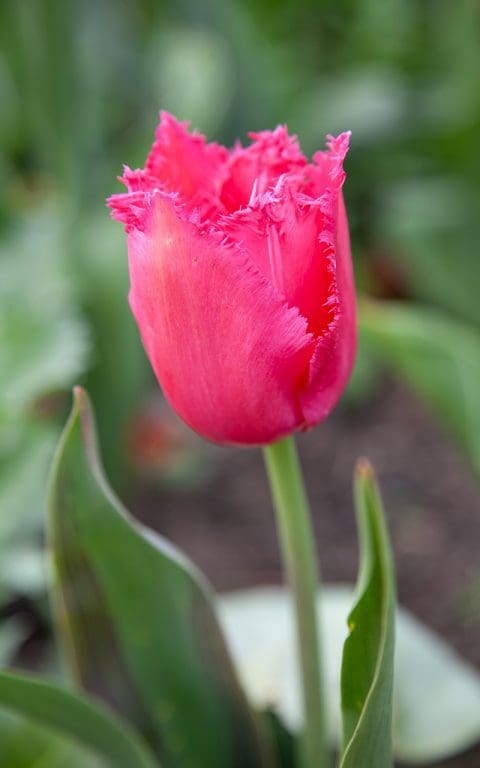 Not burgundy at all, but an eye-catching shade of shocking pink. A good strong tulip with a straight stem. 60cm
Words: Dan Pearson / Photographs: Huw Morgan
Published 4 May 2019