On March 11th 2020 we received an email from a photographer named Kate Friend asking if Dan would be interested in participating in an ongoing project. At that point it had the working title 'A Book of Flowers' and was the development of a series of photographs Kate had been taking over the previous two years. At the start she had asked gardeners from Great Dixter, Chelsea Physic Garden, Houghton Hall and Fern Verrow biodynamic growers to select some of the best flowers they grew. Then, with medium and large format cameras she then photographed them on film using only natural daylight against simple, painted backdrops in colours of her choice. The resulting portraits were strong, sensitive and compelling.
In 2018 Kate exhibited some of them at the Garden Museum in an exhibition titled 'Botanical Portraits'. We had seen the exhibition and were intrigued by her process and so Dan was very happy to agree to be involved. Kate explained that she had since asked a number of creative people that she admired to choose their favourite flower including Margaret Howell, Cosey Fanni Tutti, Maggi Hambling, Penny Rimbaud and George Harrison's wife, Olivia, and that she was was looking to include more people in her selection. We emailed about identifying potential dates for her to shoot at Hillside when some of Dan's favourite flowers would be in bloom and then…
And then the pandemic broke out. We were all thrown into isolation and in that overwhelming hiatus of not knowing when normality might resume, communications stopped. For the rest of March and April we wrestled with the challenges of running the design business remotely from Somerset. Dan was in back-to-back Zoom meetings most days. I was completing the design and layouts of the Tokachi Millennium Forest book to get it ready for publication. So it wasn't until late April that things had settled enough for me to look over month old 'To Do' lists, and pick up with Kate where we had left off.  
The end of lockdown had not then been announced, so we agreed to keep a close eye on government guidelines and to make a date for her to visit as soon as was feasible. On June 1st the restriction on leaving home was replaced with a requirement to be home overnight and people were permitted to meet outside in groups of up to six people for the first time. And so, on June 5th, Kate was our first outside visitor in over twelve weeks.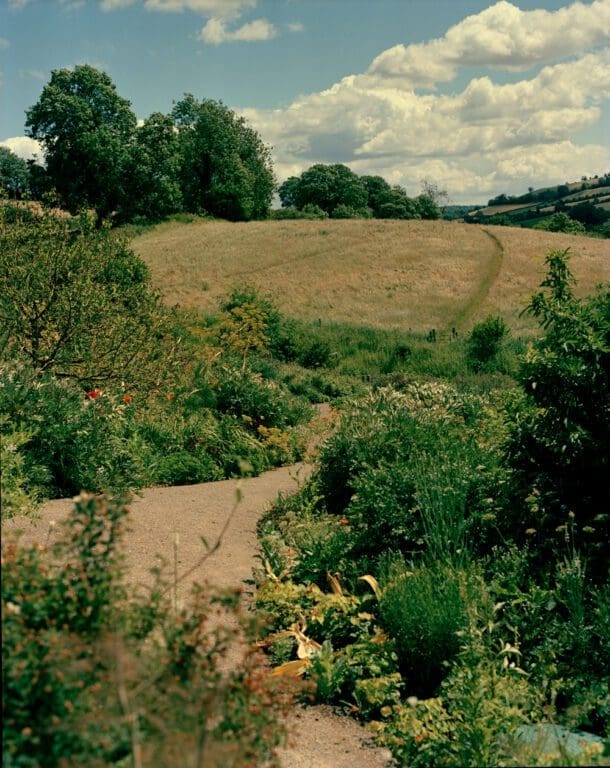 My memory of that day is how gentle it all was. It was one of those dreamlike, perfect summer days which seemed to have been true of every day of that first lockdown. It was a delight to have a stranger arrive after so long in isolation. Although all three of us were wary, careful with each other and respectful of our space we felt like we had met Kate before. There was an immediate feeling of comfort and trust.
Kate stressed that she wanted to make as little impact on us as possible and so she did. We quickly discussed what she needed, set up a makeshift studio and selected a number of vessels. Everything was communicated straightforwardly and organised with the minimum of fuss. Kate had a quiet and focussed presence and a natural gravity. We had the sense that she knew exactly what she wanted, while at the same time having no idea how things would turn out and in that there was an edge of excitement. Of course, she was extremely observant and, as we walked her round the garden, she instinctively pointed to and asked about either the most unusual and distinctive plants or those that we might have overlooked, since they were so familiar to us.
As Christopher Woodward, Director of the Garden Museum writes, 'Friend devised a precise mechanism for this project, the rules of which are the first explanation for the exceptional strength of these images. She visits a person in their garden and asks them to choose a single flower. It has to be one in bloom that day. The sitter – for it is a sitting, by alter ego – must also choose the receptacle, vase or bottle. Friend then improvises a space to shoot – perhaps in the conservatory, as Olivia Laing describes, or a pottery studio – and brings out a set of paper boards of various colours. She shoots with an old analogue Pentax camera, and there is no post-production.'
Dan had earmarked a black opium poppy as his flower of choice. He had collected seed of it as a child from a garden he passed on a cycle ride. Amongst all the flowers he loved, it held a special place for him. He had grown it in every garden he had ever planted, including at Home Farm and at our house in Peckham, as well as distributing its seed amongst friends in small, homemade paper envelopes. It was both his and everyone's. However, when Kate came to photograph it, she found that the rich, satin petals that on the plant splayed open to set off the jade-coloured seedhead, closed in upon themselves when cut, concealing what made the flower so opulent and alluring.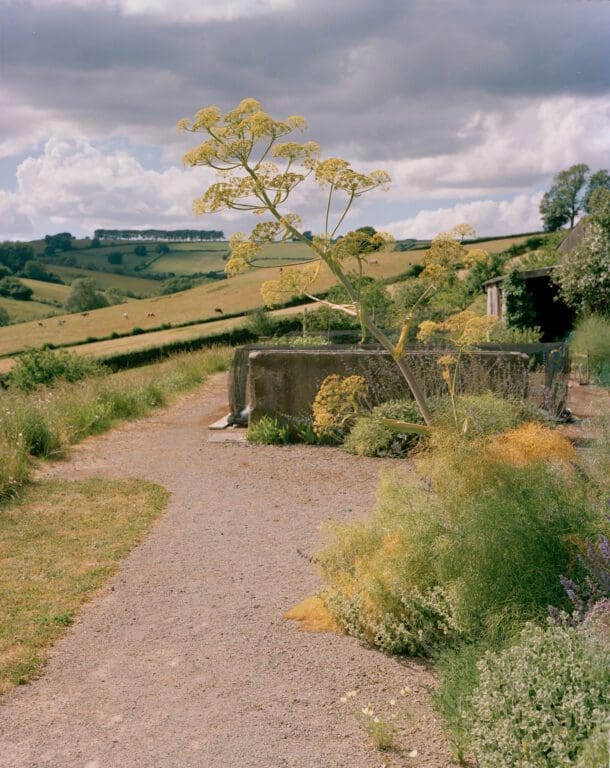 Kate explains that, 'For me the process is about giving over some element of control. So with each sitter, whatever happens that day is what I go with, and the result is the combination of factors that took place at that particular time. Place, time, light, character, constraints, weather. The work becomes the result of those elements. I like to give in to it wholly and, therefore, do not reshoot. For me it makes sense for the process to honour the subject. So given the temporality of the plant, I like to acknowledge the temporality of the situation that gives rise to the plant's existence.' 
'Some of the sitters could not choose just one flower,' she says, 'so we went with what was in season and looking good that day. John Pawson for example, told me if it were up to him he wouldn't have flowers at all, but the white roses were an acquiescence to his wife. Tania and Jamie Compton, they just let me loose in the garden. Tania occasionally bringing armfuls of cuttings. In these instances the final choice is about the best photographic result. Piet Oudolf the same – I camped out in his shed for a few hours in May, he let me cut and photograph whatever I liked. Again, the portrait of the Meconopsis cambrica was the best result that day, if choosing just one. 
Sometimes a sitter is very clear about the flower. For example, Jeremy Lee and Margaret Howell. And Olivia Harrison – she was one of the first portraits – definitely wanted the Himalayan blue poppy. It was a scramble to get over there at the right time, as it flowered early, and briefly.'
Dan was in meetings on the day Kate came, so when we heard that the poppy wasn't working he and I quickly conferred and drew up a list of alternatives. I went back out into the garden, secateurs in hand, to cut a selection of umbellifers, Cedric Morris' rich, bi-coloured sweet peas, a cream eschscholzia grown from seed gifted by Beth Chatto, a pink dierama and a blood red dianthus. After developing and editing the images it was these last two which Kate felt spoke most strongly of her day at Hillside and her interactions with Dan and the garden.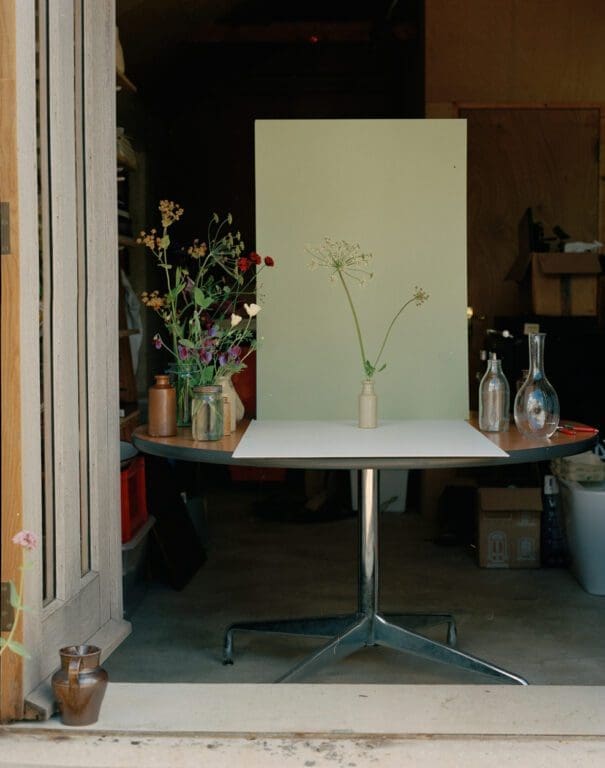 As she packed up to leave she asked us if we would recommend some other subjects for her portraits and we sent her a short, select list of friends and clients. One of these was Juergen Teller, the photographer whose London studio garden we had recently completed and who Kate was keen to be connected with. She recently explained how his portrait came about. 'Juergen, as you know, has many seemingly non-flowering plants at his studio, so the strawberry was really the only plant that could have worked. Juergen wasn't there when I visited, so whether he chose to have strawberries planted, or Dan chose…'
Having exhibited a number of these portraits once again at the Garden Museum in 2021, Kate finally started work on the book that she had always intended. Now titled 'Portraits, As Chosen By…' it is published this week. One of the most pleasing things about seeing these images gathered together is that several of these 'alter ego' portraits are of people we know. Of course, there are the garden designers, Fernando Caruncho, Luciano Giubbilei, Piet Oudolf and Tom Stuart-Smith, but also friends Tania and Jamie Compton, Jeremy Lee and Margot Henderson, former clients Paul Smith and Olivia Harrison and creative collaborators John Pawson and Margaret Howell. Whether intentionally or not, each flower portrait reveals something particular about each subject, which perhaps allows us to see them afresh.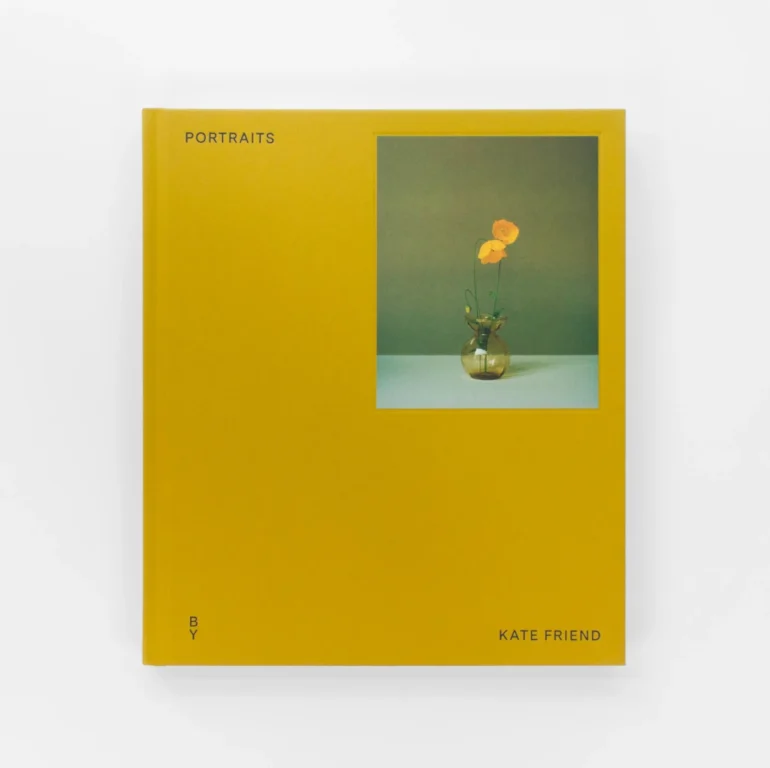 In her introduction to the book, and as one of Kate's subjects, Olivia Laing writes, 'I'd picked what looked good that day and hadn't regarded my choices as a secret mirror of my personality, but now that I look at the other images I can't help but read them as stealthy snapshots that convey a coded message about the person who grew or picked the plants, their aesthetic and sensibility. When I look at the portraits here, I like imagining the gardens they have come from as well as the people who selected them, circling their borders thoughtfully on a February or August day.'
Kate's portrait of the dierama has lasting resonance for us for two two reasons. Again, it is a plant that we had both lived with for thirteen years in Peckham. It is used in the garden here in the same way as there, along the path so that you must physically engage with its arching, mobile flower stems as you pass. It marks a particular moment in the high summer garden and is remarked upon by all who visit. It is a plant that neither of us would ever want to be without. Then, if you look closely, reflected in the bulb of the glass vase, framed by the doorway through which she is shooting, with a cloudy blue sky above and below her, is Kate. A portrait within a portrait within a portrait and a record of a most memorable day in an unforgettable year.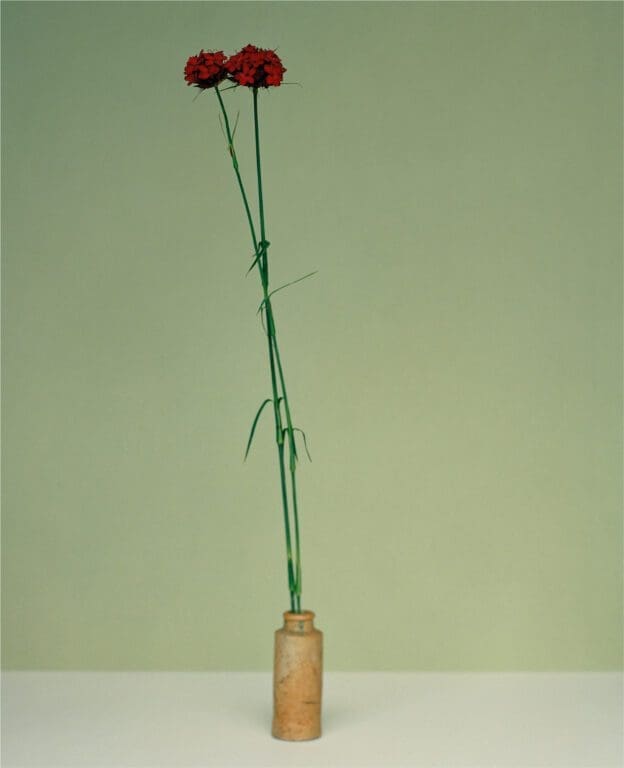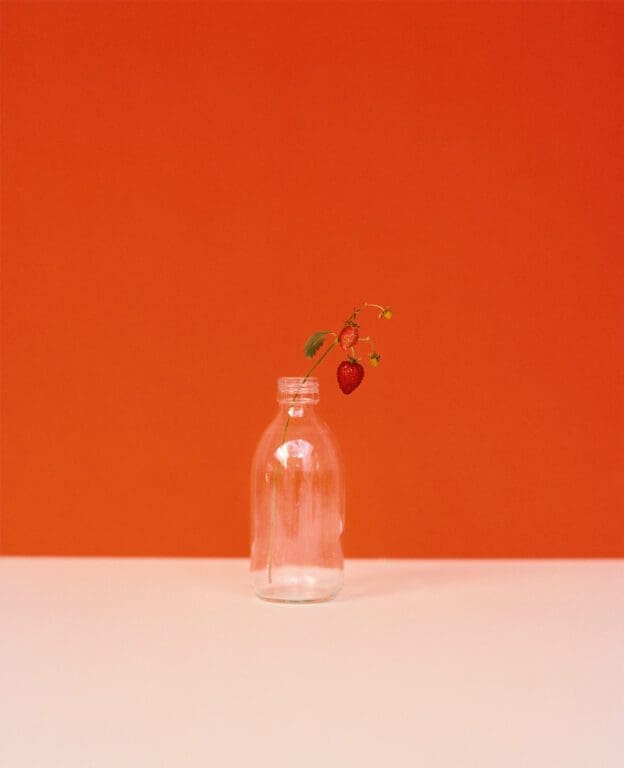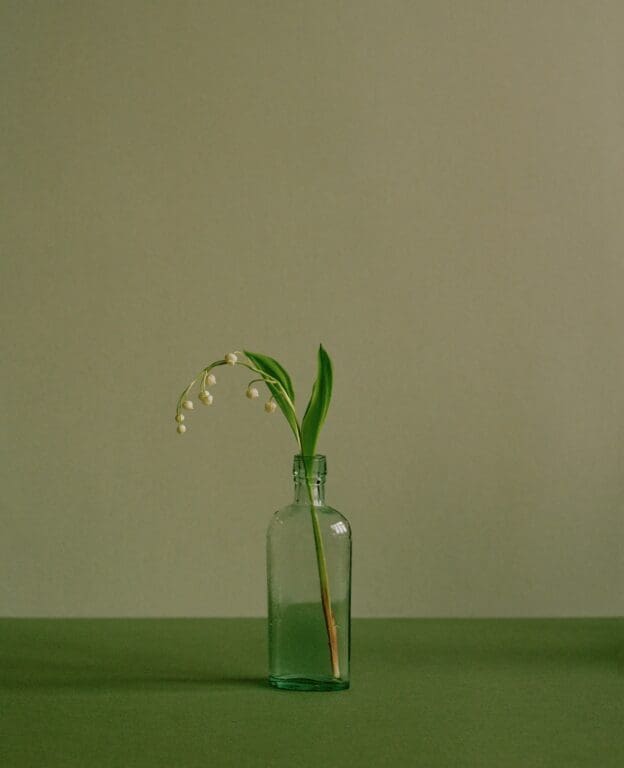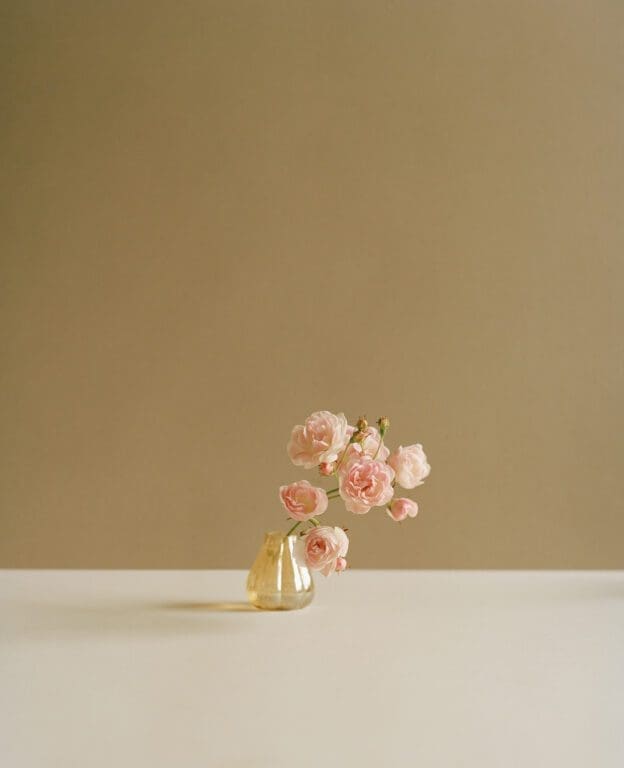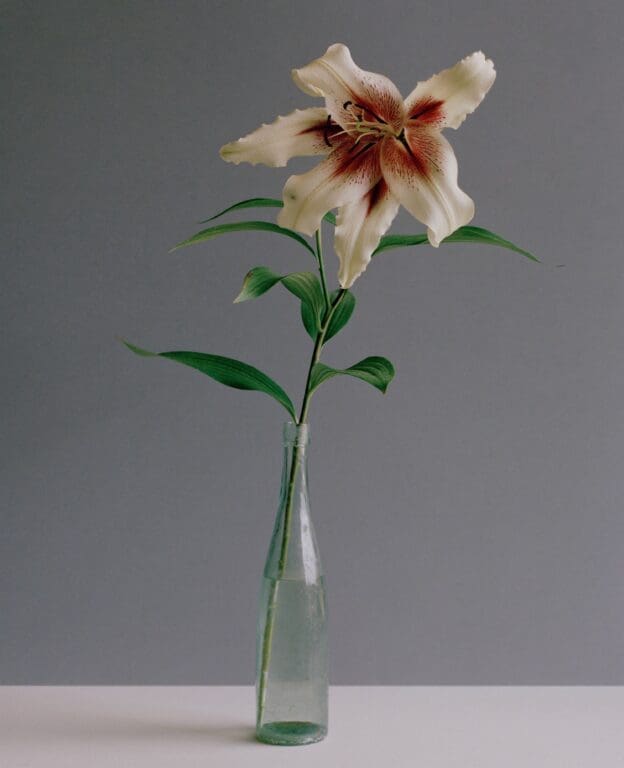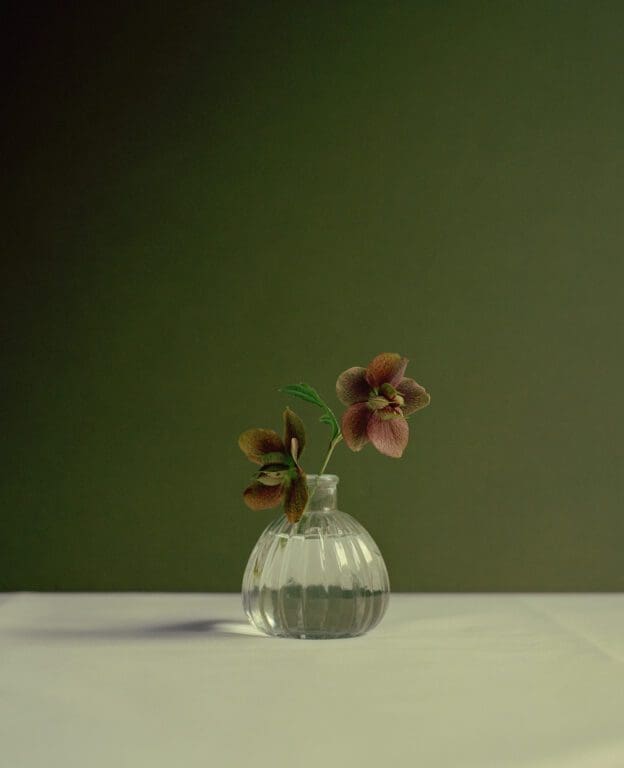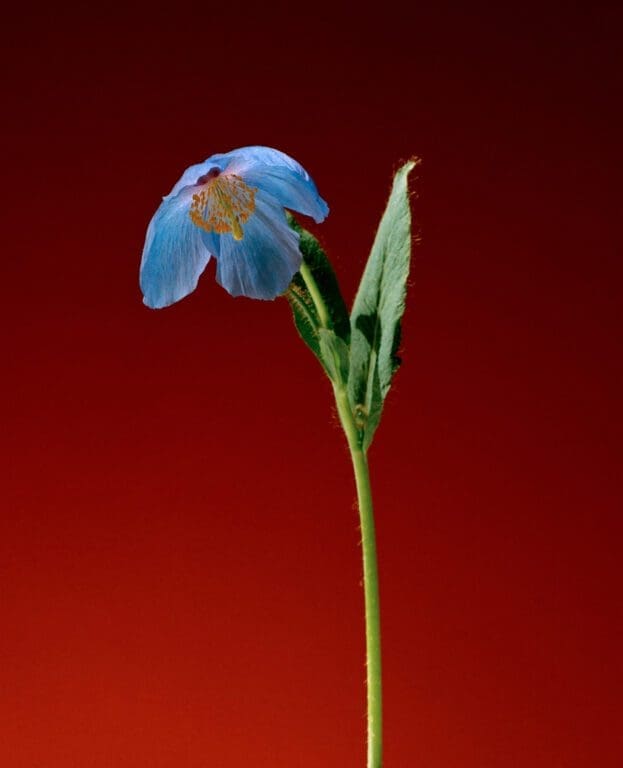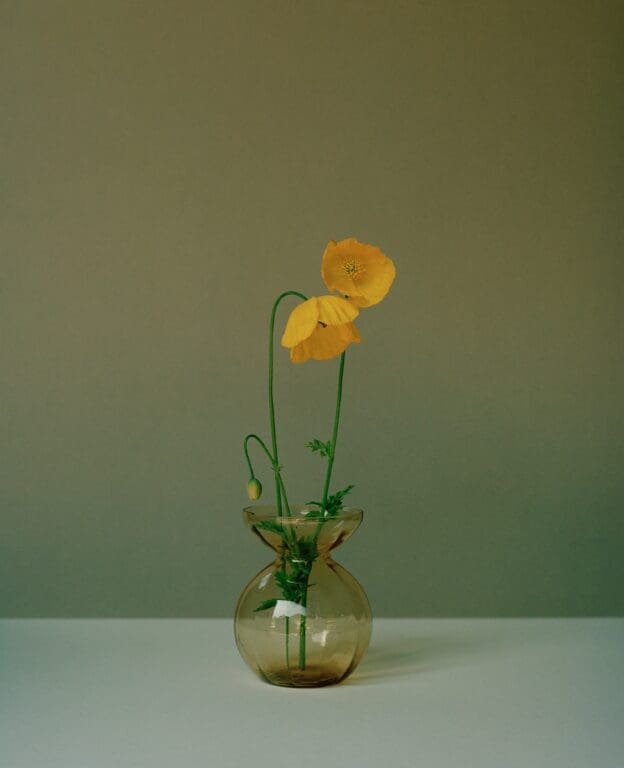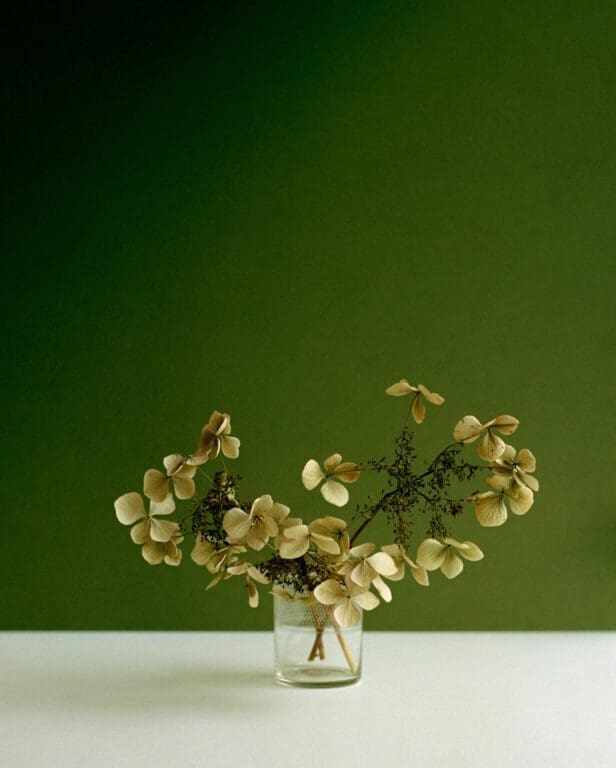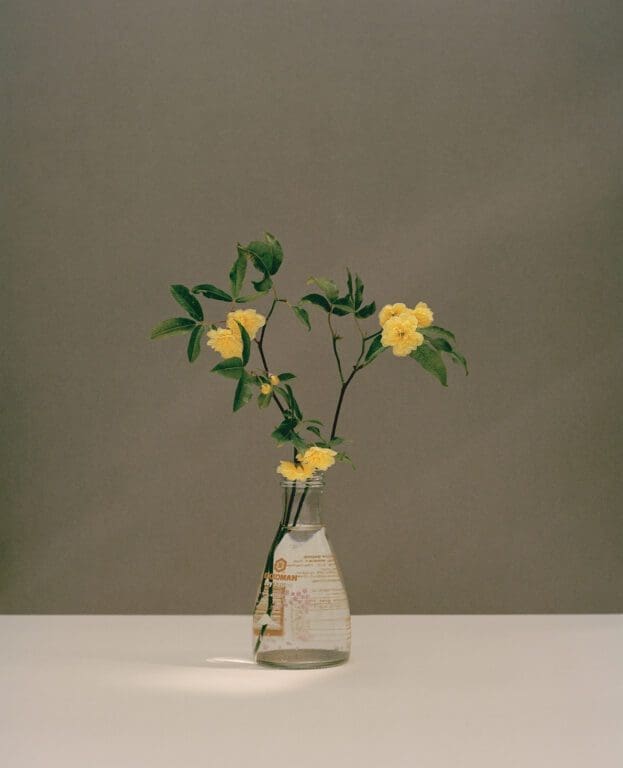 Main Image: Dan Pearson, Dierama pulcherrimum, Somerset, 2020
Words: Huw Morgan
All works and photographs: copyright Kate Friend ©2023
Published 9 September 2023
With thanks to Kate Friend and all at Lyndsey Ingram