Huw Morgan | 31 October 2019
It is almost three months since Flora first came to Hillside to work with material taken from the garden here. That summer visit was an introductory and learning experience for us both. Flora's first time in the garden here, time needed to get to know the garden, time to find a setting to shoot in, the challenges of working outside and to be photographed in process when she is usually unseen, off stage. For me there was the self-imposed pressure to do Flora's art justice in my photographs and to capture those moments of consideration, reflection, decisiveness, choice, care, which I was witness to as she worked.
As she worked this time I started to notice the ways in which Flora relates physically to the space in which the flower arrangement was being made. Standing with her back to me I could tell that she was judging, evaluating, balancing, deciding, framing, all of which could be read from the set of her jaw or the angle of a shoulder. The delicacy with which she would select a stem, find a location for it, and then gently and firmly aid and guide it into position. The final stroking of the plant to allow it to fall naturally and also the sensual pleasure of engaging with plants this intimately.
It reminded me of something Midori, the head gardener at Tokachi Millennium Forest said to us when she was staying here early last autumn, which is that the last flower arrangements of the year should be relished as they are the last opportunity for 'touching green' before the winter comes.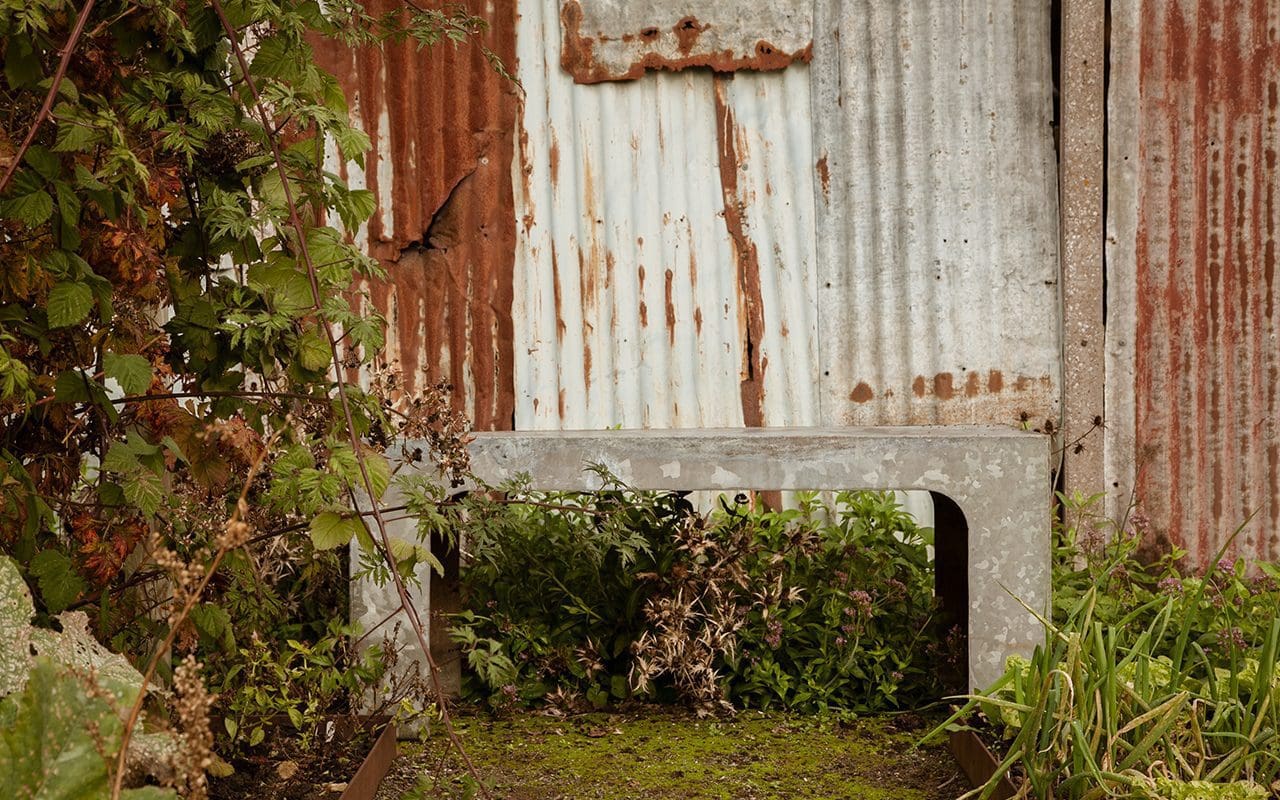 Flora Starkey | 1 November 2019
The last time I came to Hillside, Summer was making way for Autumn. This visit Autumn is peaking and the gardens are more subdued, but no less splendid.
We decided to shoot in the same location as before, in front of the beautifully rusted corrugated iron barn. I'm interested to see how the four images will sit together by the end of the year and like the idea of them being in the same place.
As before, we cut sparingly – no more than a few stems from each plant. This time I chose a lot of dried structure – dill, red orache, fluffy willow herb and a stem of Thalictrum 'White Splendide' with its delicate mottled yellow leaves. And of course, some essential autumnal colour in the form of Euphorbia cornigera and a snipping from the fiery Prunus x yedoensis.
Moving back to the barn, we pick some blue glass jars from the house & get to work. The space will always dictate the arrangement in terms of scale and the zinc table outside calls for size, not least because of the October wind.
The tall dried pieces were placed first creating the framework, a beautiful Aster umbellatus towering over the others. A few leaves of royal fern quickly followed, adding a myriad of colours in each stem. I carried on building the colour with warm tones before offsetting with the deep blues and violets of a few varieties of salvia.
Even though the stems keep get buffeted by the wind and moving around, I like this way of working. It's spontaneous & can't be too precious. After a while, I feel like we're missing some pops of brighter colour and go foraging for rosehips, finding some spindleberry on the way.
As these are more structural branches, I end up taking the arrangement apart & starting again, adding these elements earlier. Some of the salvia had also started to wilt by the time we got back so we cut a little more. If I were to use this again, I'd try & sear it to make it last longer. I finish with a curling tail of yellow amsonia, a shock of pale yellow scabious and some shiny black berries of wild privet.
As well as wanting to represent the garden in all her autumnal glory, I was also keen to make a smaller and simpler arrangement – something quieter that allows the stems their space to shine. It's probably how I'm happiest working.
The picture window outside the milking barn provides the setting and frames the vases with the changing landscape behind. I start with a length of old man's beard and some more euphorbia. A few stems of panicum & chasmanthium add height along with a speckled toad lily. A sprinkling of dainty white asters were added lower down and some oxblood red leaves of fagopyrum trail off to the side, slightly broken but more beautiful for it.
Back in the garden & you can see the silhouettes of winter beginning to appear. Huw & I spent a little time looking at the plants that we'd like to dry and preserve for our next shoot. I'm looking forward to the change of the season already
Arrangement 1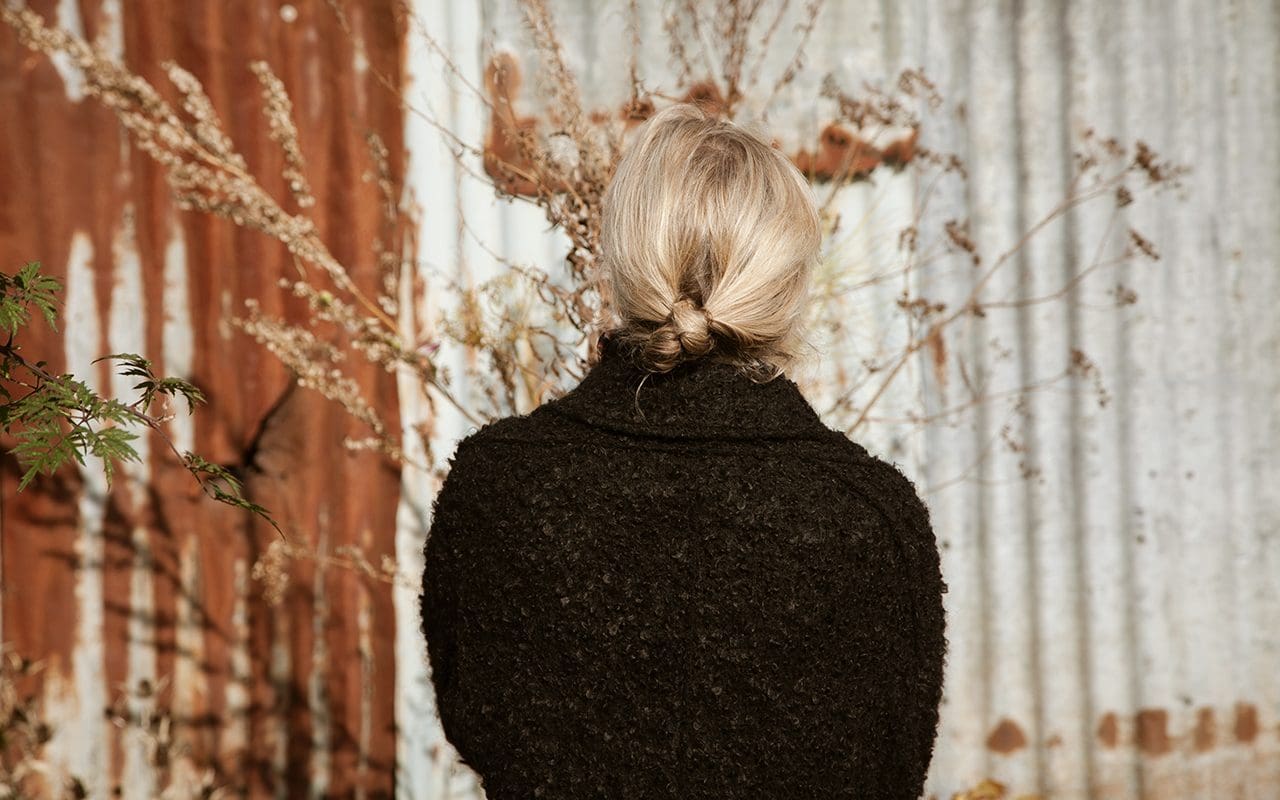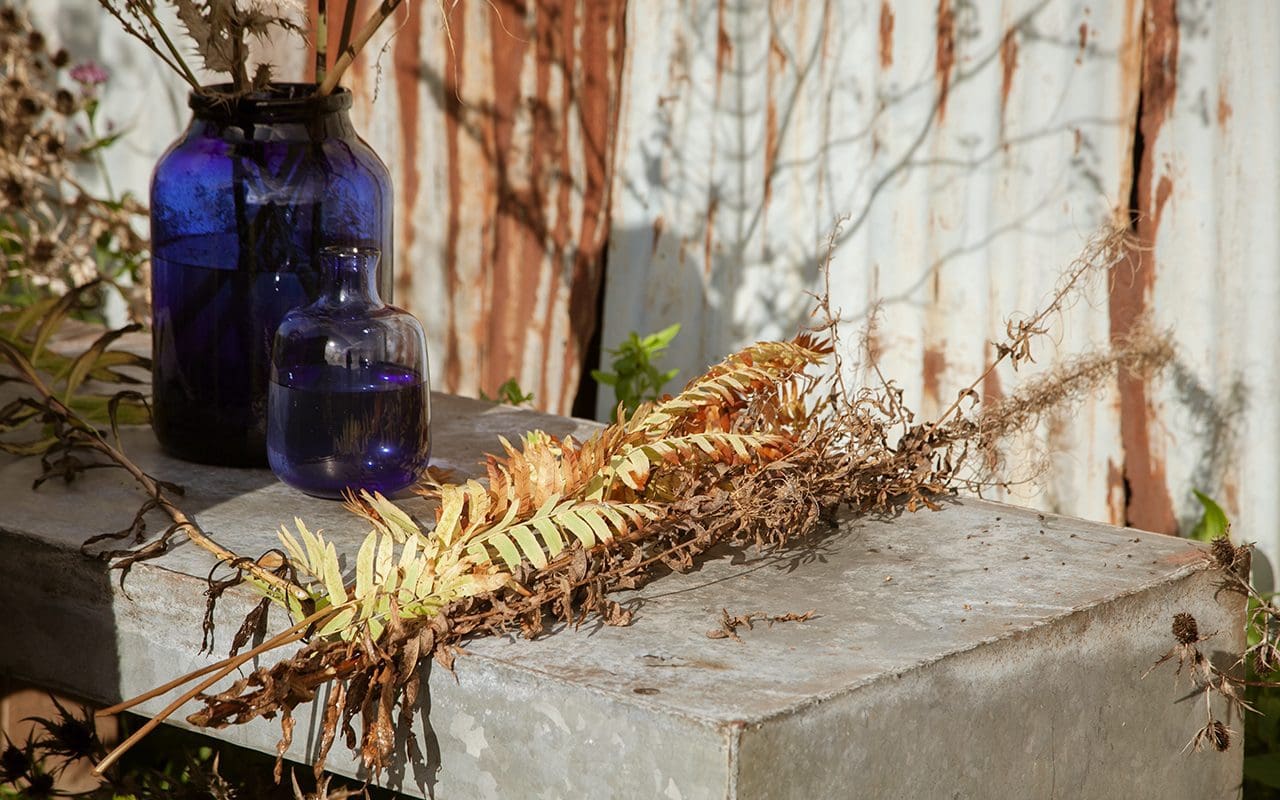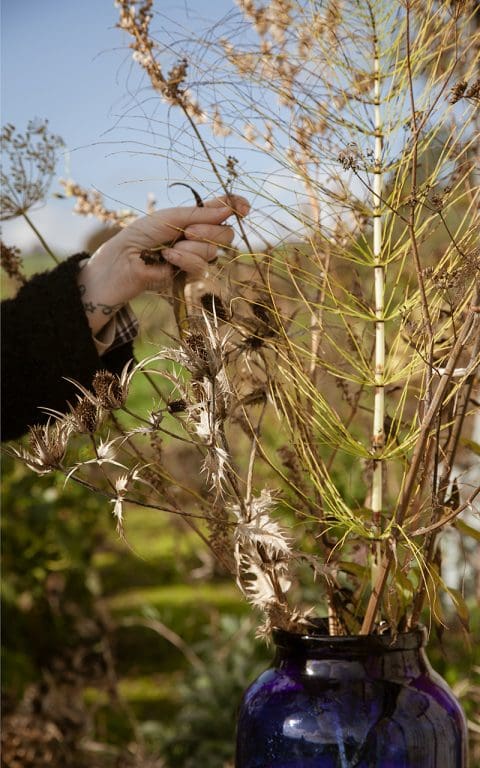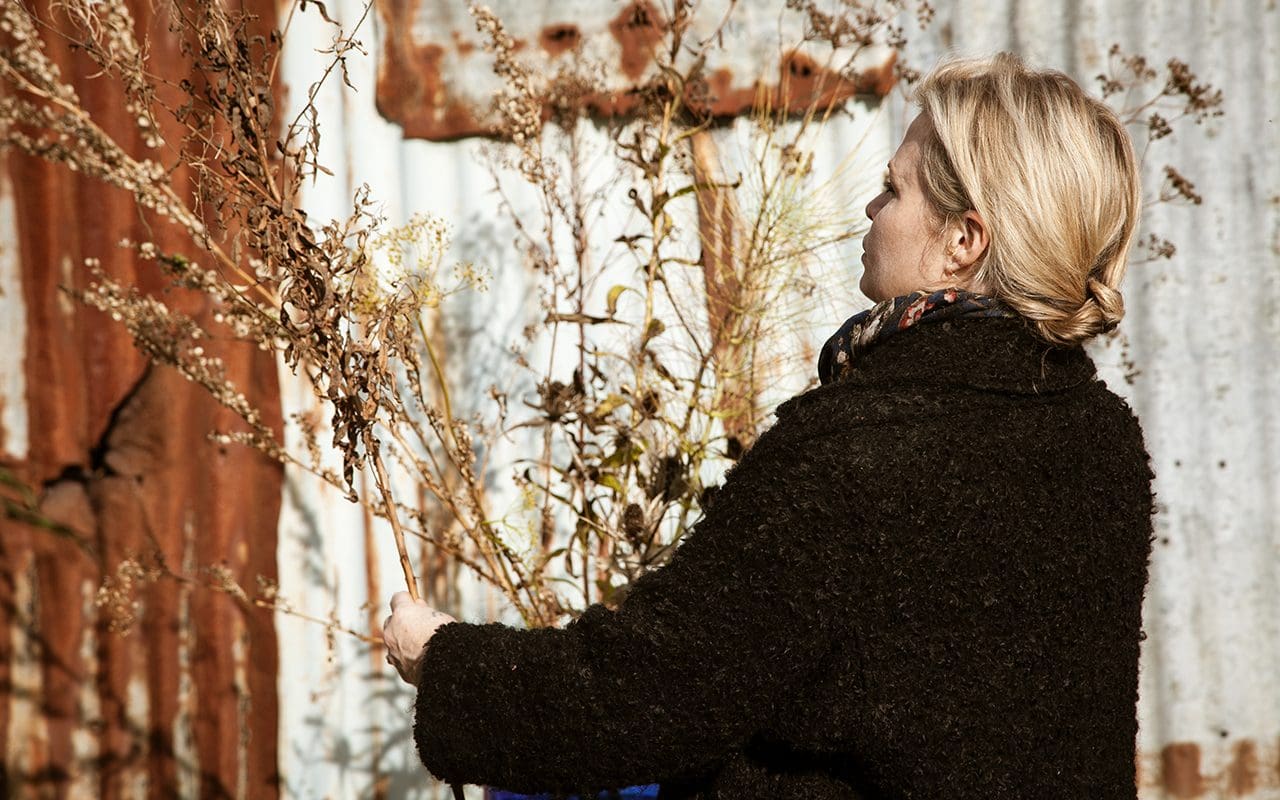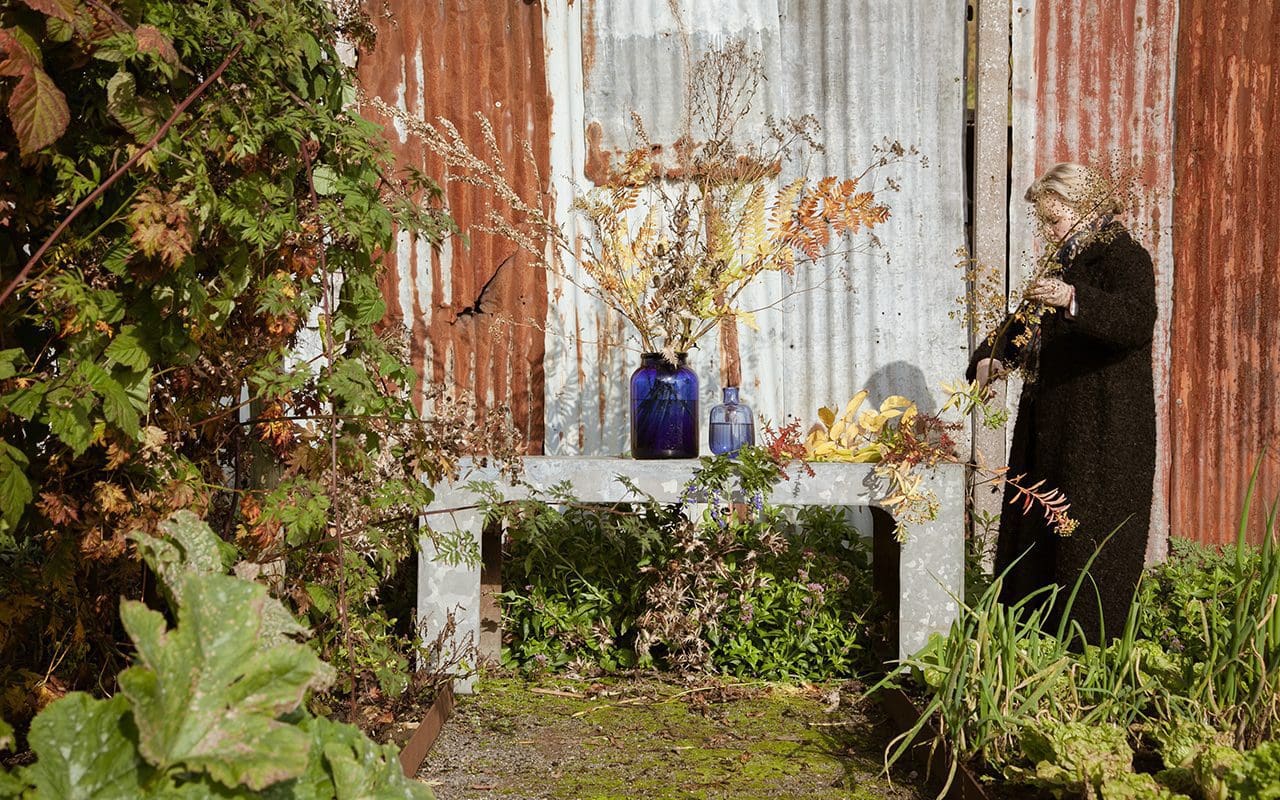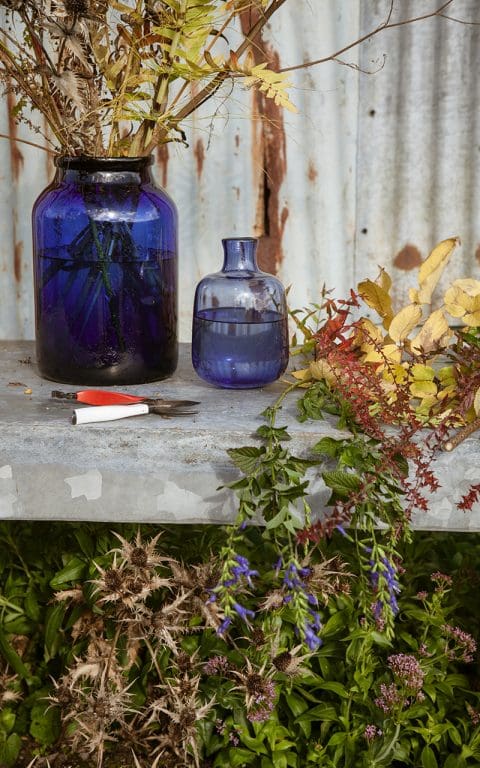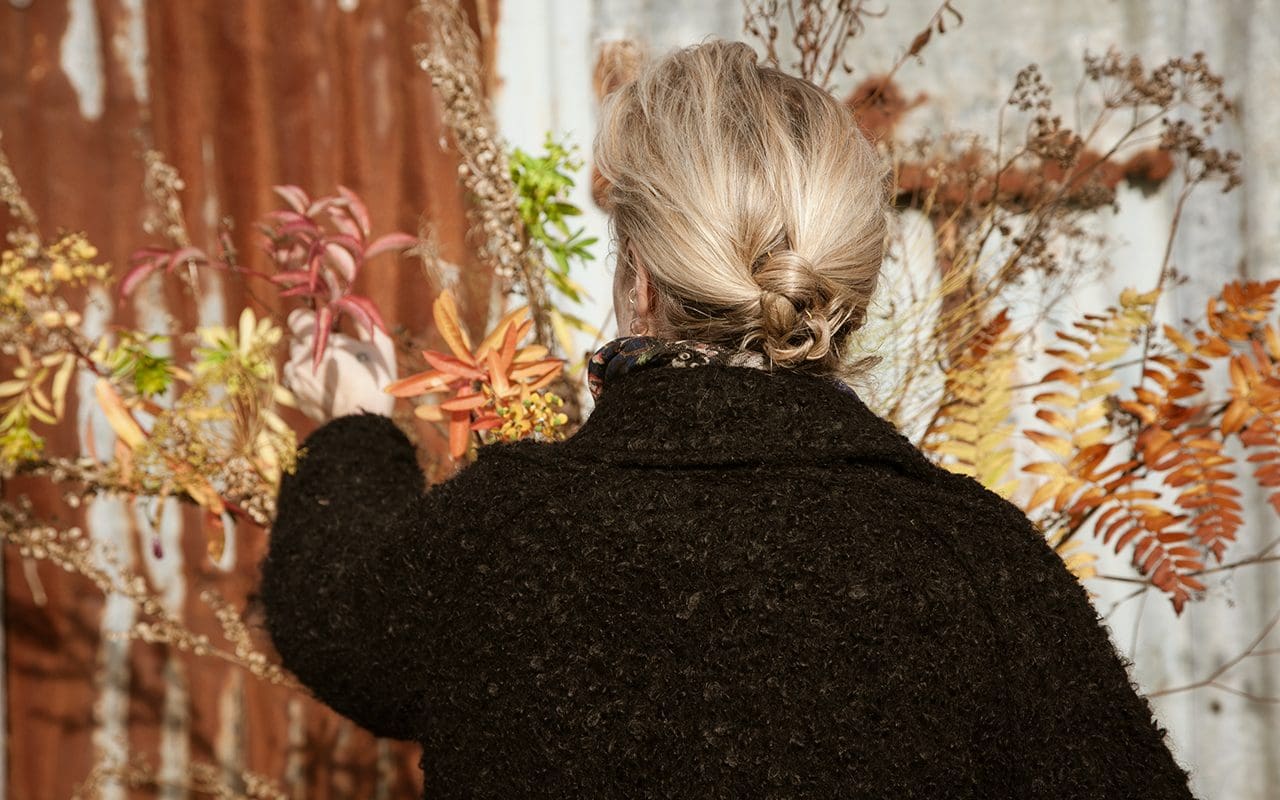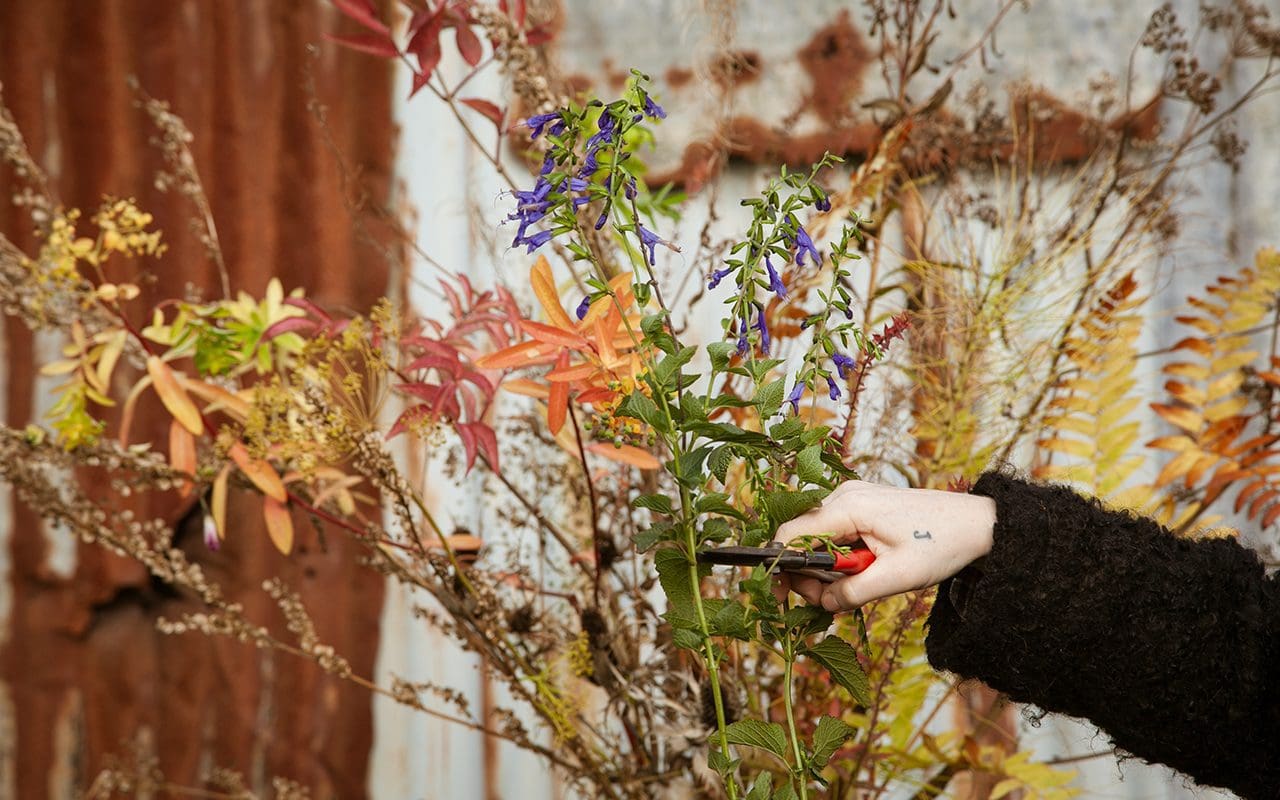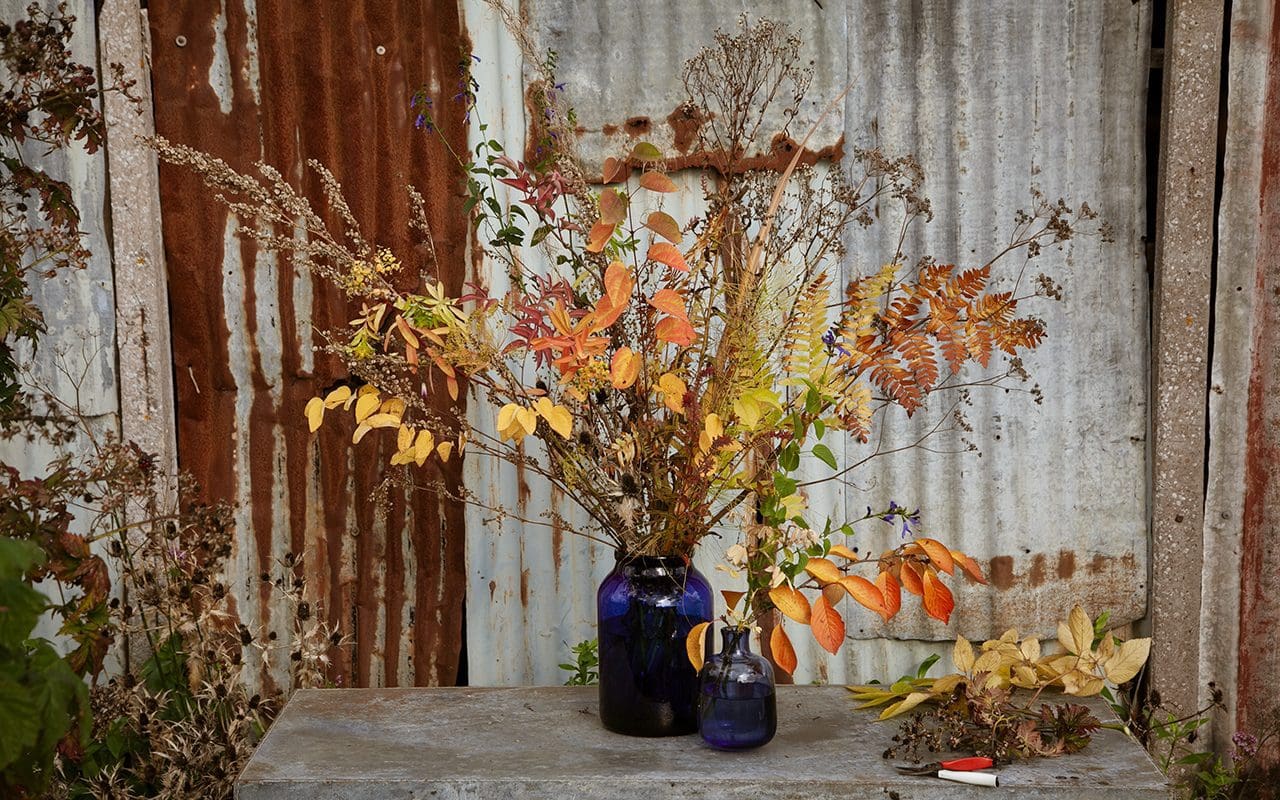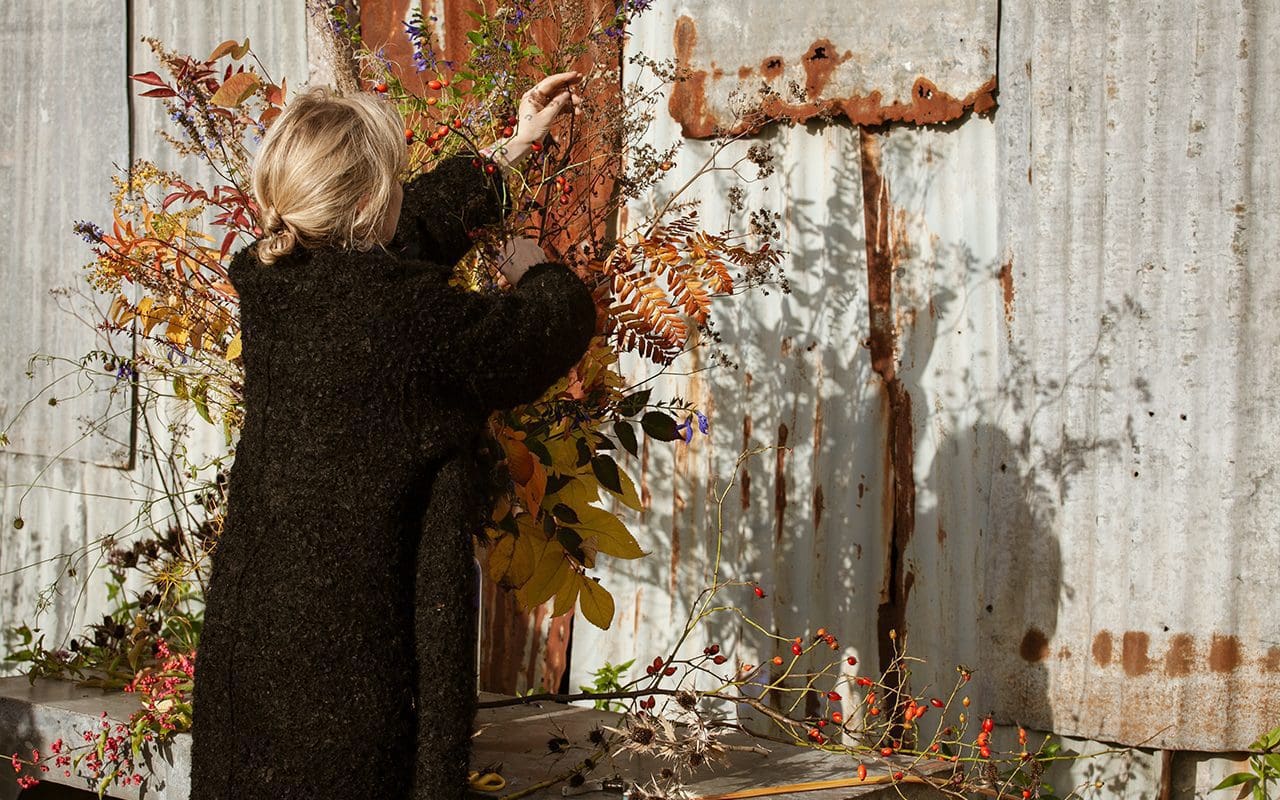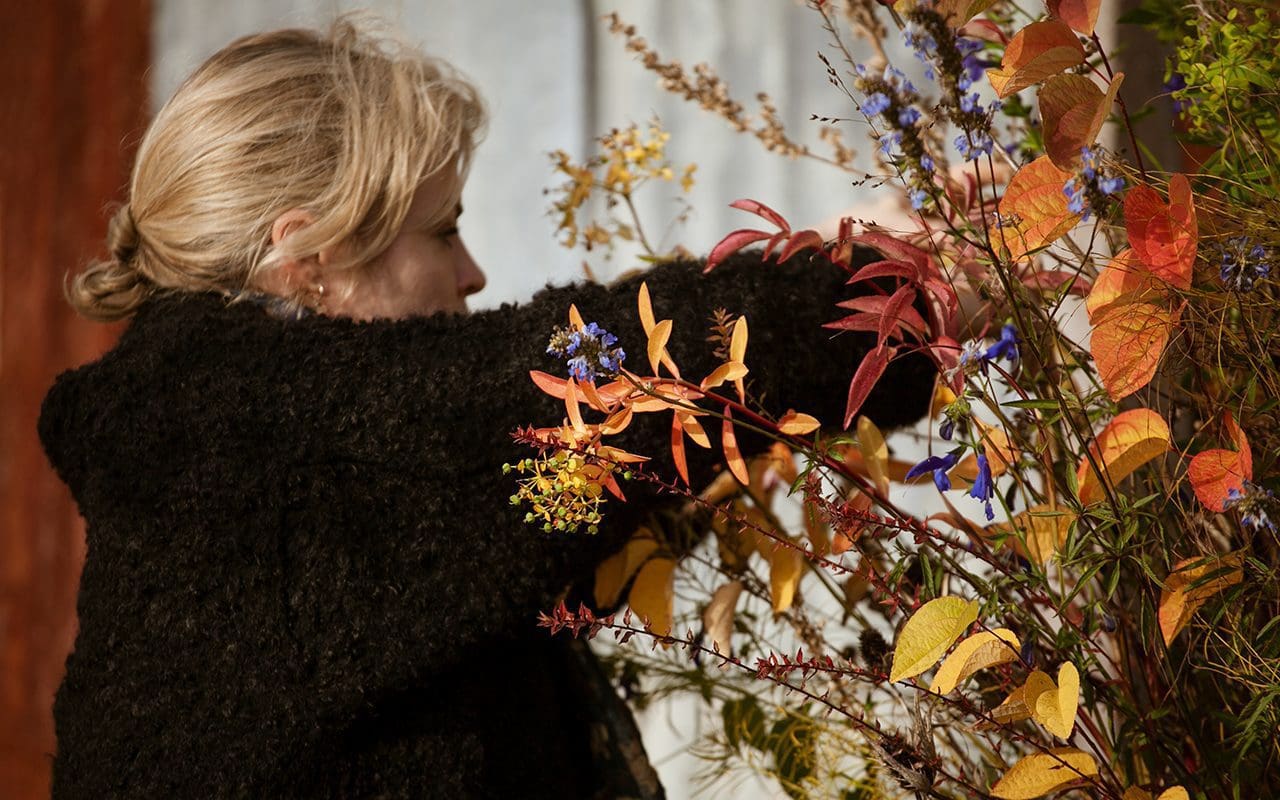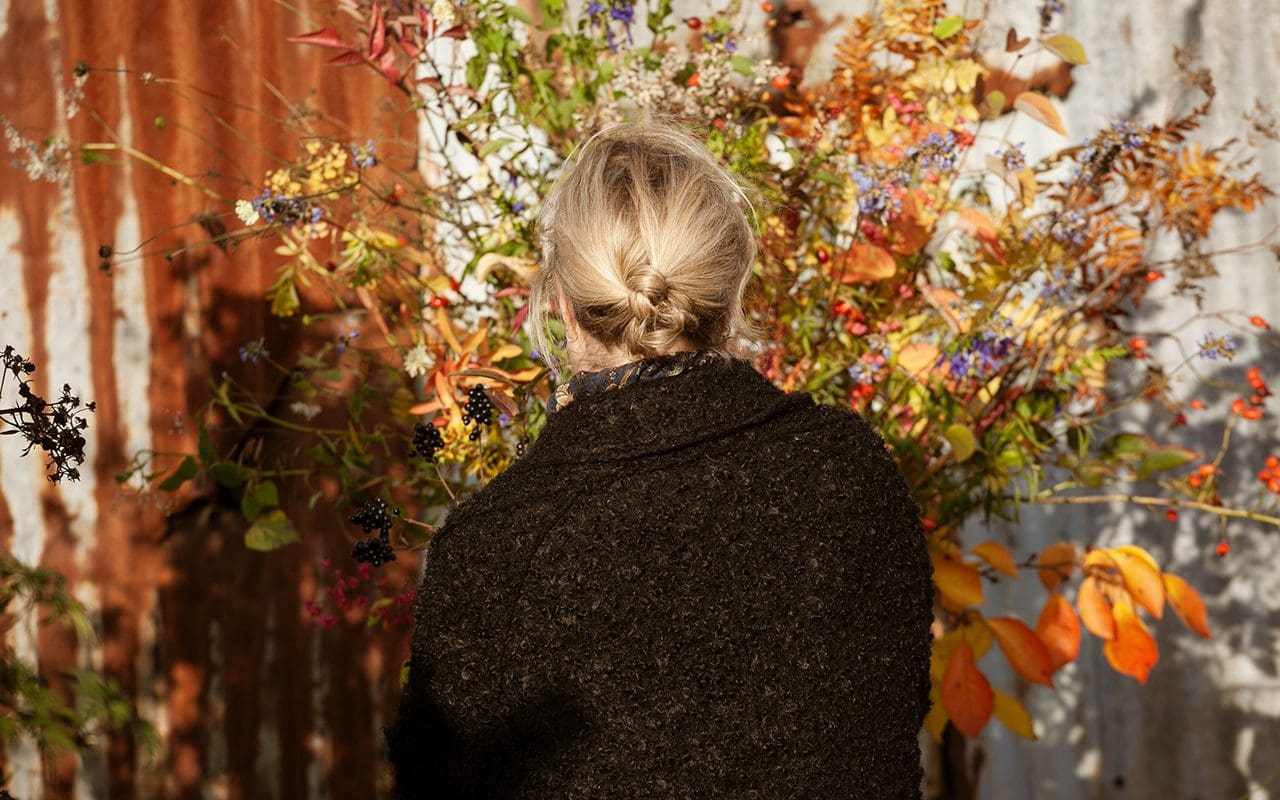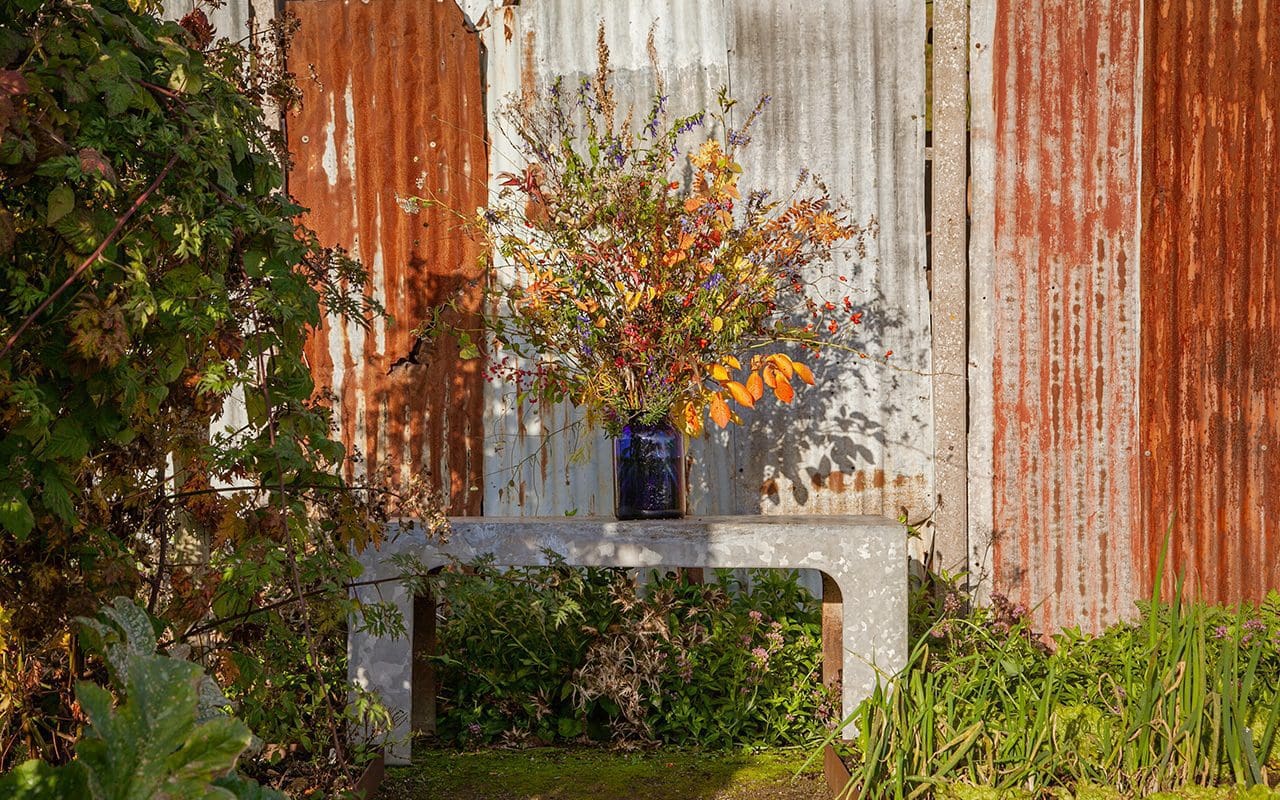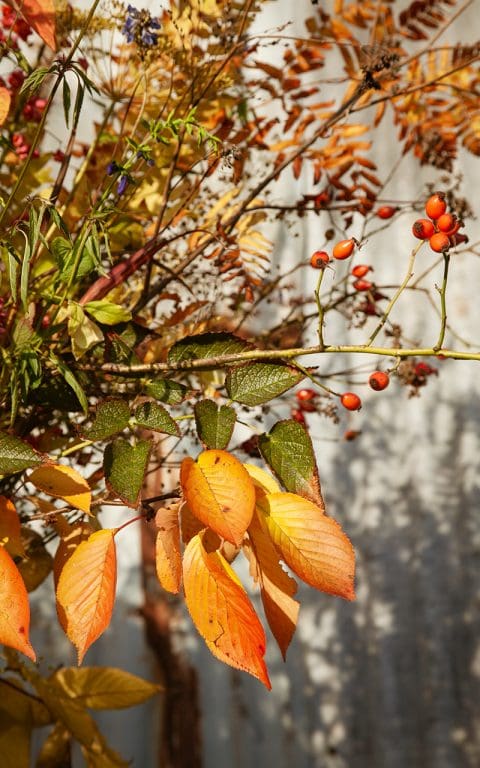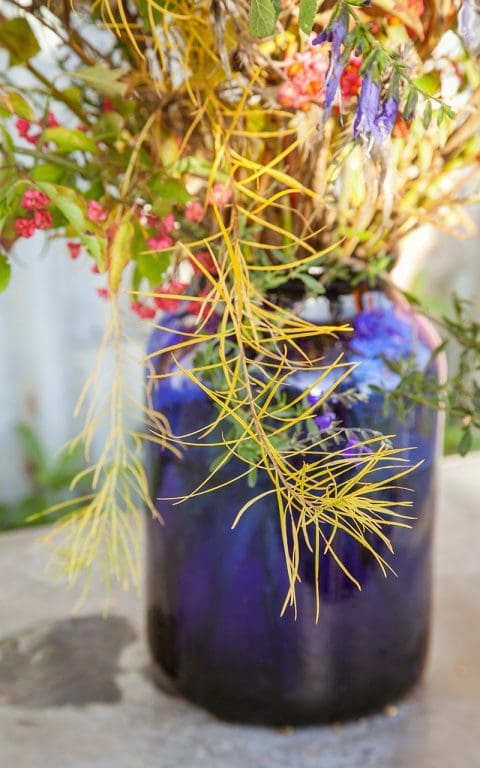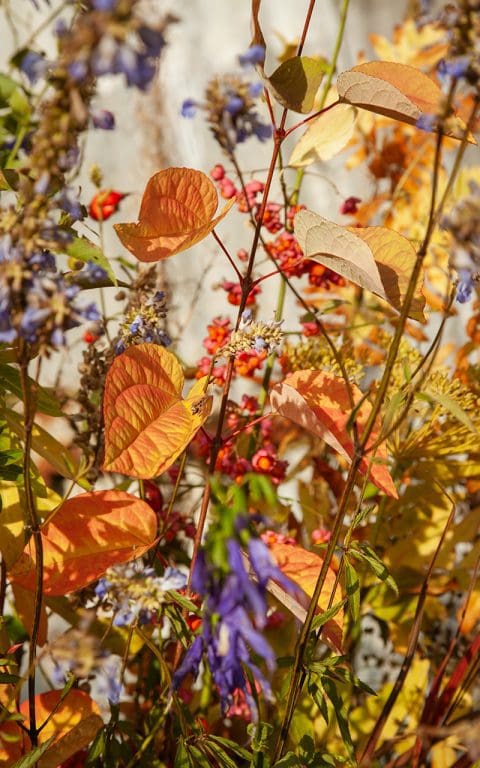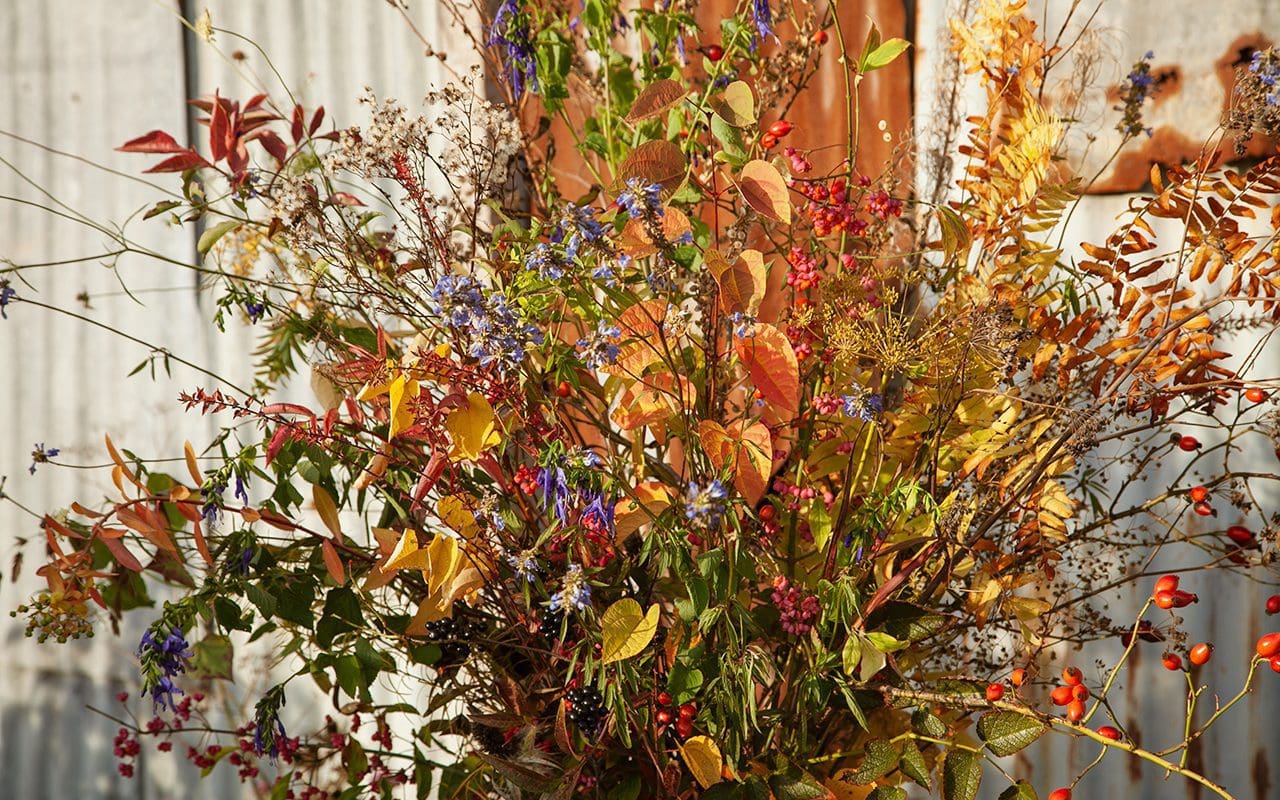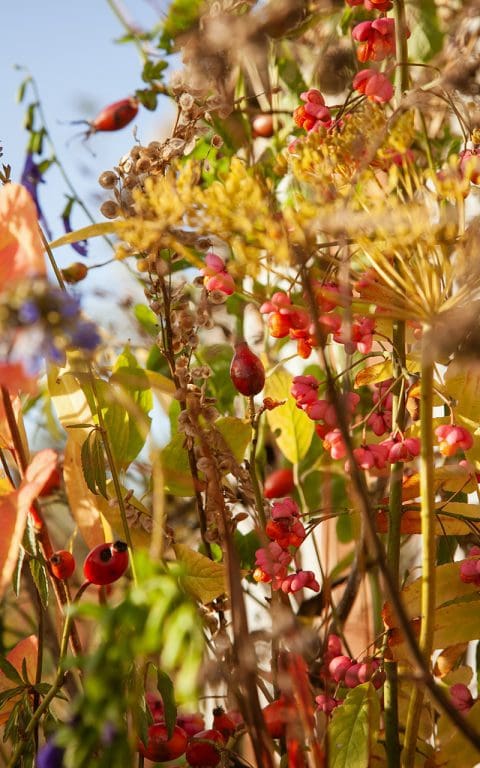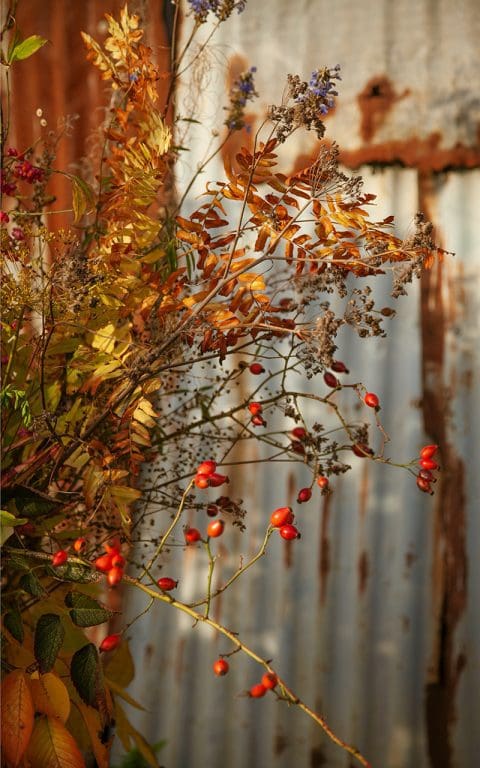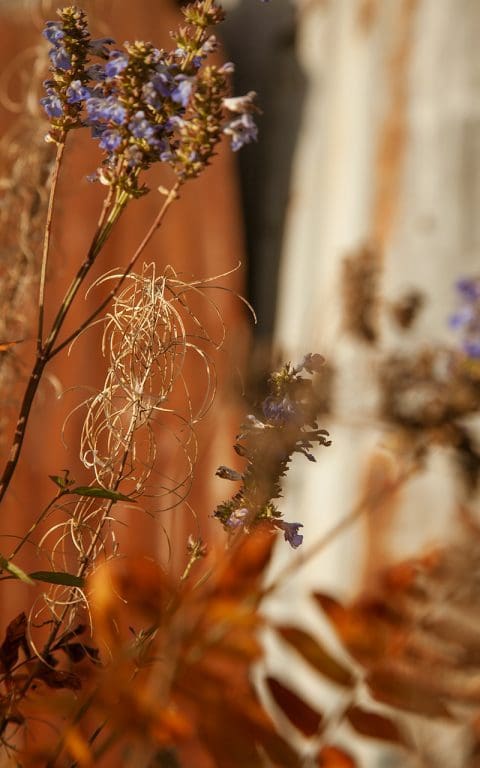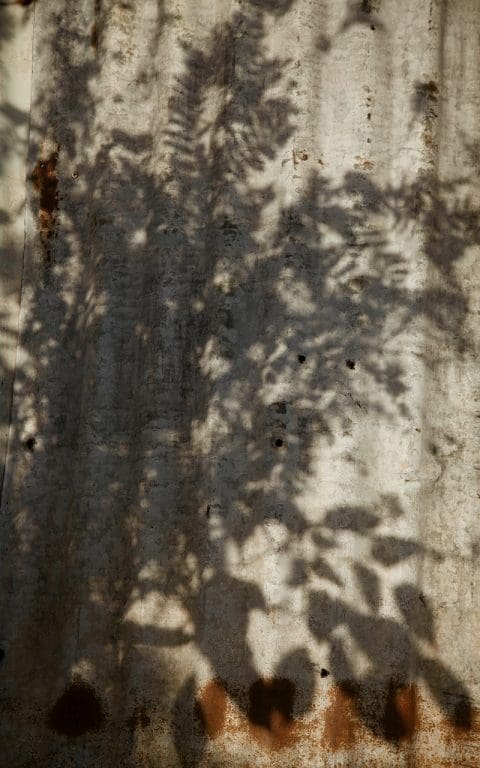 Anethum graveolens
Aster umbellatus
Astilbe rivularis
Atriplex hortensis
Cercidiphyllum japonicum
Chamaenerion angustifolium 'Album'
Chasmanthium latifolium
Euonymus europaeus
Euphorbia cornigera
Ligustrum vulgare
Lythrum virgatum 'Dropmore Purple'
Osmunda regalis
Prunus x yedoensis
Rosa eglanteria
Salvia 'Blue Enigma'
Salvia 'Blue Note'
Salvia uliginosa
Sambucus nigra
Scabiosa ochroleuca
Thalictrum 'White Splendide'
Thalictrum '
Arrangement 2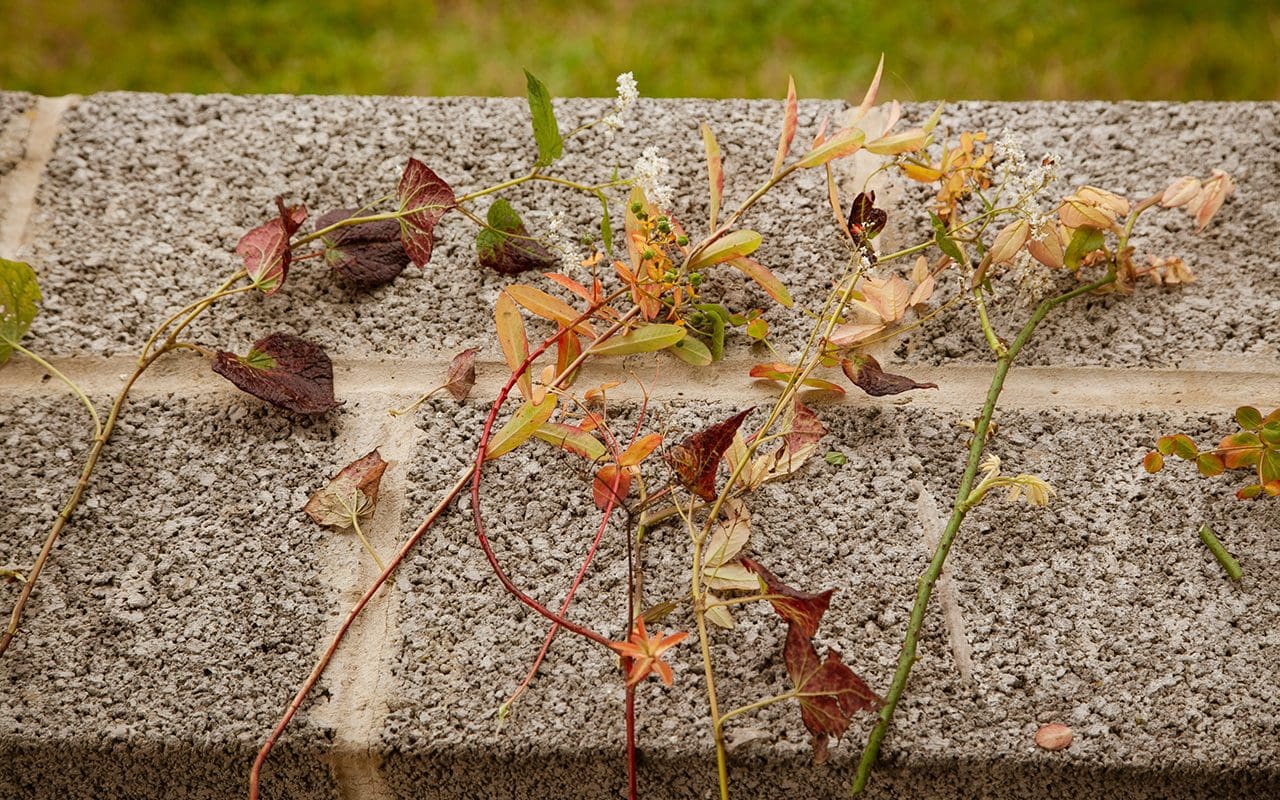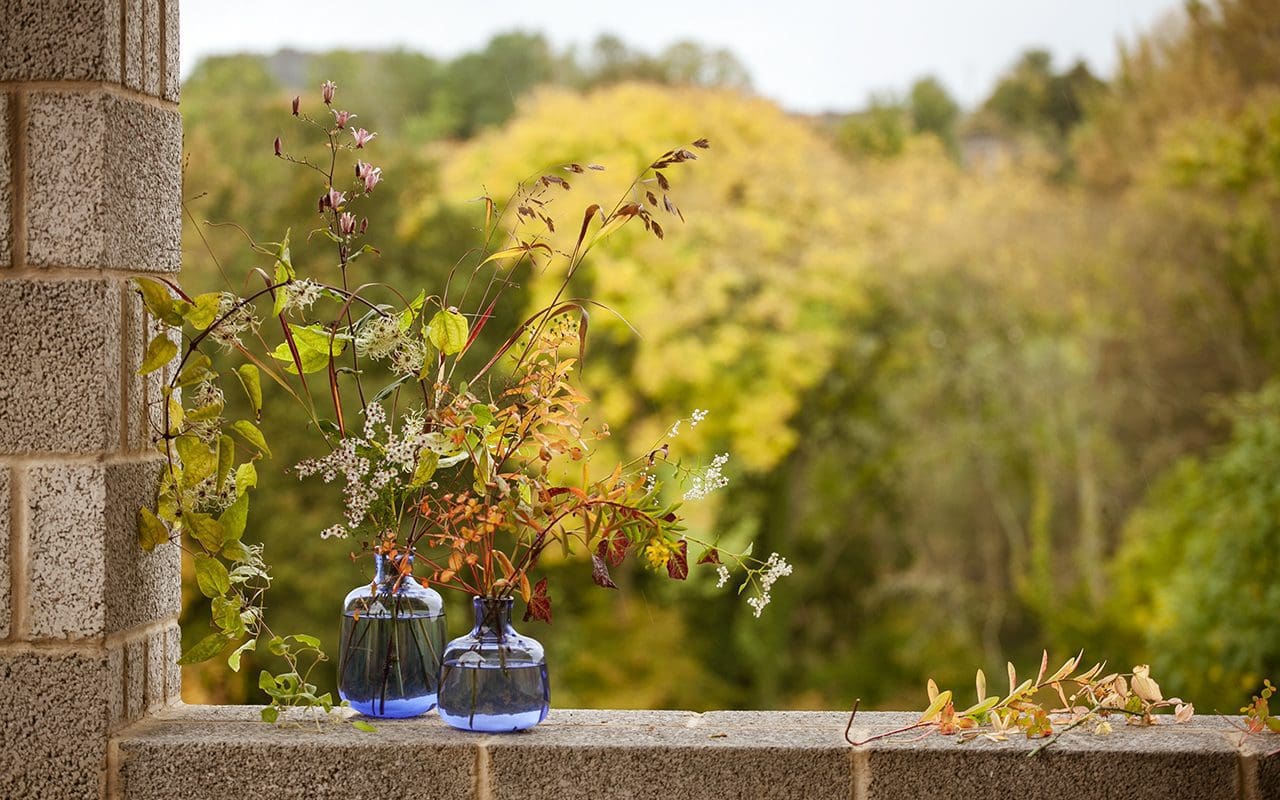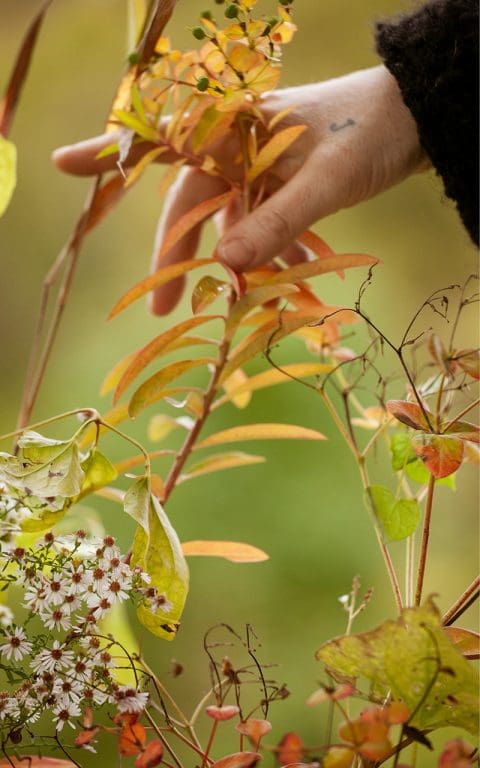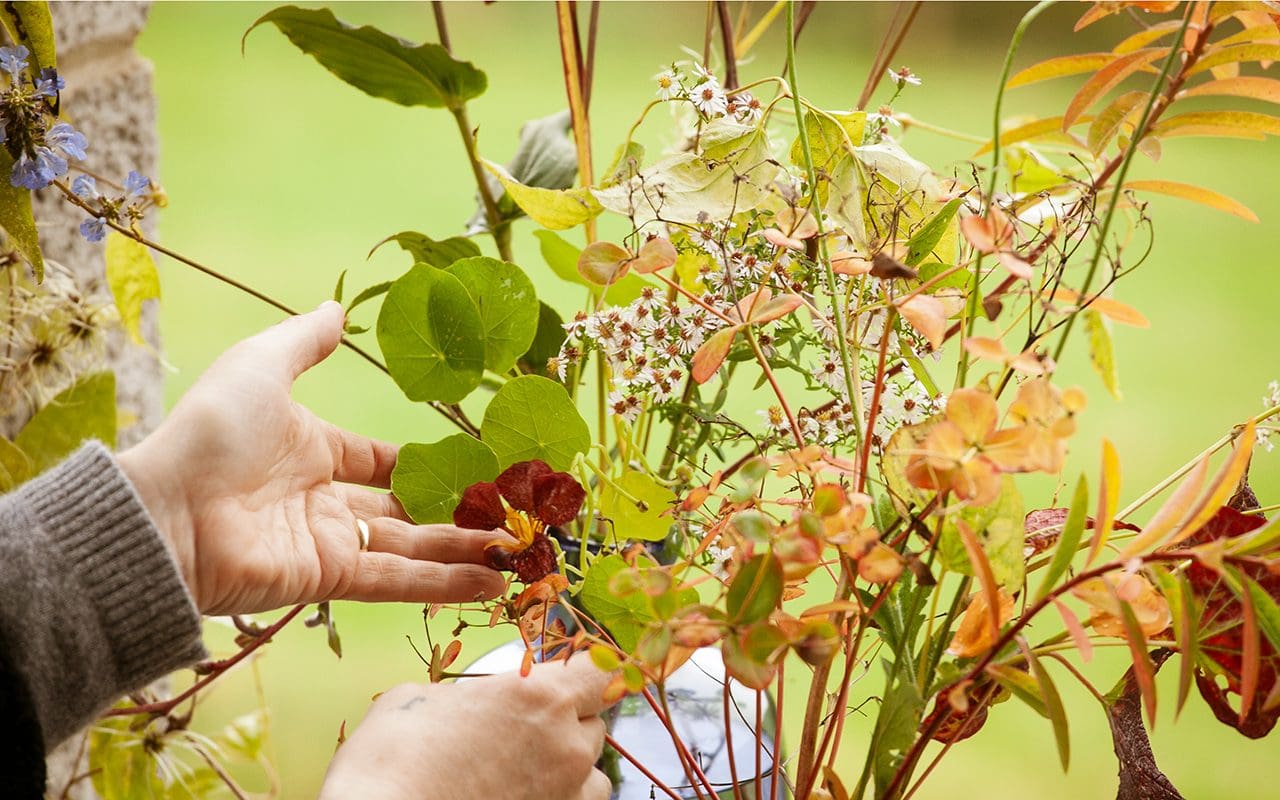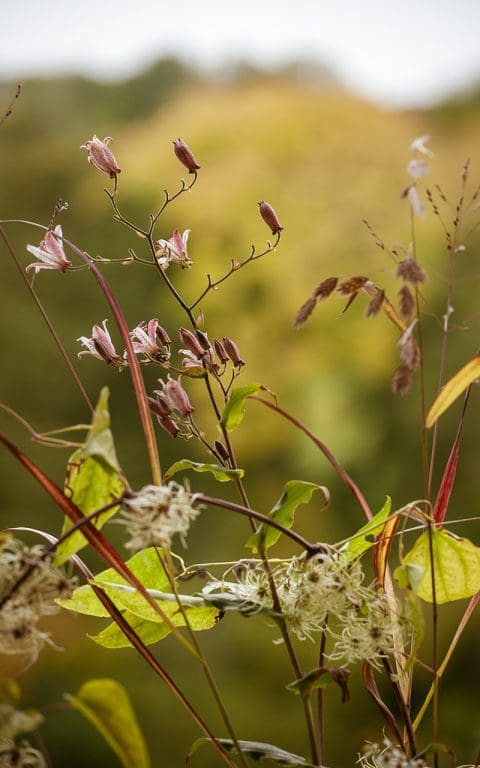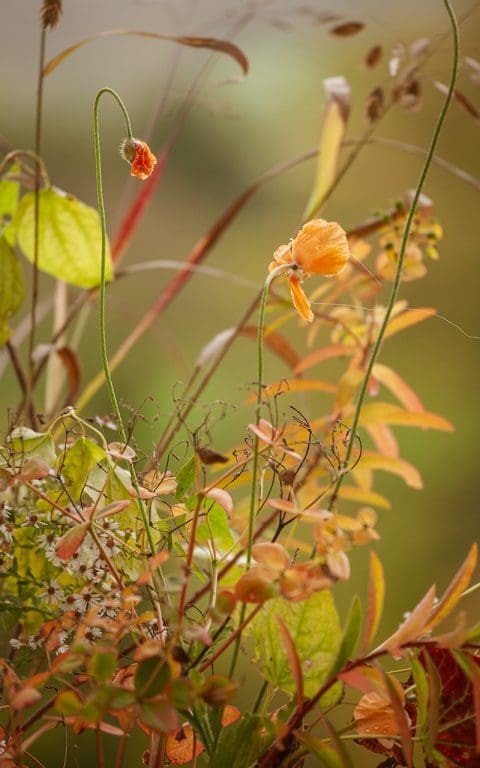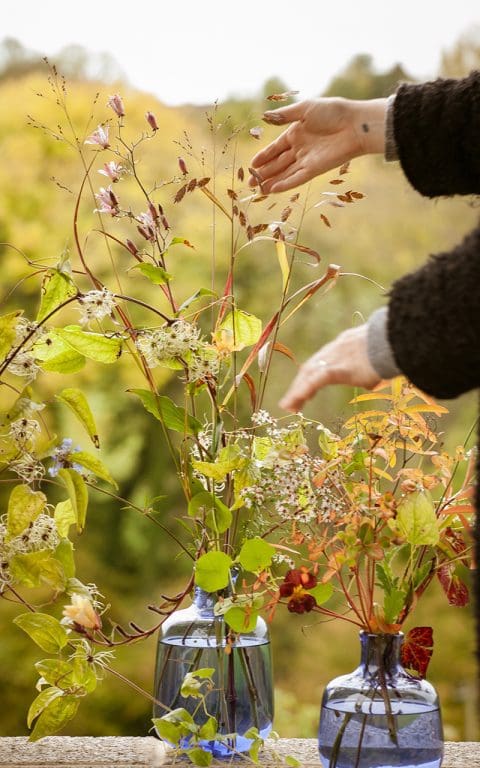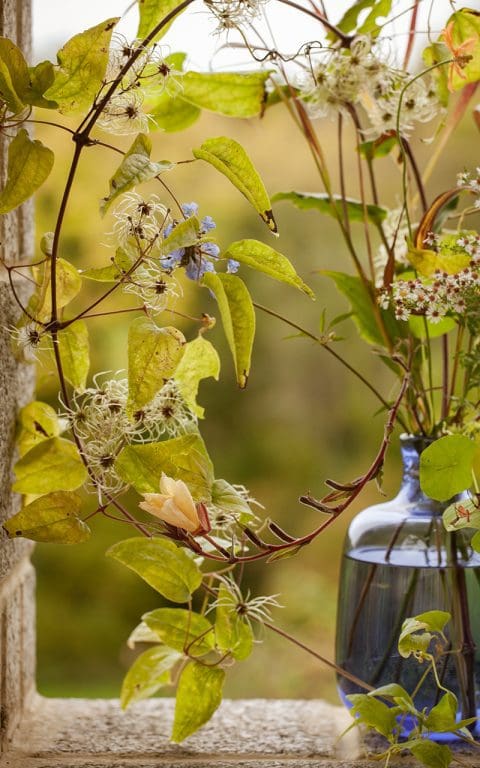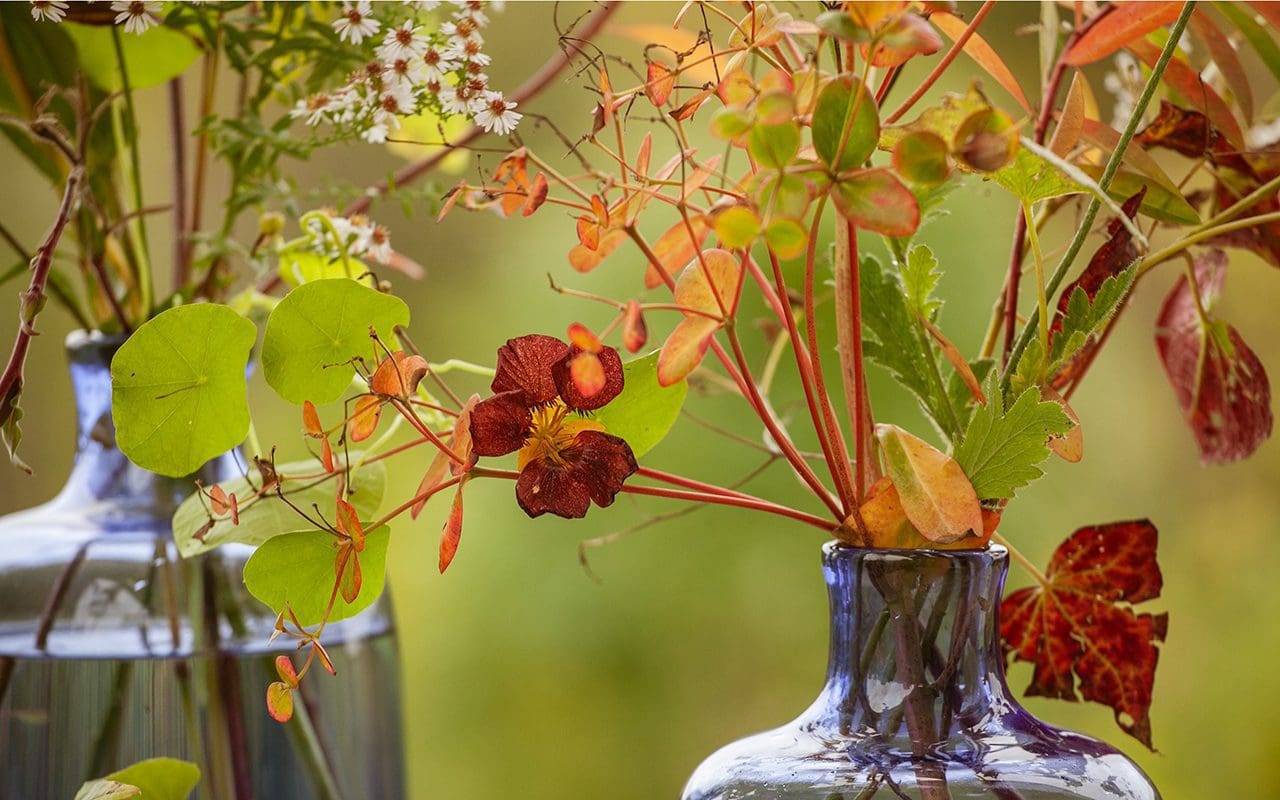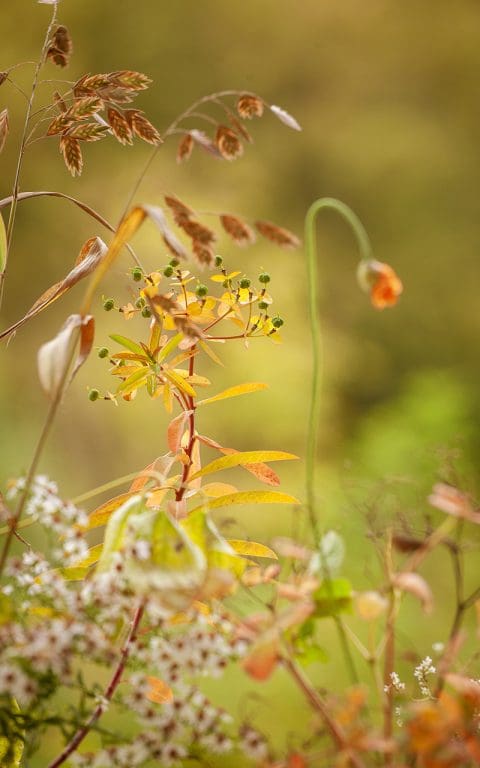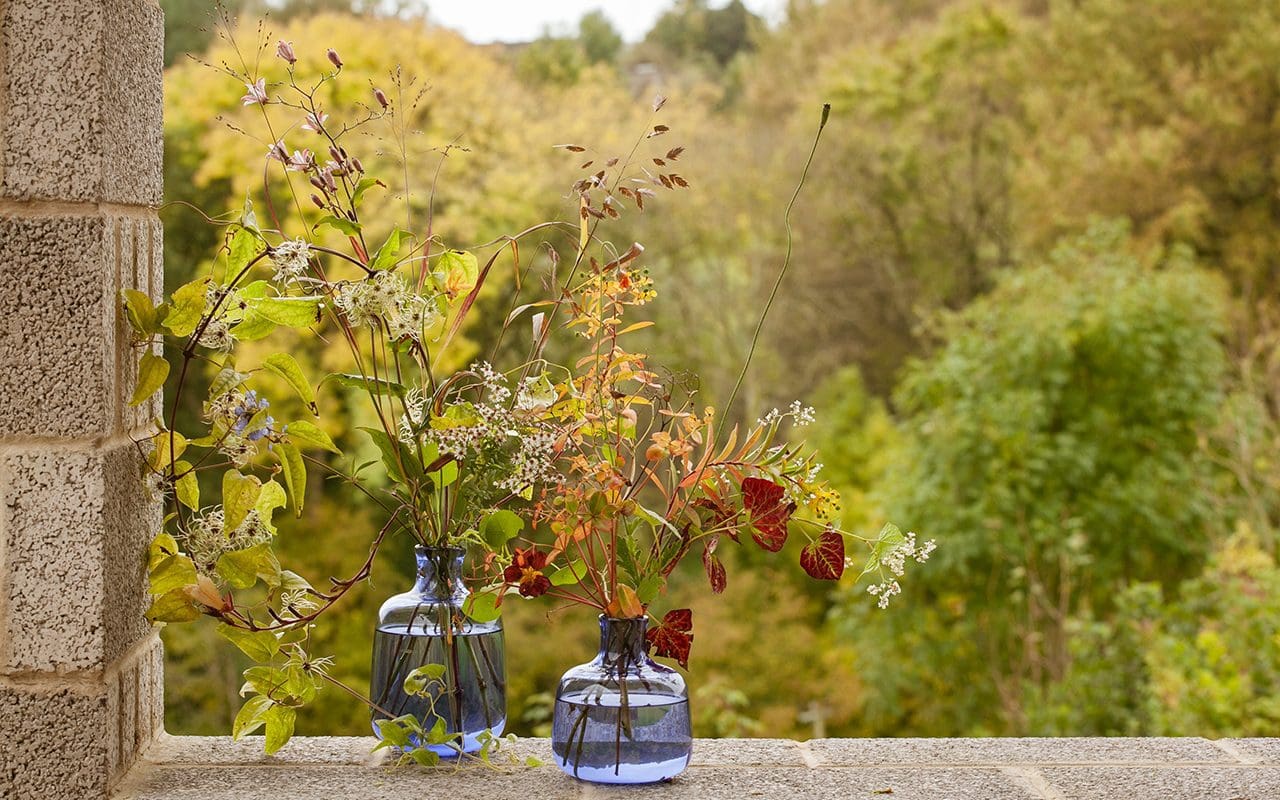 Aster unnamed white
Chasmanthium latifolium
Clematis vitalba
Euphorbia cornigera
Fagopyrum dibotrys
Oenothera stricta 'Sulphurea'
Panicum virgatum 'Heiliger Hain'
Papaver rupifragum
Rosa 'The Lady of Shallot'
Salvia uliginosa
Tricyrtis formosana 'Dark Beauty'
Tropaeolum majus 'Mahogany'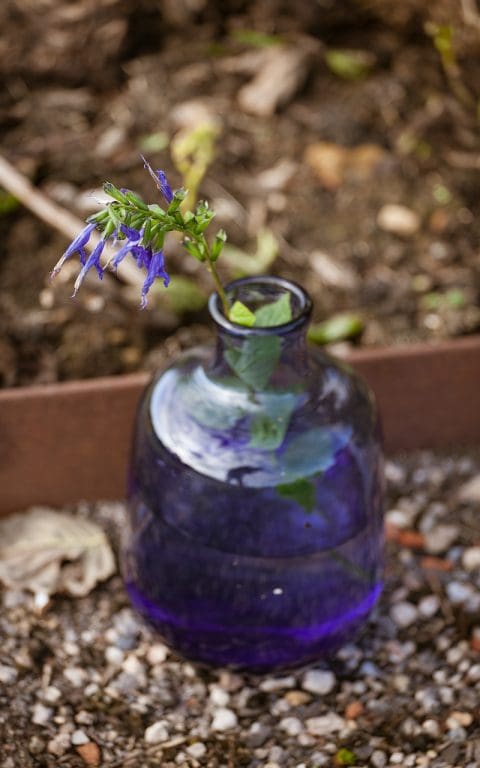 Photographs | Huw Morgan
Published 3 November 2019