Yesterday we had our first snow. Just the briefest flurry, and it was too wet and warm for it to settle, but snow all the same. The colder weather demands something warm and hearty in the stomach and has finally given me the opportunity to make a long-planned silky soup from the coco beans that have been in the freezer since I harvested them over a month ago.
To date we have only ever grown climbing beans to eat fresh, but this year we grew a range of new beans, some of which I selected specifically for storing. At the end of the summer the bean which had cropped most heavily was 'Coco Sophie', a late 18th century variety which became commercially unavailable in 2006, and has only recently been re-introduced by The Real Seed Company. Due to the variety and quality of their seed, it has fast become our go-to seed supplier.
Coco beans are an old French large haricot type, producing shiny, round, creamy white beans with a texture comparable to normal haricot or cannellini beans. However, they are smoother and richer than either. The Coco de Paimpol, which is grown only in Brittany, has its own appelation d'origine contrôlée due to its incomparable texture and flavour. Although I had eaten coco beans in restaurants before and been struck by their silky texture, I had not, until this year, been able to find seed to grow them myself.
I picked the beans when semi-dry – which cuts down their cooking time significantly – and froze them immediately. However, they can be fully dried and then soaked before cooking. If using dried beans for this recipe 400g of dried beans will give a soaked weight of approximately 800g and, although you do not need to sieve the soup, it produces a superior result that is worth the little additional effort.
In my mind I had a velvety smooth, garlic-laden puree flavoured with woody herbs and a whiff of truffle. I had a recollection of having eaten something similar many years ago in Milan, as I associate it with distinct memories of risotto alla milanese, osso buco and whole pan-fried porcini.
A whole bulb of garlic may seem too much initially, but since it is simmered in the stock its strength is tempered and sweetened. The seasonal combination of sage and bay is warm and aromatic. Although we have several types of sage growing here, the most robust and best-flavoured variety is known simply as 'Italian', with large silver-grey leaves that are winter hardy and perfect for frying.
Serves 6
INGREDIENTS
3 large leeks, white and pale green parts only, about 250g
3 tbsp olive oil
800g fresh or cooked white beans
1 bulb garlic
2 large sprigs of sage
1 large bay leaf
1.5 litres water or vegetable stock
Freshly grated nutmeg
Salt
Ground white pepper
TO SERVE
12 large sage leaves
3 tbsp olive oil
Truffle oil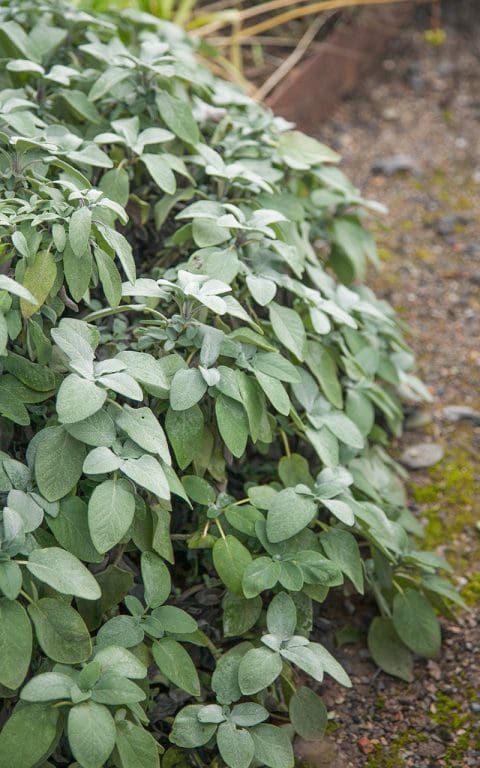 METHOD
Heat the olive oil in a large pan over a low heat. Wash, peel and trim the leeks and slice them finely. Put them into the pan, put the lid on and sweat over a low heat for 10 to 15 minutes until translucent. Stir occasionally.
Peel and trim the garlic cloves and leave whole. When the leeks are cooked add the garlic, beans, sage, bay leaf and grated nutmeg to the pan with the water or stock. Bring to the boil and then reduce to a simmer. Cook with the lid on until the beans are soft; about 20 minutes if fresh, or 40 if dried and soaked.
When the beans are done remove the sage and bay leaves, then liquidise the beans and their cooking liquid with a stick blender until smooth. Then, if you want the silkiest smooth soup, push the puree through a fine sieve with the back of a metal spoon. Season with salt and pepper to taste.
In a small frying pan heat the second lot of olive oil. When smoking, fry the sage leaves in batches for about 10 seconds until crisp and just beginning to brown. Remove from the oil onto a piece of kitchen paper.
Ladle the soup into warm bowls. Drizzle over a little truffle oil and garnish each bowl with two fried sage leaves.
Recipe & Photographs | Huw Morgan
Published 16 November 2019