August is the month when every meal comes straight out of the kitchen garden. Our local village greengrocer, who is also a market gardener, is now used to my prolonged summer absences, and when I do eventually visit we compare notes on what has done well for us this year and what hasn't. He knows that I will only buy those things that I can't or don't grow myself; plump Italian aubergines, lemons, limes and oranges, root ginger, flat peaches and British strawberries. We used to grow our own, but strawberry virus is rife in our valley and we had a mass crop failure two years ago and so it is the only soft fruit that we now buy. My eyes pass over everything else like so much convenience food, knowing that I am returning to a well-stocked garden of courgettes, summer squash, French beans, peppers, runner beans, cucumbers, salad greens, beetroot, carrots, turnips and sweetcorn.
Such choice and variety can make menu-planning a challenge, as the demands of those things that need to be harvested fight the desires of our mouths and bellies. We don't fancy runner beans this evening, but they threaten to break the tripods if left unpicked. A tiny courgette left on the plant this evening is sure to be a marrow requiring coring and stuffing two days' hence. And do I have time to dig, wash, roast and peel beetroot, when a tomato salad will take just moments to prepare?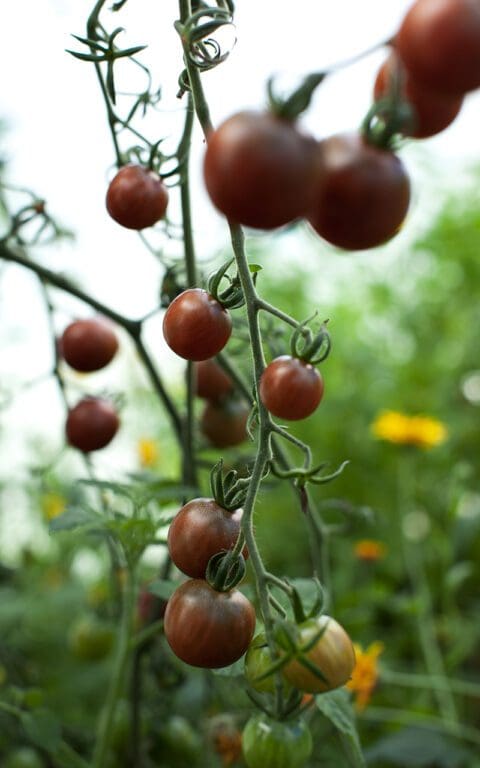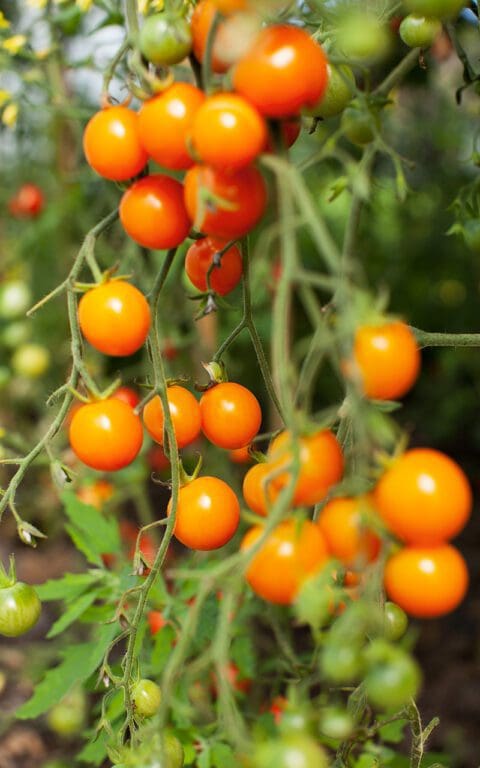 And have we eaten tomato salads in the past few weeks. Almost every day for days and days. Nothing fancy, just thickly sliced tomatoes – beefy 'Feo de Rio Gordo' and 'Black Russian', striped 'Red Zebra' and 'Green Zebra' and pale yellow 'Lotos' – simply dressed with olive oil, homemade vinegar and sea salt, a scattering of fresh basil or oregano and perhaps some finely sliced shallots. The most productive of all are the cherry tomatoes which, when they're not just popped whole into your mouth like sweeties, have gone into pans of braised vegetables – courgettes and beans – sauces and soups, or I have slow cooked them in the oven before bottling them in jars for the pantry. This is a change from bottling them whole and uncooked as I did last year. As they are cooked you can pack them in and get far more tomatoes to a jar, so saving space in the pantry for other preserves. I will use their concentrated flavour to bring a taste of summer to winter dishes or delicious, unseasonal luxury to a slice of toast.
Last week I was left with half a tray of these mi-cuit (half-cooked) tomatoes, which wouldn't fit into the jar. Pondering what to do with them, my eye caught sight of the Genovese basil in the herb bed, and so I made this quick and easy recipe for an impromptu summer lunch. If you don't have the time or inclination to make your own pastry, this is even quicker and easier with a pack of shop bought puff pastry or some sheets of oiled filo. Replace the basil with any fresh herb that complements tomatoes like tarragon, chervil, oregano or thyme. The sharper flavour of authentic sheep milk feta and sheep curd works very well with the sweetness of the tomatoes but, if these aren't easy to get hold of, substitute cow's milk feta and ricotta.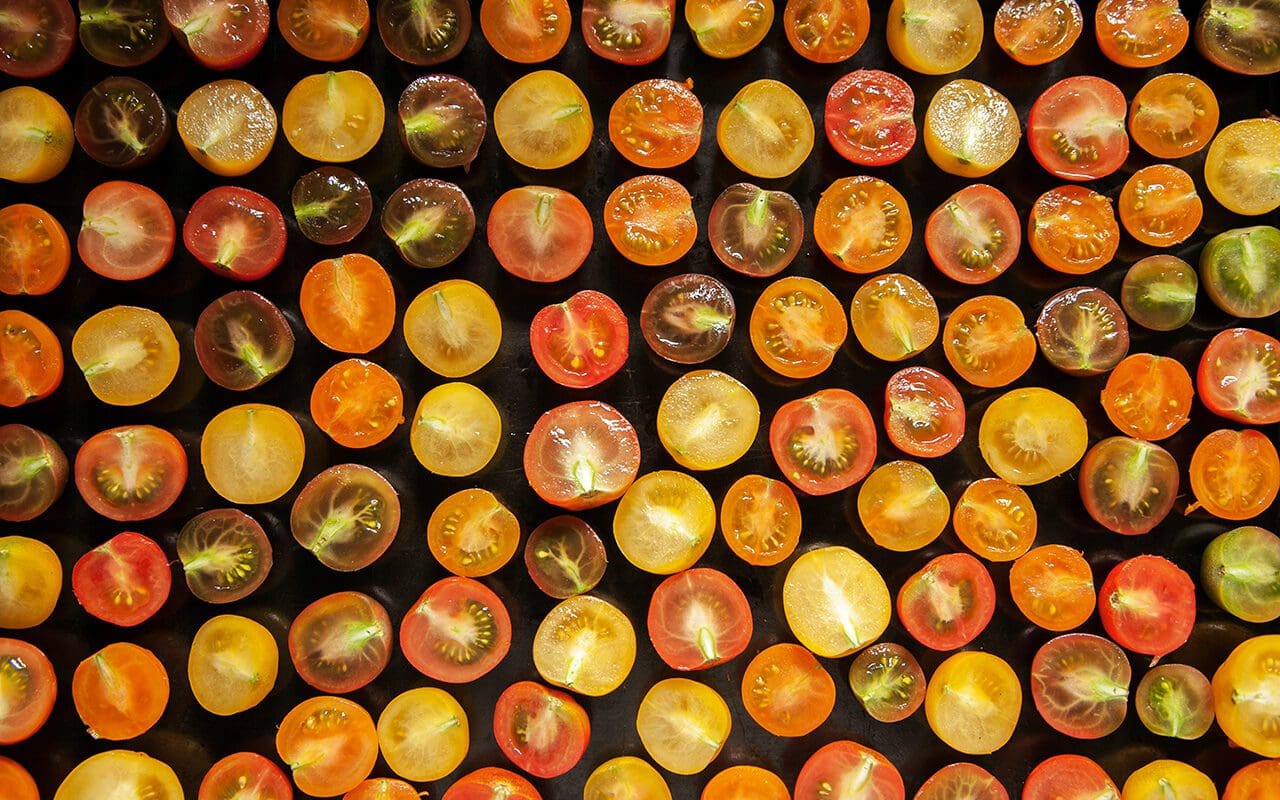 INGREDIENTS
Pastry
270g plain flour
10g fine polenta
140g, chilled butter, cubed
1 egg, beaten
Ice cold water
Salt
Filling
250g sheep feta
125g sheep curd or ricotta
125ml double cream or mascarpone
A large handful of fresh basil leaves
2 large eggs, beaten
About 500g cherry tomatoes, halved, sprinkled with salt and slow-cooked for 2 hours at 125°C, then allowed to cool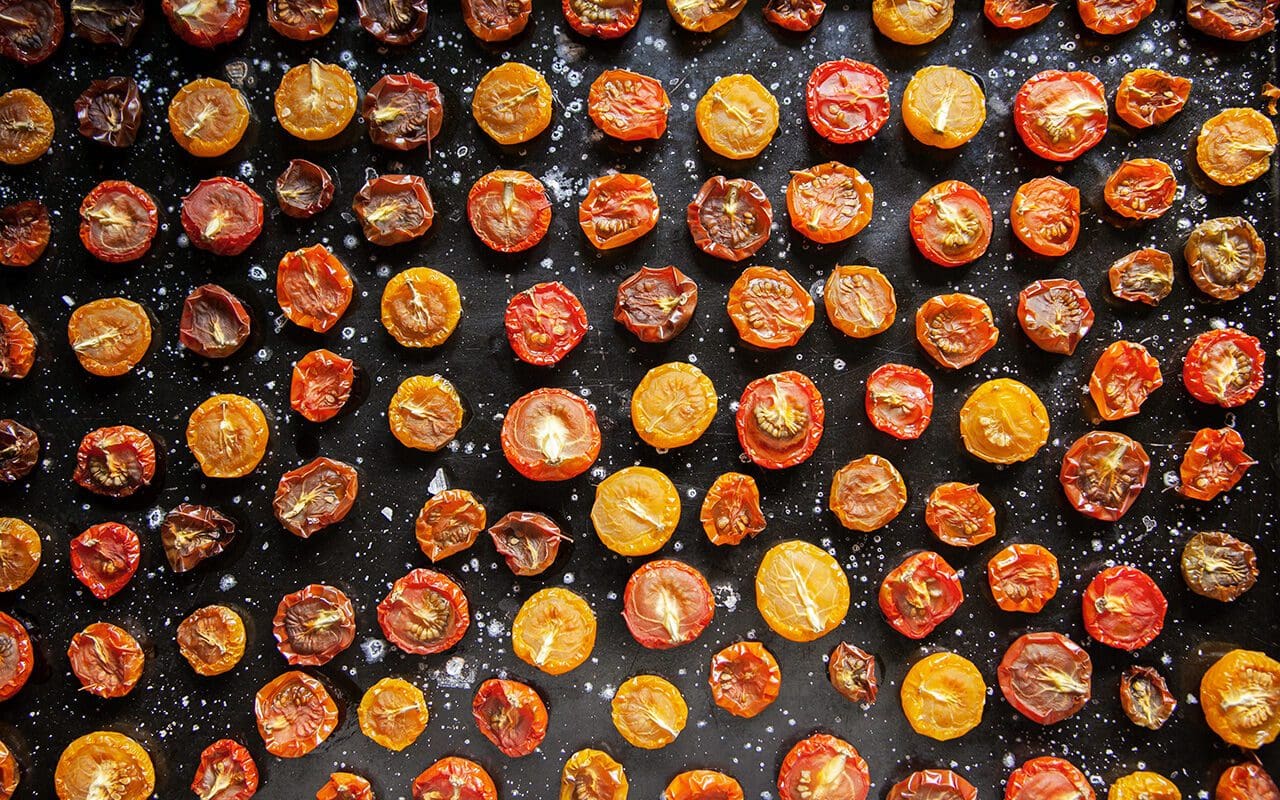 METHOD
You will need a 20 x 30 cm rectangular or 28 cm round metal tart tin.
Set the oven to 180°C.
Make the pastry by putting the flour, polenta, salt and butter into the bowl of a food processor. Process until the mixture resembles fine breadcrumbs. With the motor running slowly add the beaten egg. Then add chilled water a couple of teaspoons at a time until the dough comes together. When it does, immediately switch off the machine, remove the dough and form into a ball.
On a floured surface quickly roll out the dough and line the tart tin. Trim off the overhanging pastry, prick the base all over with a fork, line with baking parchment and baking beans and bake for 15 minutes. Remove the baking beans and parchment and return to the oven for 5-8 minutes, until golden brown and looking dry. Remove from the oven and allow to cool.
Put the feta, sheep curd and cream into the food processor and process until well combined. Add the basil and process again until the mixture is completely flecked with green. With the motor running add the beaten eggs. Pour the filling into the pastry case. Arrange the cherry tomatoes on top of the basil cream, fitting in as many as you can. Return to the oven for a further 25-30 minutes, until the tomatoes are lightly browned and the basil cream is golden in places and puffy.
Serve warm with a green salad.
Recipe & photographs: Huw Morgan
Published 28 August 2021