Redcurrant, Raspberry & Rose Geranium Jelly
I've been clearing out the freezer and pantry over the past few weekends to make room for the end of season fruit harvest. Over the course of the winter we get through nearly all of the fruit we freeze – rhubarb, gooseberries, blackcurrants, raspberries, plums, blackberries and apples – but I can guarantee that, each autumn, in the bottom drawer of the freezer there will be a container full of redcurrants, untouched since they were picked.
I really like redcurrants, when in season. Freshly picked off the bush and used to garnish anything from morning granola to a festive summer pavlova, their carmine colouring and jewel-like clarity draw you to them like a magpie. However, I have always found that they produce far too much fruit for their usefulness when fresh, and that their uses when preserved are limited. But, we have a very healthy redcurrant bush and every year it produces as much fruit as before. So, in the past couple of years, I have been trying to find other ways to use the glut.
Redcurrants are very high in pectin but, when cooked, are not strongly flavoured and retain their vibrant colour. So, as well as their ubiquitous use in redcurrant jelly they are very useful in making preserves with fruits that are low in pectin, particularly red ones, such as raspberries, strawberries and rhubarb, as they brighten the colour of the preserve. Since they are high in acid, they also provide a good balance to fruits that can otherwise be too sweet on their own in a jam. Last year I made the most of a good (but still small) harvest of wild strawberries by cooking them briefly in a heavy redcurrant syrup into a jammy compote. The recalcitrant redcurrant acted as a carrier for the delicate, floral flavour of the strawberry, enabling you to fully experience a taste that is usually quite ephemeral. This year I have used the leftover redcurrants with the last of this year's autumn fruiting raspberries which, after producing for weeks now, are finally running out of steam, and so need stretching out.
Just a small proportion of our annual redcurrant harvest 
I have always loved raspberry jam. As a child I much preferred it to strawberry, which I found sickly and artificial tasting. However, I have always found the seeds a bit irksome. If it's possible, redcurrants are even seedier than raspberries, and so a jam made of the two would have proven particularly dentally challenging. And there is something about a pure, clear fruit jelly that I find almost primally enchanting. The distillation of fruit into the essence of that fruit. I generally use less sugar than is used in traditional recipes, where the ratio of fruit to sugar is usually 1 to 1. This is because I prefer a runnier preserve, and also find the reduced sweetness more palatable, and less overwhelming to the flavour of the fruit. 
Raspberries and roses are good bedfellows, so when making this batch of jam, I stewed some rose geranium leaves (Pelargonium 'Attar of Roses' has the best flavour) in it just before potting up. The rose flavour is taken up by the fruit, but the sharpness of the redcurrants prevents it from being cloying and elevates this preserve into something which is as good on vanilla ice-cream, stirred through a fool or used as the base of a vodka cocktail as it is smeared on a piece of toast or a freshly baked scone. It feels good to eke out these last moments of summer.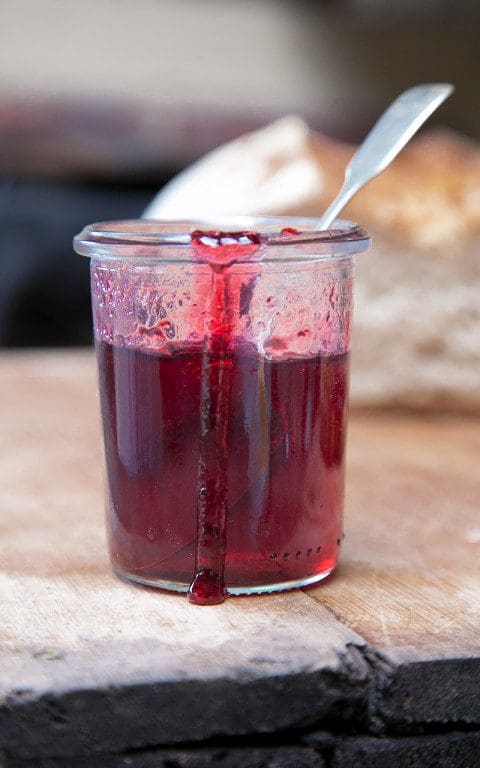 Makes 3-4 225g jars
INGREDIENTS
500g raspberries
500g redcurrants
Granulated sugar
4 large rose geranium leaves or 1 teaspoon rose essence
400ml water
METHOD
Put the fruit and water into a preserving pan. Simmer gently for 30 to 40 minutes, until the fruit has completely collapsed and given up all of its juice. Break it up more with a wooden spoon, then pour into a jelly bag or colander lined with muslin and allow the juice to strain into a large bowl for at least 6 hours, preferably overnight. Do not squeeze or press the pulp or the bag or the jelly will be cloudy.
Measure the juice, return it to the cleaned pan and bring slowly to the boil. Measure 450g of sugar for every 600ml of juice and add this to the juice once it is boiling. Stir well to dissolve the sugar, and carefully scrape in any sugar crystals from the side of the pan. Bring back to the boil and then boil hard for 8 to 10 minutes without stirring until the desired setting point is reached.
Remove from the heat, stir to disperse any scum on the surface and then drop the rose geranium leaves – or stir the rose essence – into the hot jam. Allow to settle for 5 minutes, then remove the geranium leaves, stir well and then pot into warm, sterilised jars. Seal immediately and allow to cool before labelling and storing in a cool, dark place. This will keep unopened for up to a year. Once opened keep in the fridge.
Recipe & Photography: Huw Morgan
Published 22 September 2018