We've never had much luck with cauliflowers. With a reputation for being tricky customers, sensitive as they are to inconsistency during the growing cycle, they also generally require a very long growing season, thus making inconsistencies in cultivation far more likely. As the queen of vegetable growing, Joy Larkcom, succinctly states in our kitchen garden bible, Grow Your Own Vegetables, 'The secret of success is steady growth, with plenty of moisture both at young plant stage and when maturing. Growth checks are caused by delayed transplanting, or spells of drought, resulting in deformed and small curds.' Having had some unexpected success with the purple-headed 'Sicilia Violetta' two years ago, last year I was determined to break our dissatisfactory run once and for all and grow a harvest we could be proud of.
I had picked out two varieties, both from Real Seeds, 'All The Year Round' and 'Autumn Giant'. The first because it promised the ease of successional sowings, and the second since it was reportedly 'very reliable'. Both were sown in plugs on April 12th and were ready to plant out five weeks later in the middle of May. I looked after the young plants assiduously, watering them regularly and giving them a fortnightly liquid manure feed from mid-June as the plants started to grow away in earnest. Whether the feeding initiated it or not I can not be sure, but by early July it was apparent that all eight plants of 'All The Year Round' were on target to produce huge and beautiful, snow-white curds that would all be ready to harvest simultaneously in a matter of days. It was equally apparent that there was no way Dan and I were going to be able to eat all of them ourselves in the time available.
I chose my day carefully, reorganised the freezer, cleared the decks in the outside kitchen and assembled the equipment required for a mammoth batch of blanching. Cauliflower plants are huge, and it took some sawing and wrestling to take them all down, but eventually my catch was landed and Dan took my picture standing over them, inordinately proud. A large pasta pan with a colander insert makes blanching an easy affair, and as each batch went in I would set the timer for 3 minutes and return to preparing the next in line, removing the leaves and slicing each floret in two. Despite my apprehension of a neverending mountain of caulis the whole process of harvesting, preparing, blanching and bagging up seven of them for the freezer took around three hours. This really doesn't seem a bad investment for the number of prep free meals they have provided this winter.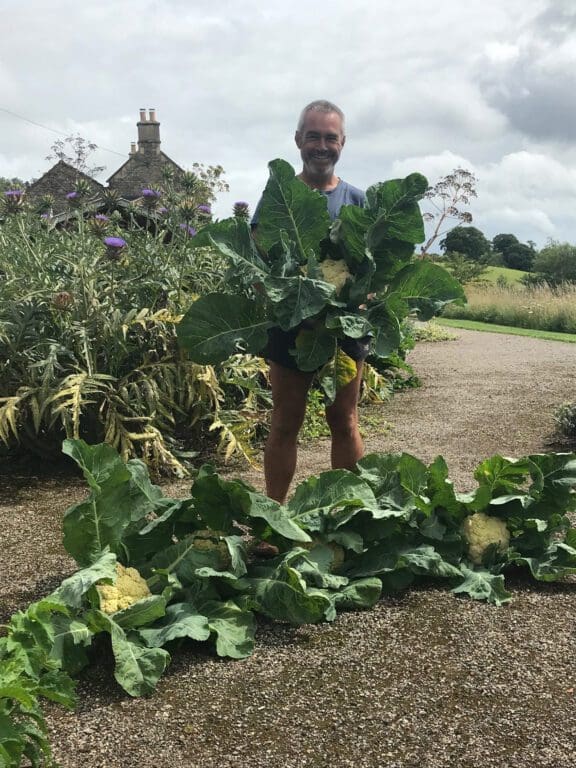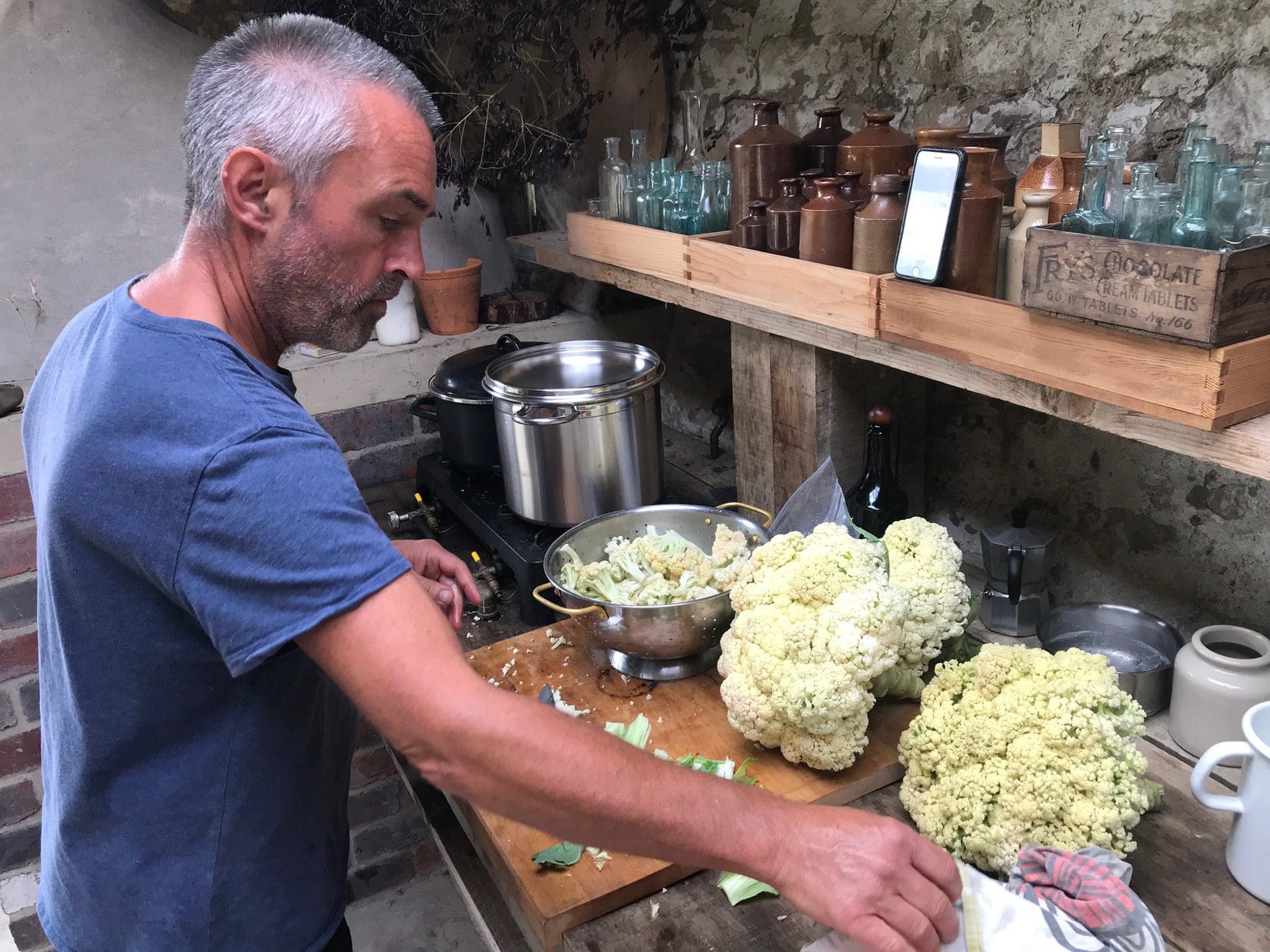 Dan posted his pictures of me on Instagram and that evening I got a message from Errol Fernandes. Errol is a Senior Gardener at Kenwood House in Hampstead and through his connection to Great Dixter we have come to know each other a little on social media, but have never met. Errol directed me to a post of his which gave his own recipe for blackened cauliflower inspired by his Goan mum's home cooking, in the hope it might help us get through our cauliflower glut.
Knowing that we live in deepest, darkest Somerset Errol offered to send me some of the harder to come by ingredients – namely the back salt, powdered lime and mango powder. I have used dried lime and mango powder before, but never the black salt. Errol warned me, 'It smells like bad eggs, but don't be put off! It's essential for the dish.' When the little cellophane packets with hand-written labels arrived a few days later the distinctive sulphurous smell instantly transported me back to the Diwana Bhel Poori House on Drummond Street behind Euston station. When I was living in Camden in my mid 20's I used to eat there on a weekly basis with my friends Simon and John Paul. The crisp-shelled poori, served with potatoes and chick peas and an appetising chutney that I now understood was flavoured with black salt.
Black salt (also known as kala namak) comes from volcanic salt mines in the Himalaya, and has been used in Ayurvedic medicine for centuries for its cleansing, detoxifying and digestive properties. Its pungent smell acts in a similar way to asafoetida, adding a deep, hard-to-pin-down umami richness which makes it incredibly more-ish. The powdered dried lime, mango powder, lime juice and turmeric combine to produce a deliciously astringent flavour which makes this a perfect dish to greet the changing season and wake up our slumbering taste buds and livers. 
Each time I have made this dish I have taken the little cellophane packets of black salt and lime powder that Errol sent out of the spice cupboard and each time I have been reminded of his kindness at that time. We had just come out of the first lockdown and everyone was feeling raw, apprehensive and yet keen to connect. As Errol wrote to me when I asked him if I could share this recipe today, 'I love sharing my food/culture, and I love learning about other people's. Food is a wonderful way of connecting…' So, as we look forward, hopefully, to a summer of renewed connections, it makes me happy to be able to share that connection with you.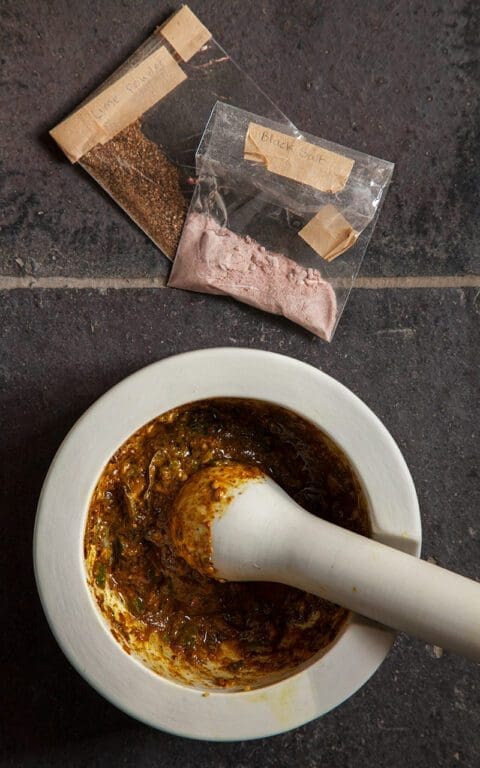 INGREDIENTS
1 cauliflower (around 1kg)
1 tablespoon coriander seed
1 teaspoon mango powder
1 teaspoon lime powder
1 teaspoon black mustard seed
1 teaspoon turmeric powder
1 teaspoon salt flakes
½ teaspoon cumin seed
¼ teaspoon garam masala
¼ teaspoon Kashmiri chilli powder
¼ teaspoon asafoetida
¼ teaspoon Himalayan black salt
½ large green chilli, coarsely chopped
1 large clove garlic, coarsely chopped
8 curry leaves
Juice of half a lime
2 teaspoons cider vinegar
2 tablespoons rapeseed or other unflavoured oil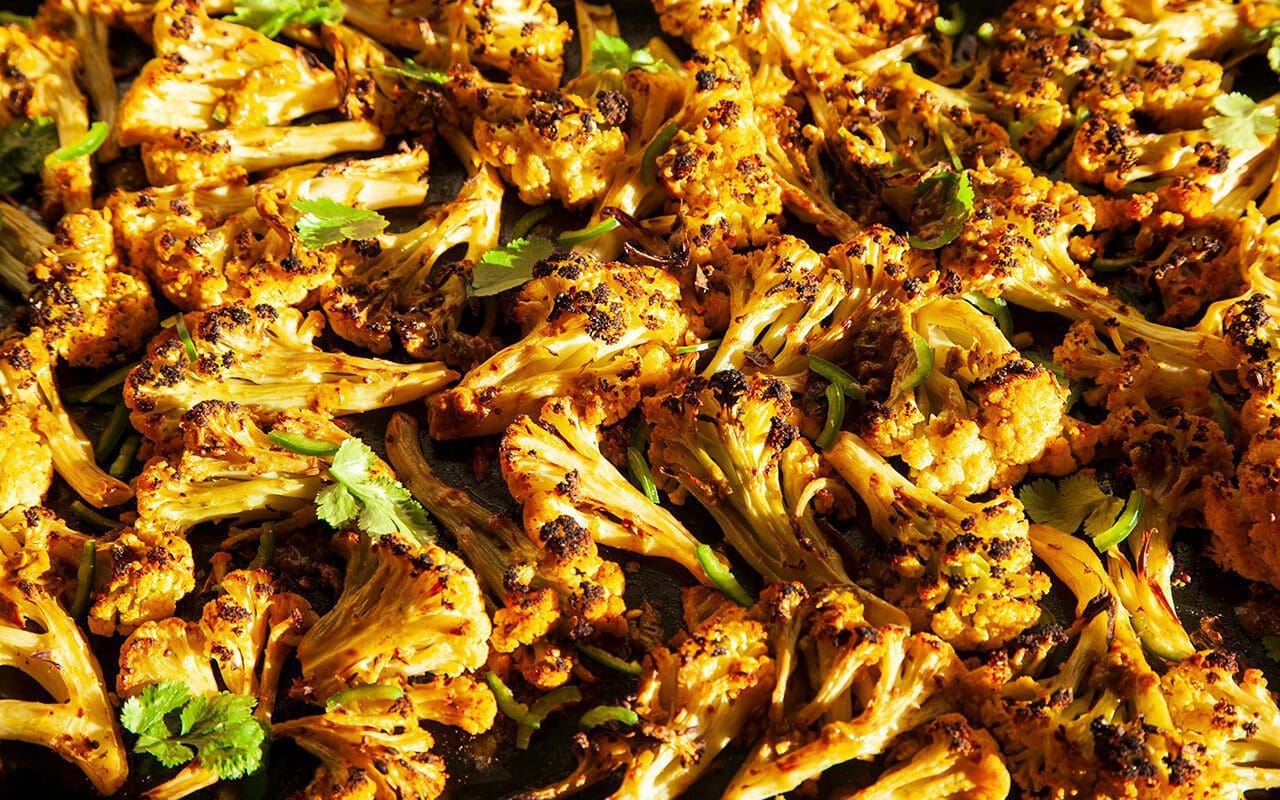 METHOD
Separate the cauliflower into florets and cut these in half or in quarters depending on size. Cut the core and stalk a little more thinly. Include the young tender leaves too. You want bite size pieces that all will cook evenly. Put it all into a glass or ceramic bowl.
Put all of the other ingredients into a mortar and crush slowly and gently to make a coarse sauce. You want the garlic and chilli to be bruised and broken, but for the whole spices to mostly retain their form.
Spoon all but one tablespoon of the marinade over the cauliflower and mix thoroughly. I find it is quickest and most thorough to do this with your hands, but wear gloves if you don't want the turmeric to turn your hands yellow! Cover and leave to marinade for at least an hour.
Pre-heat an overhead grill to hot. Arrange the cauliflower pieces in a single layer on a baking sheet and put under the grill for 20 to 25 minutes. Turn the pieces every now and then until all are cooked and charred in places.
Spoon the remaining marinade over the cauliflower with a squeeze more lime juice. Garnish with fresh coriander and more finely sliced green chilli and eat piping hot.
Serves 4 as a main side dish or 6 as part of a mixed plate meal.
Recipe: Errol Fernandes | Words & photographs: Huw Morgan
Published 27 February 2021