The day lilies are a celebration of summer, brightly teetering and reaching towards the sun. Each stem holds several buds that come in succession, so the fact that the individual flowers last just a day is neither here nor there, for most have a month's supply to claim high summer.
I first encountered their steadfastness when we unearthed a double form of the Tawny daylily, Hemerocallis fulva, in my childhood garden. Several clumps stood strongly amongst the nettles and tangle of bramble to mark a long-forgotten border from another time. They had survived fifty years of neglect and didn't even thank us for clearing around them. They just carried on as if nothing had happened.
I didn't particularly like the Tawny Daylily for its muddle of double flowers, but I appreciated the fact that it was a survivor and have experimented with others since, so I can vouch for their ease and longevity. Once I saw Hemerocallis esculenta growing wild in the forests of Japan, I understood why they are happy to thrive in a competitive situation. They prefer a retentive ground in the wild, favouring damp woods and cool open grassland on the edge of clearings, but their tuberous roots provide for them if the conditions falter.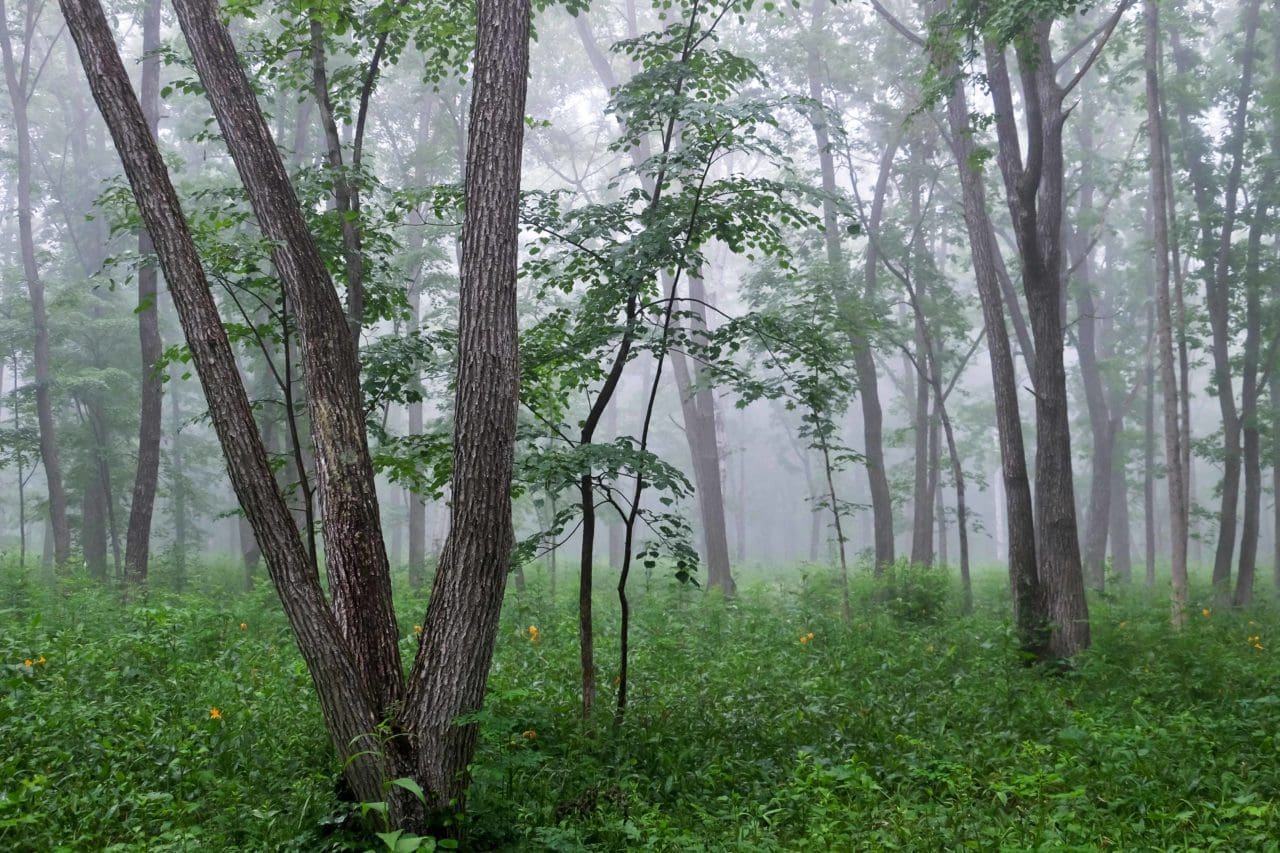 Forming slowly increasing clumps, they will stay and not stray, neither bulking in bullish manner nor seeding. Over time they can go without division and will not dwindle and they are as happy in a little shade as they are out in the open. They make such good garden plants that nurserymen have made breeding them something of an obsession. Look up the daylily online and you quickly find American websites with countless numbers of varieties. Most of them have lost their charm, simplicity and elegance, but there are several handfuls of really good varieties. Some still showy and selected to blaze, some more refined and with the same lightness of touch I saw lighting up the woodlands in Japan.
The first to flower here – and the exception for not being clump forming, is the gently running H. lilioasphodelus. I grew this species in the garden in Peckham where it arched to a metre in our sheltered garden. Not so here where, with our exposure and open conditions, it grows to no more than 60cm or so. I suspect it is happy for the company of thalictrum and the gentle grassiness of melica, which must remind it of woodland, but it refuses to grow any taller. The flowers are small and gold and highly-scented. They follow on from Molly-the-witch peonies in early May and flower well into the middle of June.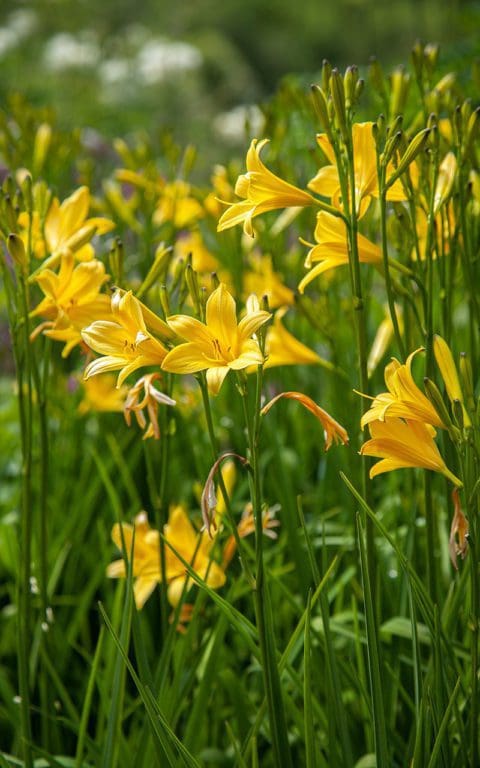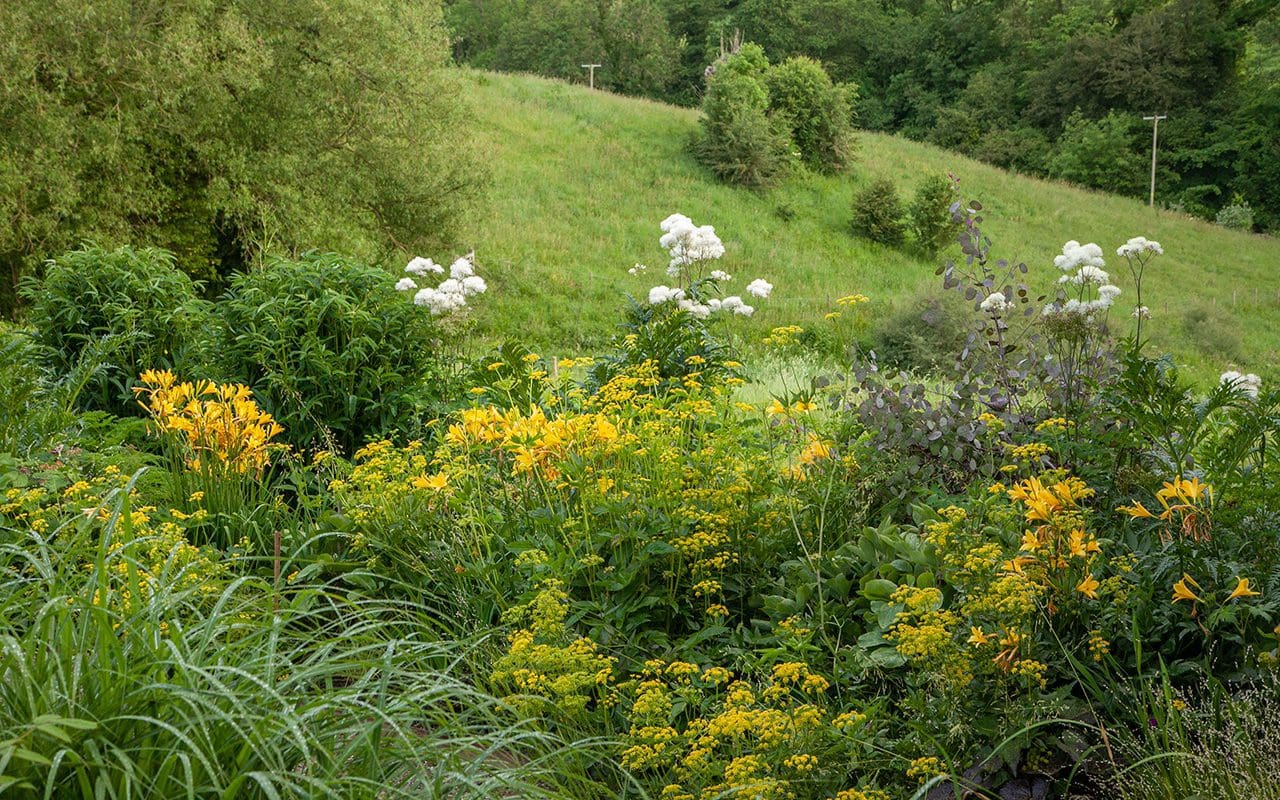 Hemerocallis citrina (main image) is the second to flower. My plants originally came from Piet Oudolf, who dug one up for me from his garden in Holland to bundle into my suitcase. All the hemerocallis leaf up early with fresh, lime green foliage, but H. citrina is earliest and fine in all its parts. We lost all the flowers to a late spring frost on May 12th two years ago, reminding me of their precociousness. The first flowers of this Chinese species open at the beginning of June. Pale lemon yellow, finely rayed and night blooming and right about now crossing over with the slightly later Hemerocallis altissima. Both are nocturnal species, the flowers opening in the latter part of the afternoon and perfuming the air to attract moths at night. Their awakening is a wonderful thing to witness as they come into their own in the gloaming, their pale flowers being last to dim as the light goes. The flowers will hang on in there until mid-morning, but will be withered and gone in the brightness of the day.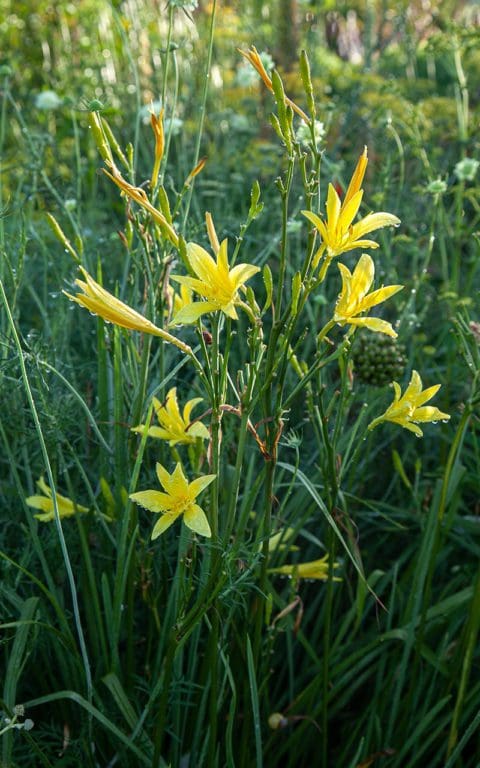 I first saw H. altissima in the High Garden at Great Dixter, soaring well over head height on wire thin stems. It was love at first sight, the delicate primrose yellow trumpets weighting long scapes and swaying gently in the wind. We have used them here near dierama and they cross over later in the summer with the Pennisetum macrourum which also harness the breeze. Back then, when Christopher Lloyd was still alive, someone would run up to the stock beds and get a freshly dug bare root plant if you were there at the right time of year and my plants here today are the offspring of those originals.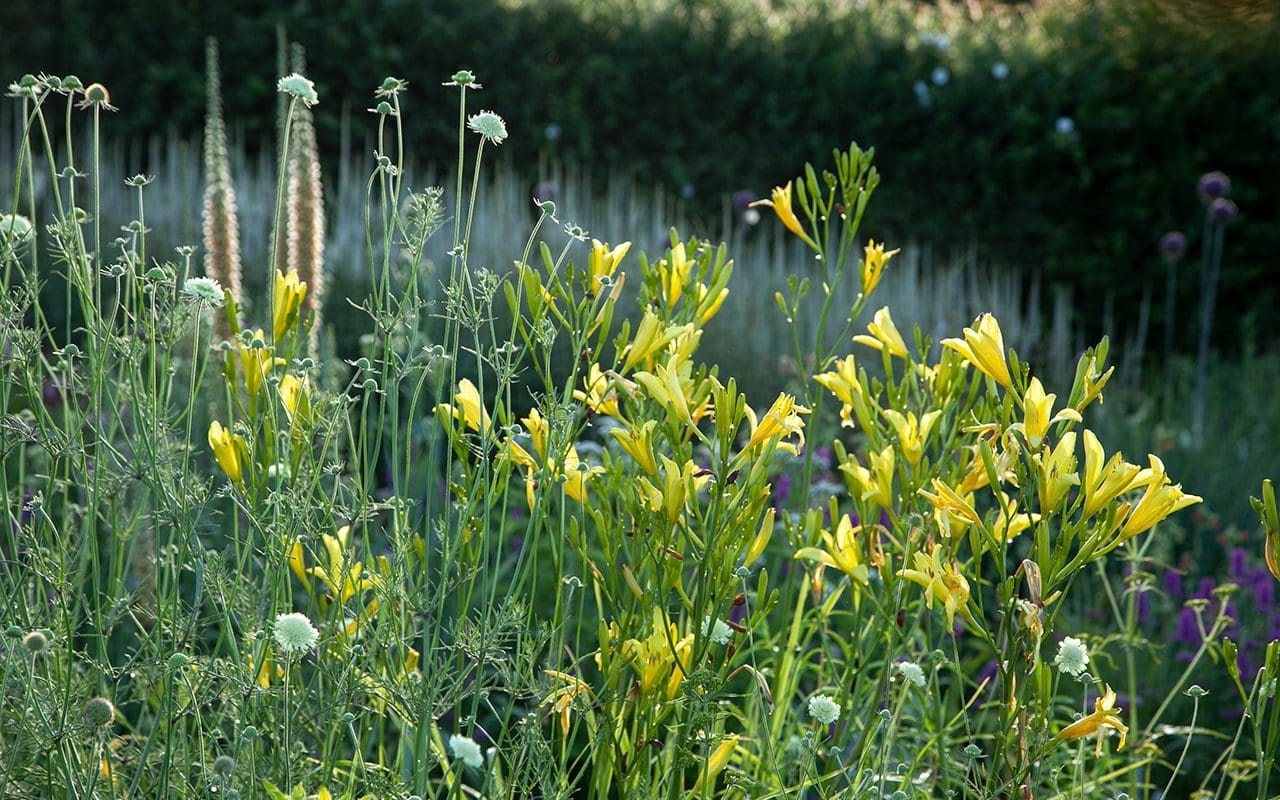 The grace of the night birds is carried through into some good varieties with fine petals and day-time blooming. Several of the best are the spider hemerocallis that came from breeding the nocturnal species such as H. altissima and H. citrina with the diurnal H. fulva. I have just placed an order with Woottens of Wenhaston, who have a good collection, to update my hemerocallis vocabulary, but if I had to choose only one red, large-flowered daylily, it would have to be 'Stafford'. I first grew this at Home Farm where it was planted amongst and consequently bathed in the incandescence of the giant oat grass, Stipa gigantea. 'Stafford' has bold, rust-red flowers, poise and an enduring appeal. One plant will arch in flower to well over a metre in circumference and I grow it here to either side of the path as a fiery gateway to the garden. I have never tired of 'Stafford' and, although I'm looking forward to my new arrivals, as it arches through the terracotta of Bupleurum longifolium, I doubt I ever will.
Words: Dan Pearson | Photographs: Huw Morgan
Published 16 July 2022