Broad Beans, Peas, Courgettes, Potatoes
Although it's just two weeks since my last recipe, Dan has been away for most of this week and so it falls to me to provide for you all again. And, as the harvest season begins in earnest, the kitchen garden has been much on my mind.
Just before Dan left we dug out the last of the broad beans and peas, laden with full pods we have not had time to pick in the last few weeks. It was a hot evening and we threw the plants into barrows and wheeled them to the shade of the covered area next to the house, where we sat down with cold drinks and removed the pods.
I podded the peas straight away, blanched them and put all but those we had for supper in the freezer. The broad beans filled two large buckets and would take longer to process, so I spread the job over the hottest two evenings this week. Firstly podding them, before blanching them in boiling water for two minutes then refreshing them in a sink full of ice cold water. After piercing the convex side of each bean with a thumbnail I then slipped each bean from its skin into a waiting Tupperware.
Yesterday evening, as I took the last bucket of bean skins to the compost heap, I wondered what I might eat. I had polished off the last of the leftovers in the fridge the previous evening and hadn't given a thought as to what to make. I always find it tricky cooking for one. It is hard to summon the enthusiasm to get stuck in to a recipe or do lots of food preparation when a quick snack from the fridge will do the job. I really didn't fancy having to create something from scratch, but as I walked past the first of the courgettes starting their rapid journey towards marrowhood, I remembered that there were still some of our first boiled new potatoes in the fridge which, with some of the beans and peas I'd already prepared, I knew I could combine to make a quick and delicious one pan meal.
Most of our meals here start in this way. I seldom begin with a recipe, but by looking at what needs harvesting or what looks most delicious in the vegetable garden, what is lurking in the fridge and whether something on the pantry shelves might make a good companion. It is then usually a very simple approach to combining these into something plateworthy.
These meals of bits and bobs, where the food comes together from what is available rather than from any plan, are some of my favourites. They allow for improvisation, for pandering to your own tastes. And depending, as they often do, on an alignment of ingredients which may never occur again, have a one-off, ephemeral quality which can make them feel like a special occasion.
As such this is not really a recipe, but a record of the elements that happened to come together for me last night. For quantities I used the potato (essential here, I think, so cook some if you don't have leftovers) as a starting point, using the same weight of courgette and then proportionally less of the legumes. You could add or substitute shallots, onion, green beans, sweet corn, carrots, chard, broccoli, artichokes, celery, fennel or tomatoes. I kept it simple, but could have added anchovy, olives, capers, chilli. Use any herbs you have to hand. Parsley, dill, tarragon, thyme, chervil or mint would all work well. This is an opportunity to use the best olive oil you can. Eat on its own or with feta, grilled halloumi, meatballs, sausages, chops, chicken or grilled white fish.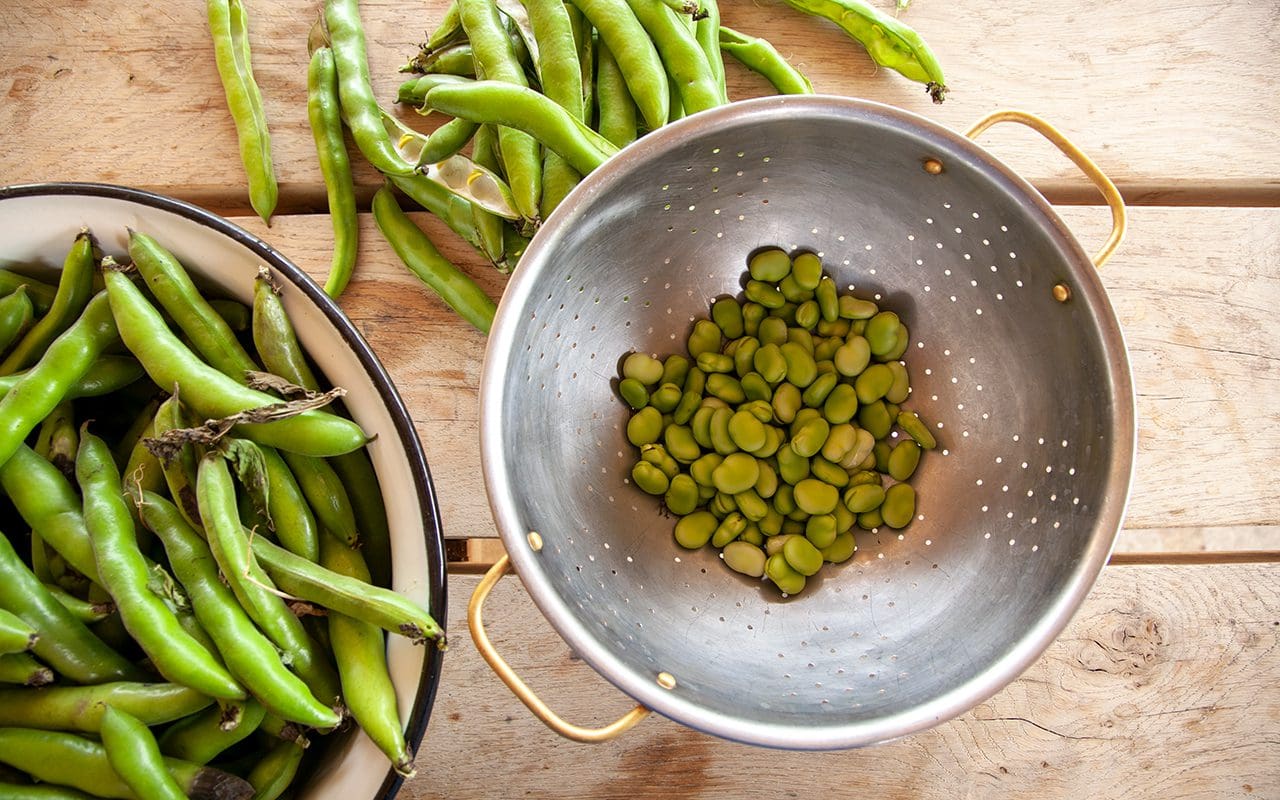 INGREDIENTS
400g cold, boiled potatoes
400g courgette
150g fresh peas, shelled weight (about 750g in the pod)
150g broad beans, podded and peeled weight (about 1kg in the pod)
1 fat clove of garlic, finely chopped
2 stalks of savory (or thyme or oregano)
3 stalks of savory picked of their flowers and tender leaves
1 lemon, juiced and zested
Olive oil
Salt and black pepper
Serves 4
METHOD
Pour enough olive oil – around 8 tablespoons – into a heavy bottomed skillet or frying pan to generously coat the base. Heat until smoking then add the potatoes, which you have cut into equal sized pieces. Fry on a high heat, turning from time to time, until they are well browned and crispy on all sides.
Add the garlic, savory stalks and courgette, which you have cut into pieces of a similar size to the potato. Season generously with salt. Fry for 15 to 20 minutes, stirring regularly, until the courgette is softened and translucent and browned in parts.
Add the broad beans and peas and cook for a further 5 minutes, stirring regularly. Remove from the heat while the peas and beans are still bright green. Check the seasoning. Add more salt if needed and freshly ground black pepper. Add the lemon juice and most of the zest and stir again.
Scatter over savory flowers and leaves and the reserved lemon zest.
Serve warm.
Recipe & photographs: Huw Morgan
Published 23 July 2022