And so, once again, the courgettes are on the march. No matter how quickly we think we are eating them – and with house guests for the past three weekends we have got through a fair few – there are always more than we can manage. Every week the largest are liberated and put in a crate on the verge by the front gate for passersby to take. More often than not they are gone within the day.
A couple of years ago, during the height of the pandemic, we witnessed the entertaining sight of a cyclist removing the water bottle attached to his bike frame and offering up each courgette in the crate to the bottle clamp to see if it would fit, like Prince Charming trying slippers on Cinderella. With the match finally made he tucked the water bottle into the back of his Lycra shorts and off he went, unaware of our spying. We were delighted to think we had provided a free supper for someone who had just gone out for an evening ride.
This year I have grown six varieties. Two are round, 'Geode' and 'Tonda di Nizza', which are good for stuffing with either a rice and vegetable or tomato and lentil filling. The others are the dark green 'Nero d'Italia' and 'Nero di Milano', striped green 'Striato di Napoli' and yellow 'Goldy'.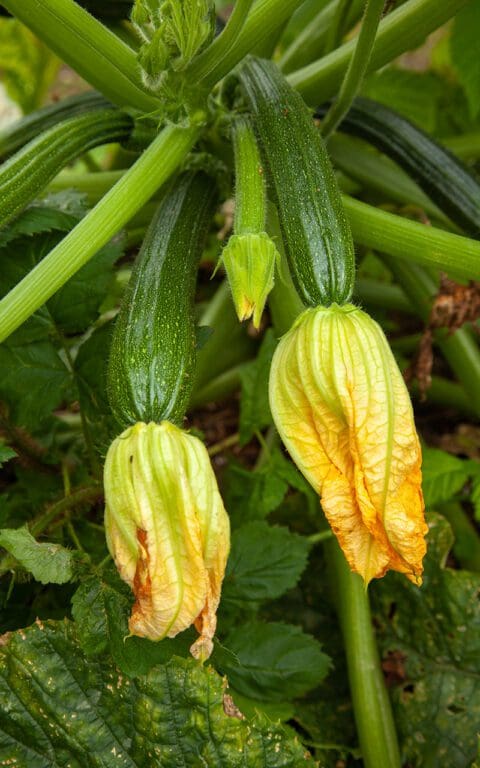 It is, of course, a well-worn culinary cliché that there are not enough courgette recipes around to make the prospect of eating as many as are produced a pleasure. Like everyone else who grows them I try hard every year to add to the list of different and delicious ways to consume them. Over the past few weeks I have had a run on fried stuffed courgette flowers, which are one of the benefits of growing your own, as they are too delicate to be available to buy at the greengrocer.
There is something alluring and decadent about a fried courgette flower, their soft, delicacy and floral form frozen in brown batter. And anything stuffed seems to bring out the child in dinner guests, who ooh and aah as they bite through the crisp shell to discover the creamy delight within. In Italy the two most traditional fillings are mozzarella with anchovy or ricotta with green herbs and parmesan. I usually make the latter, with the addition of lemon zest, nutmeg and a few chopped capers, as I'm not so keen on the stringy, molten mozzarella ones, which burn the roof of your mouth.
It was while I was cleaning up the garlic for plaiting (lifted a few weeks ago and since drying in the barn), that I had the idea of making confit garlic to add to a ricotta and basil filling. Extremely easy to make confit garlic adds richness and depth to pasta sauces, soups and stews and is delicious spread on toast with a topping of roast cherry tomatoes. The oil adds flavour to salad dressings, bruschetta and focaccia before toasting and is wonderful drizzled over Turkish eggs.
Peel and trim a few heads of garlic and put the cloves in a small, lidded pan. Add any woody herbs you like – thyme, rosemary, sage, bay. I used winter savory and a couple of small hot dried chillies saved from last year. Just cover the cloves with olive oil, put the lid on the pan and place over a very low heat or in a low oven for 45 to 60 minutes until the cloves are completely soft and starting to brown. Allow to cool and transfer to a preserving jar, ensuring all the cloves are covered in oil. It will keep in the fridge for a month or two, but best advice is to use it within three weeks to avoid the risk of botulism. However, the cloves can be frozen and kept for six months to be used whenever you want.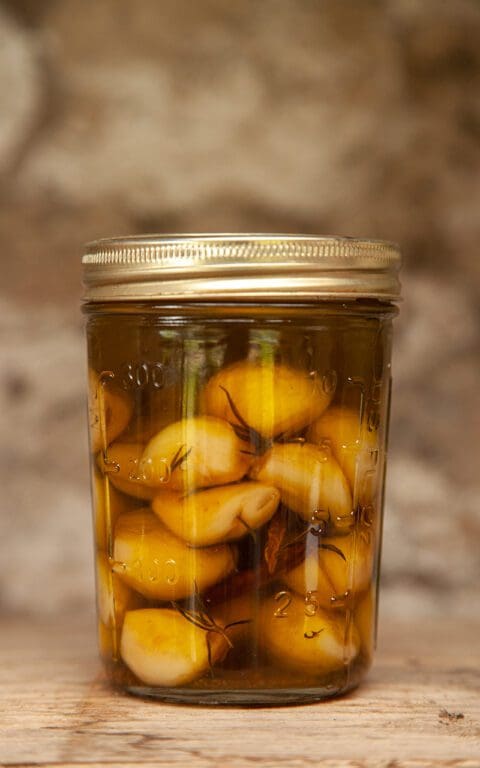 The garlic and ricotta make for a very rich filling, which needs a sharp contrast to cut through it. A salad of shaved, young courgettes dressed simply with lemon juice and olive oil makes the perfect partner, the flowers and fruits looking pleasingly reunited on the plate, while using up more of the glut in the process. A vegan filling can be made by using creamed silken tofu in place of ricotta.
For this dish you should use male flowers. These can be identified by their long stalks, which hold them well above the crown of the plant. Female flowers grow closer to the plant and have a hard nub behind the flower, which is the embryonic fruit. It can be nice to pick and stuff the female flowers of very young courgettes (no larger than your little finger) which are still attached, but here that might just be courgette overload. The flowers should be picked in the morning, as they wilt towards the end of the day which makes stuffing them impossible. If you are not using them until the evening, or even the next day, they keep well in a lidded container in the fridge.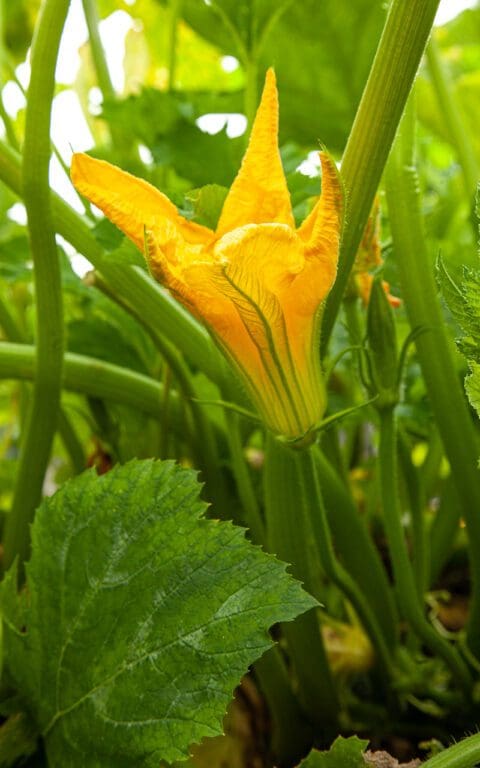 For 4
INGREDIENTS
Courgette Flowers
8 courgette flowers
200g ricotta (or silken tofu) 
4 large cloves of confit garlic
A small handful of basil leaves, finely chopped
Nutmeg, to taste
Salt
Pepper
Batter
60g rice flour (or plain flour)
40g cornflour
1 teaspoon bicarbonate of soda
About 100ml sparkling water, chilled
Salt
Rapeseed or other high temperature plain vegetable oil for frying
Salad
2 medium or 3 small courgettes, a variety of colours if possible
A large handful of flat leaf parsley, leaves picked
A handful of peppery and sharp young salad leaves – rocket, sorrel, watercress, chicory
2 tablespoons of salt preserved capers, soaked and drained
1 unwaxed lemon, zest and juice
4 tablespoons of olive oil
Salt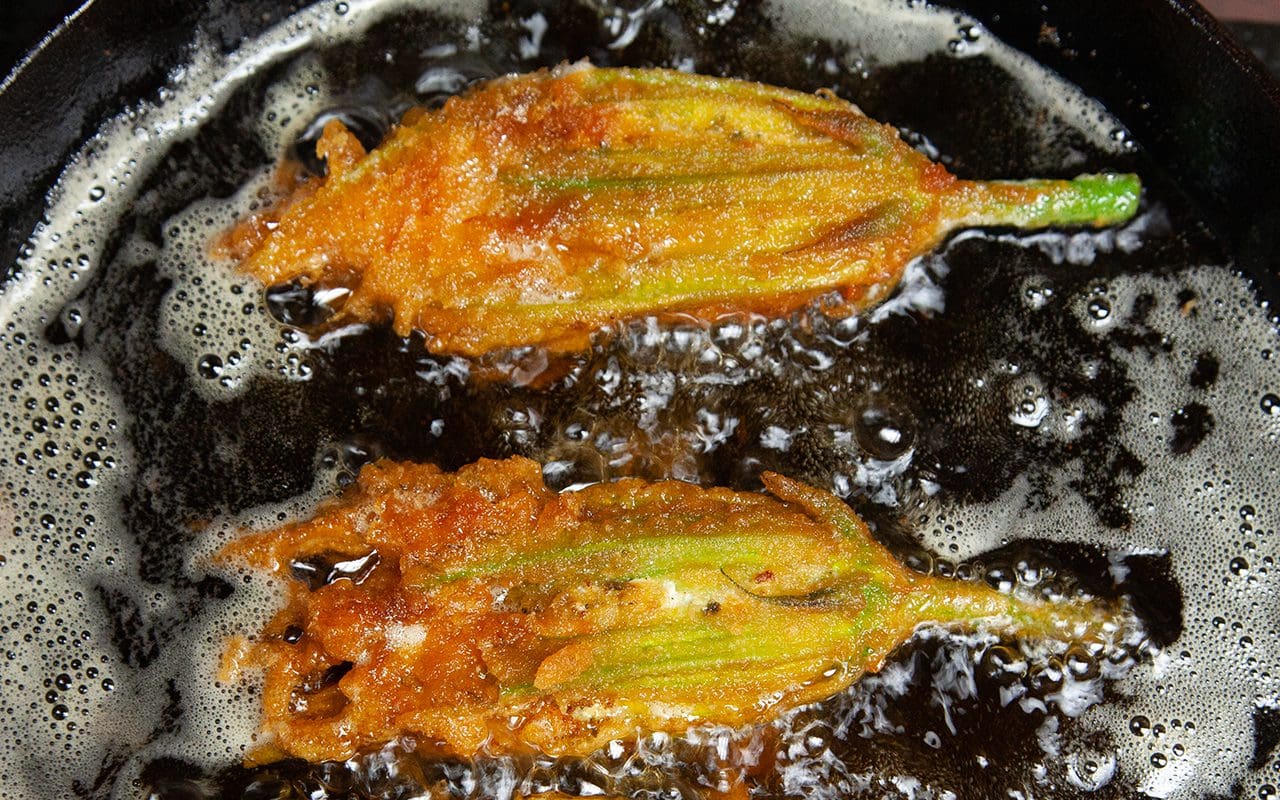 METHOD
Make the filling by creaming the ricotta and garlic together. Stir in the basil and season to taste.
Very carefully open up each of the courgette flowers and remove the stamen at the bottom, which can be bitter. Use a teaspoon or piping bag to put up to two teaspoonfuls of filling into the base of each flower. Gently twist the tips of the petals together to close. Don't worry if you rip the petals, as the batter will seal the hole, although you may find some filling leaks into the oil.  
Make the batter by mixing the two flours and bicarbonate of soda together in a bowl. Season and add the fizzy water little by little until you have a batter the consistency of single cream. Leave to stand.
Using a vegetable peeler shave the courgettes along their length into ribbons. Discard the first couple of ribbons, which will be mostly skin. Put the courgette ribbons into a bowl with the parsley, salad leaves and capers. Put the lemon juice, olive oil, lemon zest, salt and pepper in a small bowl. Whisk to emulsify and leave until you are ready to serve.
Pour the frying oil into a large skillet or high-sided, heavy-bottomed frying pan to a depth of one centimetre. Heat until smoking.
Carefully dip the courgette flowers in the batter, turning them so they are coated all over. Hold them over the bowl to allow the excess batter to drain off, then carefully lay them in the hot oil. Never fry more than three at a time to avoid lowering the temperature of the oil. After about three minutes check the underside and, if golden brown, carefully turn them over with a wooden utensil. A metal one may pierce the petals causing the filling to leak.
When the other side is brown and crispy remove them carefully from the oil with a slotted implement, allowing excess oil to drain back into the pan before laying them on kitchen paper while you cook the rest. As long as you work quickly they hold their heat well but, if you prefer, put them into a warm oven while you finishing cooking the others.
When they are all done quickly dress and mix the courgette salad with your hands. Divide between four plates, allowing any excess dressing to drain before doing so. Put two courgette flowers on each plate and serve immediately.
Recipe & photographs: Huw Morgan
Published 19 August 2023