It's not long now before we head back to Greece for our annual summer holiday. We are creatures of habit and have been going back to the same island for several years. We enjoy the routine of familiarity; the locals who now recognise us as we wander round town, the meditative walk to the black sand beach and the welcoming, energetic atmosphere of the panagyri, the numerous village festivals focussed on food and dancing. Food at the panagyri is free, and you eat what you are given, but this is no hardship as, without fail, everything is home-cooked and delicious.
One dish that always makes an appearance on the communal tables is skordalia, the thick garlic sauce that usually accompanies simple, boiled greens. These are most often beet greens, vlita (amaranthus) or horta, a mixture of foraged wild greens which can include purslane, dandelion, nettle, chicory, shepherd's purse and sow thistle.
However, the first time we were served skordalia, it came to the table as a dip with breadsticks, and I was immediately reminded of an identical dish we used to eat every night at a beach restaurant on the Andalucian coast just on the edge of the Cabo de Gata Natural Park, the location of our last long-term holiday crush. When I asked, I was told that this garlic dip was called ajo blanco, which confused me, since I was familiar with the chilled soup of this name, sometimes called 'white gazpacho'. It transpired that the ingredients were exactly the same – garlic, bread, almonds, oil and vinegar – it was just the proportion of ingredients that was different, and with less water added.
When I mentioned the similarity of this Spanish dish to the island locals they were really interested, and informed me that the skordalia on this island was unusual in that it was made with bread and almonds, whereas most traditional recipes are made either solely with potato, or bread and walnuts. Indeed, if you Google skordalia there is a huge range of differing recipes and, as with all such traditional dishes, although the core ingredients remain the same, every region has its own version, which also differs from family to family.
However, both the ajo blanco and skordalia of our holidays had a similarly light and creamy texture, which I knew in Spain was achieved through the addition of cold water as well as oil. So this recipe is the result of some experimentation in an attempt to match these two versions, and so may not be one for skordalia purists.
This is a great dish to foreground our recently harvested garlic and, given that skordalia is little more than a vehicle for it, the garlic you use for this should be as fresh and sweet as possible. We grew four varieties this year; Thermidrome, Germidour, Sprint and Printanor. We did a raw taste test immediately after harvesting and, of the four, we found Sprint to be the sweetest.
The quality of the bread is equally important, so use a sourdough with a good crumb, if possible. Cheap, white bread will turn to glue. Blanched almonds produce a whiter result, but the skins of unblanched almonds add an attractive, wholesome speckle to the dish.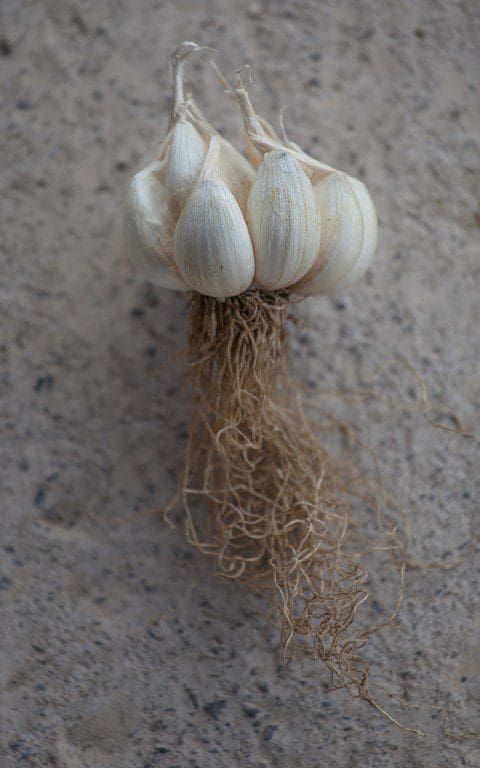 Garlic 'Sprint'
INGREDIENTS
100g stale white bread, crusts removed
50g almonds, blanched or with skins
3 cloves garlic
1 teaspoon sea salt
1-2 tablespoons red wine vinegar
150ml olive oil, or more if required
Up to 175ml iced water
Serves 6 as an appetiser, 4 as an an accompaniment to a main course
METHOD
Soak the bread in cold water for 30 minutes then squeeze out as much water as possible.
Crush the garlic cloves with the salt in a mortar and pestle until you have a smooth paste.
Put the bread, garlic, almonds and vinegar in a food processor and blend until smooth, scraping down the bowl every now and again.
With the motor running on a high speed slowly add the oil until a smooth emulsion is formed. Then add the iced water until it reaches the consistency of fresh mayonnaise. Taste and adjust seasoning with additional salt and vinegar as required.
Transfer to a bowl. Cover with cling film and refrigerate until needed. Remove from the fridge immediately before serving and stir well. If the mixture has thickened considerably beat in a few more tablespoons of cold water.
Spoon the skordalia onto a dish and drizzle over a little more olive oil. Serve as an appetiser with breadsticks, or alongside boiled greens. Spinach, chard or young kale would be suitable replacements for the traditional beet greens or amaranthus.
Recipe & photographs: Huw Morgan 
Published 5 August 2017