Nettle, Sorrel & Wild Garlic Soup
Today's is a very short piece, as events at home and work have allowed me very little time. I have been wanting to share this recipe for several weeks though and not doing so just wasn't an option.
The recipe isn't mine. It is by the London-based Ukrainian cook and food writer, Olia Hercules. Her family are in Ukraine and it has primarily been through following her impassioned and emotive Instagram feed that I owe my awareness and understanding of the events of the past month.
My admiration for her is unbounded. She has campaigned relentlessly. Spoken and written in the press. Raised funds personally and through her activism and doubtless been responsible for educating a huge number of people about the realities of the Russian invasion of Ukraine. All this while being profoundly concerned about the wellbeing of her extended family, friends and fellow Ukrainians.
One of the ways in which she has been raising funds is through the Cook For Ukraine initiative, which she started with Russian food writer, Alissa Timoshkina. Funds raised through supper clubs, bake sales and pop ups are going to Unicef to help families and children affected by the conflict. To date they have raised nearly £325,000.
By cooking and sharing Ukrainian and Eastern European recipes the campaign aims to increase awareness of the humanitarian crisis and bring people together over a shared love of food and Ukrainian culture.
This recipe is incredibly timely. Nettles, wild sorrel and wild garlic are all now growing in profusion in the fields and woods around us. Foraging the amount required for this recipe is the work of a half hour or so and a great activity to do with friends or family. The root vegetables and alliums are all still in store after the winter, while the fresh green herbs are growing plentifully in our polytunnel.
In however small a way, foraging in the fields for the wild herbs in the quiet of the morning to the sound of birdsong and cooking the recipe to the letter of Olia's instructions definitely brought me closer to an appreciation of the Ukrainian way life of that is currently being threatened so critically. It is through understanding this common humanity that we appreciate our own freedoms and understand how important it is to speak out when others are at risk of losing theirs.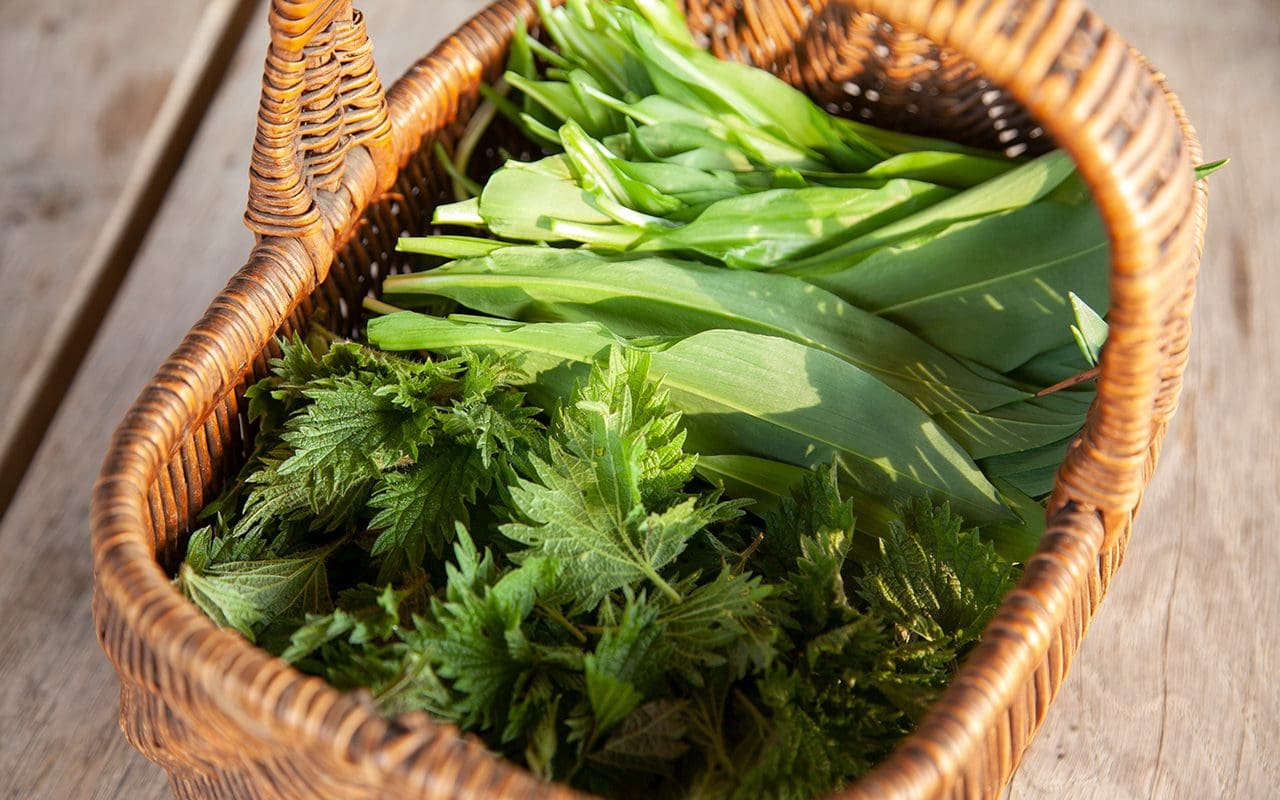 INGREDIENTS
2 tbsp rapeseed or olive oil
1 onion, peeled and cut into 1cm dice
2 carrots, scrubbed and cut into 1cm dice
1 small celeriac, peeled and cut into 1cm dice
3 celery sticks, cut into 1cm dice
1 leek, white part only, trimmed and cut into 1cm dice
3 big garlic cloves, peeled
1 bay leaf
Salt and black pepper
6 baby potatoes
100g sorrel, sliced
75g young nettle tops (the top few leaves on each stem)
50g wild garlic leaves, sliced (flowers kept for garnish)
3 spring onions, thinly sliced
A handful of chopped dill
A handful of chopped parsley
Creme fraiche, to serve (optional)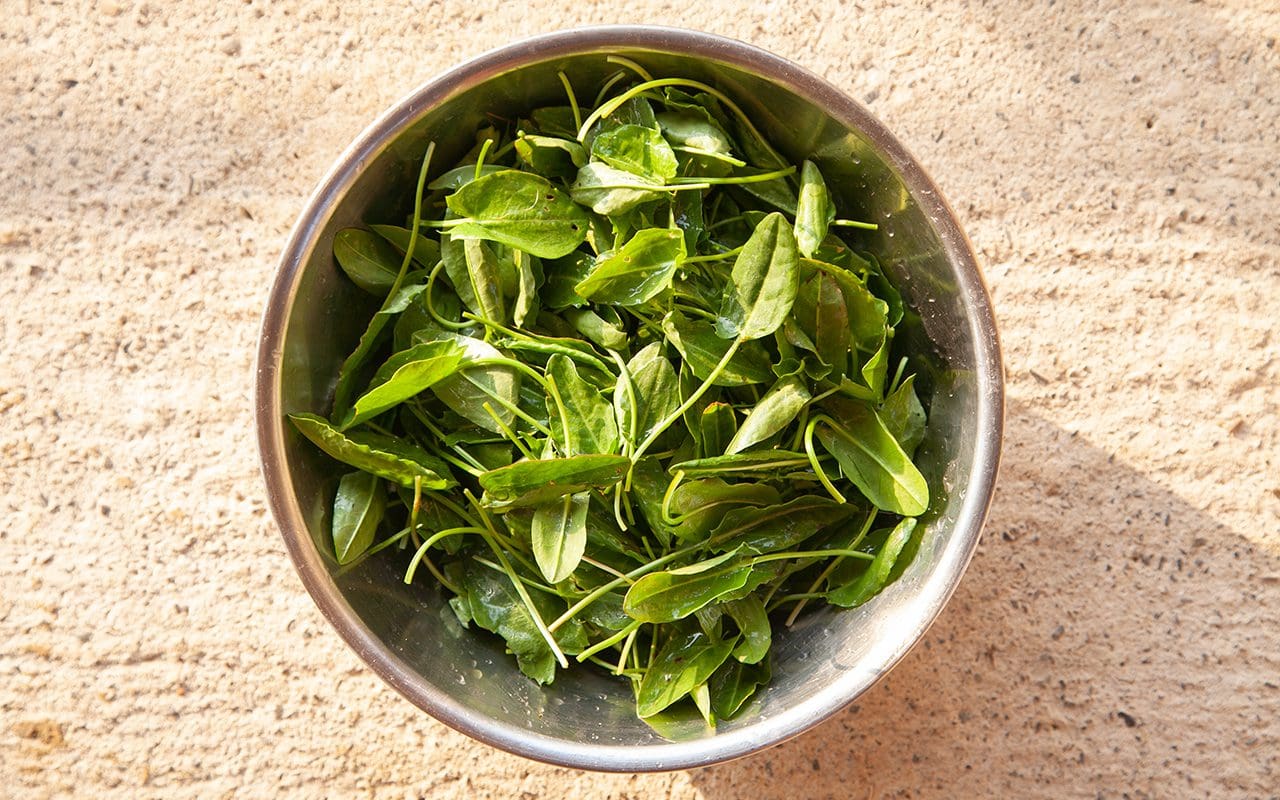 METHOD
Pour the oil into a cast-iron casserole set over a medium-high heat. Once the oil is sizzling, add the onion, carrots, celeriac, celery and leek, and saute, stirring from time to time, for about five minutes: you want them to become caramelised in parts, but not scorched. (If the pan feels too crowded, fry the vegetables in batches.) Add the garlic and cook, still stirring, for about two minutes, until fragrant and starting to colour.
Add two and a half litres of cold water and the bay leaf, season lightly with salt and bring to a boil. Turn down to a simmer and cook, partially covered, for about 40 minutes.
Add the potatoes whole and cook for 10 minutes, or until they are soft, then add the sorrel, nettles and wild garlic and take off the heat. Taste the soup and add more salt if needed.
Put a potato in each soup bowl and lightly crush it with a spoon. Ladle over the broth,then sprinkle with the wild garlic flowers (if using), spring onions and herbs. Serve with a dollop of creme fraiche, if you like, and a good grinding of pepper.
Words: Huw Morgan | Recipe: Olia Hercules from Summer Kitchens | Photographs: Huw Morgan
Published 26 March 2022