The beds in the vegetable garden are bare. Although the garlic and onions are making their presence felt, after the long, cold spring our winter sown broad beans have only just started flowering and the first spring crops of beetroots, carrots and peas have a long way to go before we get to taste them. We still have a good supply of winter lettuce, sown last September and planted out on our return from holiday in October, and a somewhat meagre asparagus harvest has provided for a couple of meals so far, but otherwise – and as usual in the hungry gap – home grown produce is pretty thin on the ground.
Until, that is, you enter the polytunnel, where a green tidal wave of kale threatens to engulf all around it. These too were sown in September in plugs and planted out in early October once the tomatoes and peppers were cleared. The variety – 'Hungry Gap' – is extremely well named, as they bided their time over the winter, slowly gathering energy to provide for us right now, when most needed. Due to the failure of some other brassicas intended for the polytunnel I ended up planting out twelve plants of this kale, and they have been producing an almost endless supply of leaves since early March.
I blanched and froze around two kilos in early April, which I will use over the next month, while right now, as they are starting to flower and lose their energy, we are eating kale at every opportunity; kale soup, kale salads, kale and cheese pies, kale stuffed pancakes, steamed kale flower sprouts with tahini dressing, the list goes on. 'Hungry Gap' is a soft and sweet variety of kale, not like the tougher curly varieties you see more commonly. Polytunnel growth also means that the leaves are particularly tender, so it is best treated gently, lightly boiled or steamed. It is extremely good raw in a chopped salad with some combination of nuts, seeds, olives, hard cheese, anchovies and capers.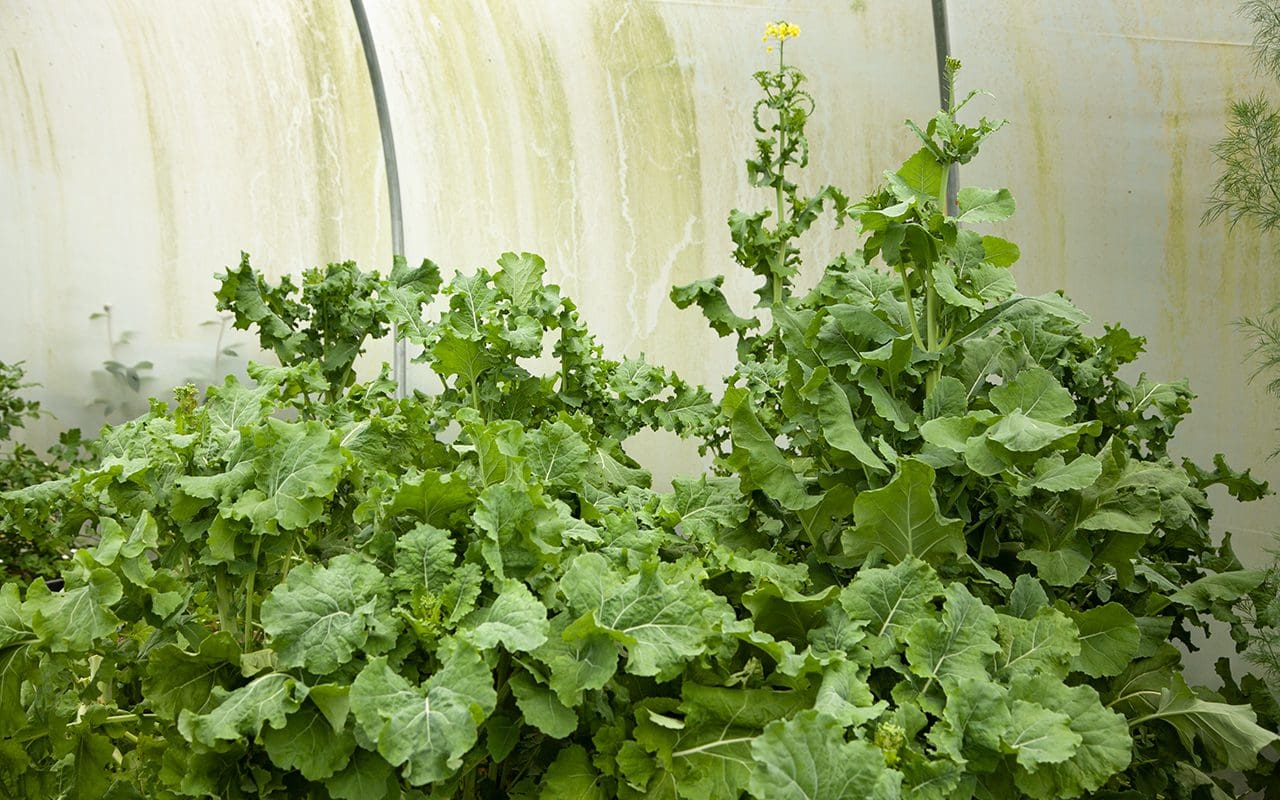 Growing alongside the kale, and also now starting to come up to flower, are the soft green herbs that do so well under cover in winter. Although the coriander is over, there are still armfuls of dill and parsley to be eaten, while in the garden the herb fennel is pushing out its frothy foliage and in the woods the last tender leaves of wild garlic are still to be found.
This seasonal crossover time in the garden also makes us more reliant on the contents of the pantry and, in particular, the beans that we harvested and dried at the end of last summer. Over the years we have found that we can not keep up with the amount of fresh climbing beans that we produce and although many of them end up in the freezer I have gradually been replacing some with varieties selected specifically for drying. Last year these were limited to dwarf borlotti bean 'Lingua di Fuoco' and a favourite for eating fresh or dried, 'Coco Sophie', a pure white bean that sits somewhere between cannellini and haricot, which is what I used here. This year I am looking forward to adding the beautiful white and tan mottled bean 'Jacob's Cattle Gold' and 'Greek Gigantes', the traditional fat, white butterbeans served everywhere in Greece, which I imagine would also work well in this dish.
Serves 8
INGREDIENTS
350g tender young kale (250g if your kale is more robust)
300g cooked white beans, such as cannellini or haricot
1 large red onion
A handful of wild garlic leaves, about 40g
Dill, about 30g picked leaves
Herb fennel, about 20g picked leaves
Nutmeg, to taste
75g butter
75g plain flour
500ml milk
250ml single cream
125g freshly grated pecorino or parmesan, finely grated
300g fresh breadcrumbs
4 tablespoons olive oil
75g walnuts, coarsely chopped
A handful of fresh parsley, about 25g
Zest of one large lemon
METHOD
You will need a 30-36cm diameter cast iron skillet, heavy casserole or ceramic gratin dish.
Set the oven to 200°C.
Put the breadcrumbs and walnuts in a bowl, add four tablespoons of olive oil and a good pinch of salt. Use your hands to mix well, ensuring the breadcrumbs are coated with oil.
Remove the midribs from the kale. Retain for another recipe or for stock. Coarsely tear the leaves.
Finely chop the dill, fennel and wild garlic.
Heat the butter and olive oil in a large pan over a medium heat. Finely chop the onion, add to the pan and sweat with the lid on for ten minutes until soft and translucent. Check them from time to time, stir and do not allow to brown.
Add the flour and continue to cook for a minute or two, stirring all the time. Take off the heat and gradually add the milk, stirring well between each addition. Return the pan to a medium heat and bring to a simmer, stirring constantly until the sauce thickens and is smooth and glossy. Add the cream and 75g of the grated cheese and bring back to a simmer. Take off the heat. Add the herbs and stir well. Season generously with salt, black pepper and a grating of fresh nutmeg.
Add the kale and the beans to the sauce and stir well to coat thoroughly. The kale will start to wilt in the heat of the sauce.
Pour the mixture into your dish. Smooth the surface and cover the surface with the breadcrumbs and the remaining cheese.
Bake in the preheated oven for 45 to 50 minutes until golden brown and bubbling.
Finely chop the parsley and mix with the lemon zest. Sprinkle half of the mixture over the gratin and put the remainder in a small bowl for the table.
Serve with something fresh, sharp and contrasting. A plate of crisp lettuce hearts with an anchovy dressing or celeriac remoulade would work well. We had ours with a grated beetroot and carrot salad with a dressing of orange juice and kefir.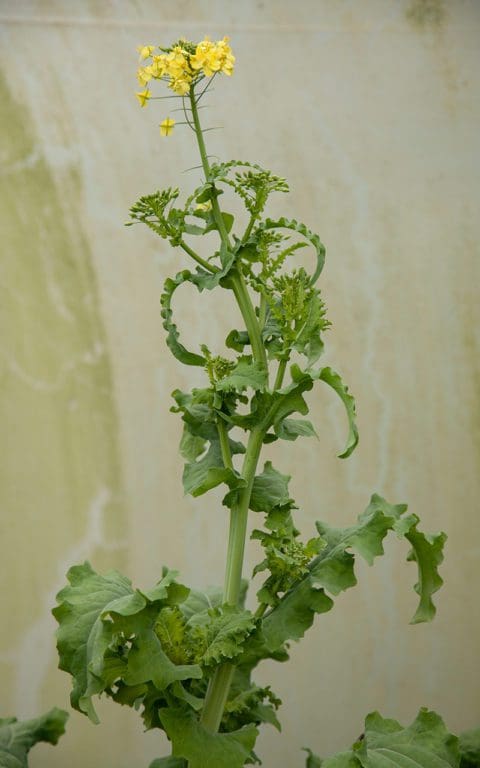 Recipe and photographs: Huw Morgan
Published 13 May 2023