One of the goals we set ourselves when we started Dig Delve was for the writing to be as current as possible. A piece on crabapples the week they are in full bloom, a report of a garden visit made just a couple of weeks previously, and recipes using the best from the kitchen garden and hedgerows as they come into season. Many of the pieces are written the day before publication, so this ambition is not without its challenges, since Dan is often travelling for work, we need to have holidays, and sometimes other life events simply have to take precedence.
Dan has been up north this week. Firstly visiting the new RHS Chatsworth Flower Show and then on to Lowther Castle in Cumbria, where they are celebrating their official opening this weekend. So it was down to me to come up with this week's piece.
However, like most of the country, I was up into the small hours of Friday morning watching the election coverage with bated breath. The consequent late morning start, with the accompanying time required to get a handle on what was happening in parliament, meant that I had to think on my feet to come up with a recipe for today's issue.
I had originally thought to make a gooseberry and elderflower ice. Whether ice cream or sorbet I hadn't decided, but, after half an hour Facetiming a friend in New Zealand who had called for an election update, it was clear that I wasn't going to have the time to faff around with sugar syrups or custards or the freezing required afterwards. I needed something simple and immediate.
Earlier in the week I had got my first batch of elderflower cordial going and it was ready to strain and bottle. I try and make a large batch every year, but have been foiled for the past two by a combination of constant wet weather and being away in June. The recent clear, warm weather meant that, for the first time in a while I have been able to pick enough to be able to replenish our supplies.
It is essential to pick the flowers on a warm day when they are dry, and to only pick the freshest ones that have just opened and are purest in colour. If you live in a city don't pick flowers near main roads (when we lived in Peckham I used to get my supplies from nearby Nunhead Cemetery). Don't, whatever you do, wash the flowers, as you will wash away the pollen which gives the drink most of its flavour. For the same reason I don't even shake the flowers before using, as many recipes suggest. Unless you are squeamish any small insects get strained out prior to bottling.
I can never get enough of the flavour of elderflower. Its floral taste announces summer. Sparkling elderflower cordial is the most refreshing way to slake your thirst during a hot afternoon's gardening. Although I have found that a scant teaspoon of cider vinegar added to a glass is the most refreshing of all. Like orange blossom's more demure, earthy cousin elderflower pairs well with any number of fruits, from strawberries to rhubarb, pears, raspberries, grapes and even grapefruit. It also works with gently flavoured vegetables that allow its floral notes to shine. A teaspoon or two of cordial adds fragrancy to a vinaigrette for a white chicory and goats cheese salad. A pickled salad of very finely sliced cucumber macerated in a dressing made with cordial, honey and, again, cider vinegar, and finished with poppy seeds and elderflowers, makes a sophisticated partner for poached trout or salmon.
Yesterday's time shortage meant that I was thrown back on the reliable combination of elderflower and gooseberry, which crops up in a number of desserts I regularly make, including the unavoidable fool, a green summer pudding and a baked egg custard tart. The gooseberries aren't quite ripe when the elder blooms, but for this drink you want the refreshing sharpness of the younger fruit. 
This celebratory aperitif is a version of a Bellini where peach puree is replaced with gooseberries and a splash of elderflower cordial. I may have only had bad ones, but have always found peach Bellinis to be a little sickly. Here the combination of tart green fruit and scented flower create a drink with a distinct muscat flavour, which is dry, fragrant and deliciously quenching on a hot summer's day. To ensure the best result, it is vital that everything, including the glasses, is ice cold before you make them.
First is the recipe I use for homemade cordial, but you could use a good quality shop-bought one.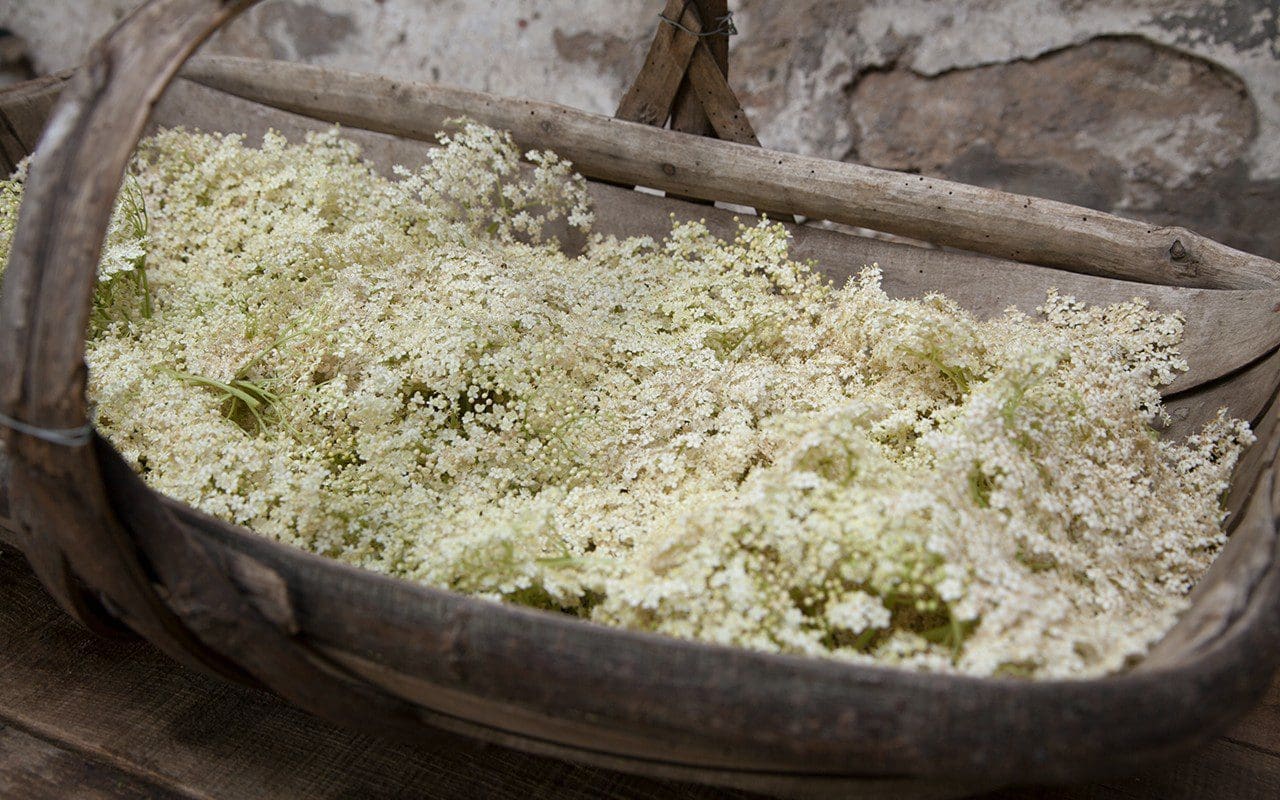 Elderflower Cordial
Ingredients
 Makes about 1.5 litres
 30 elderflower heads
1kg white sugar
1 litre water
2 lemons, chopped
1 orange, chopped
2 teaspoons citric acid
¼ crushed Campden tablet (optional)
Put the sugar and water in a saucepan and bring to the boil. Stir and ensure the sugar is completely dissolved. Take off the heat and stir in the citric acid until dissolved. 
Put the elderflowers and chopped citrus fruit into a sterilised plastic or glass lidded container large enough to take all of the ingredients. Pour over the hot sugar syrup. Put the lid on the container and leave in a cool dark place for 48 – 72 hours.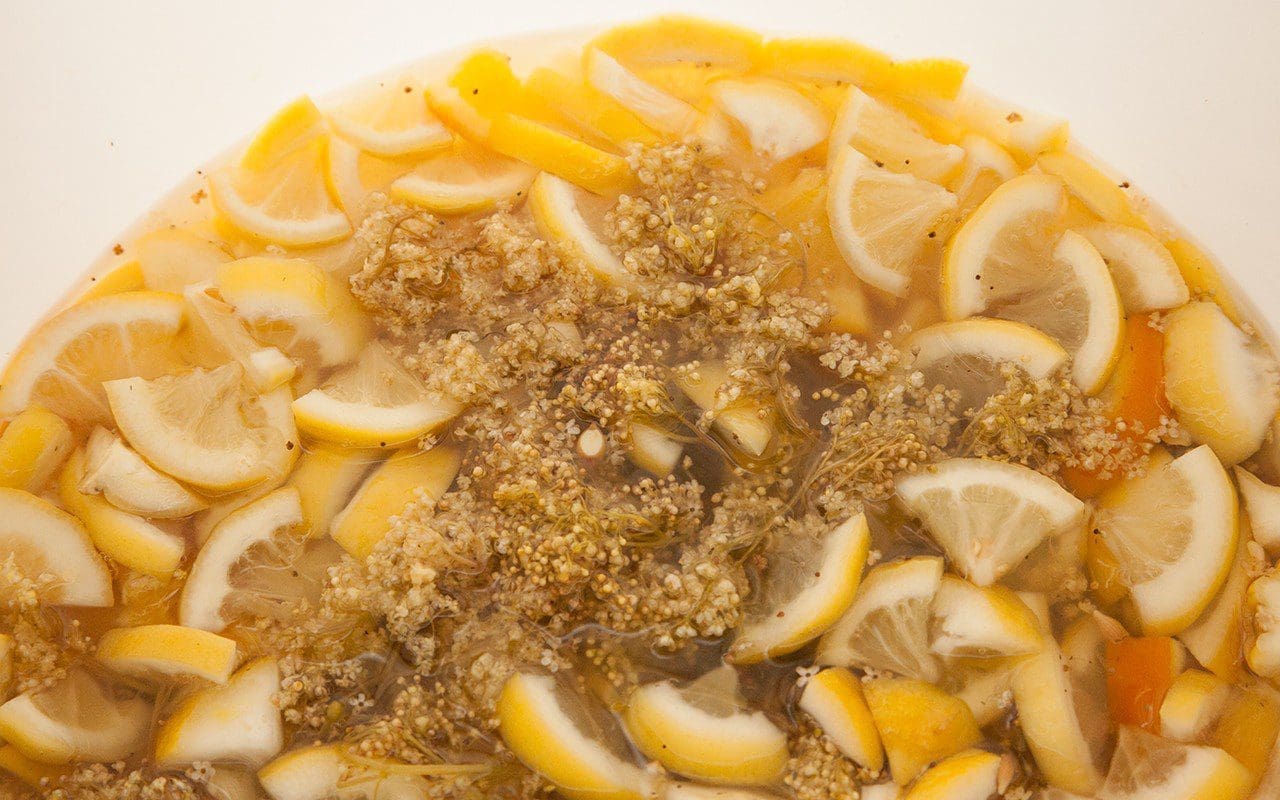 Strain the cordial through a fine muslin or tea towel that has first been sterilised with boiling water. Finely crush the Campden tablet and add it to the cordial. Stir until dissolved. 
Using a funnel pour the cordial into sterilised bottles. Fasten the lid and store in a cool, dark place.
The Campden tablet (potassium or sodium metabisulfite) prevents the cordial from developing wild yeasts and bacteria which would cause it to ferment, and means that it keeps almost indefinitely. If you prefer not to use them the cordial will keep for 2-3 months, or longer if refrigerated.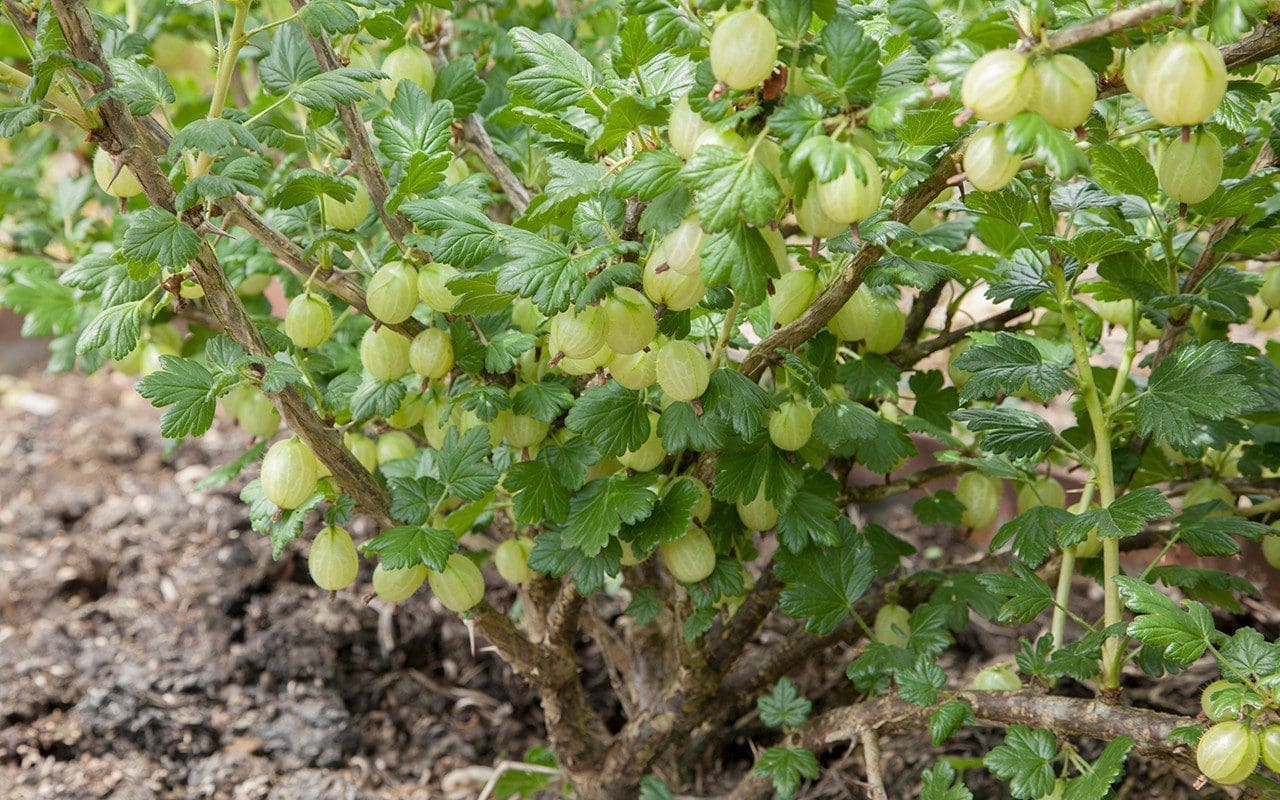 Gooseberry 'Hinnomaki Green'
Gooseberry & Elderflower Bellini
Ingredients
Makes 6
100g green gooseberries
Elderflower cordial, chilled
1 bottle dry prosecco  
Put the gooseberries in a saucepan with a splash of water. Put the lid on and cook over a low heat for about 10 minutes until the fruit has completely collapsed and given up its juice. Press the fruit through a sieve. You should have about 80ml of purée. Discard the seeds and skin. Put the purée into a covered container, then into the fridge until well chilled.
To make the drinks, take six champagne flutes or narrow tumblers that have been in the freezer for at least twenty minutes. Put two teaspoons of gooseberry purée and two teaspoons of elderflower cordial in the bottom of each glass. Slowly top up with very cold prosecco.
Decorate with a few elderflowers and raise a toast!
Recipe and photographs: Huw Morgan
Published 10 June 2017