Today is not a day to look at the crocus. Battered and tattered by a strong south-westerly with drizzle on the wind to weight and tear at their delicacy. In fact, it is best to look the other way, because the season can be cruel. You have to bask when it's good and two days ago was quite different, their tapering buds revealing quite another story from their interiors as they blinked open in sunshine. Held from us for weeks now, your whole body welcomes this flood of saturated colour, freedom and abundance.
Though I love the spare winter, the first crocus spearing the grass are genuine magic. First one, then several flashes of mauve, silvery on the outside like a shoal of fish or hatch marks made repeatedly with crayon. Crocus tomassinianus are the first to show here and the repeat and the abundance are what I am after beneath the crab apples. It has taken a number of false starts to get to where we are now and, until relatively recently, it was possible to source the true form with the pearly coat and the flash of pale mauve that contrasted the interior. The species has poise and slenderness and a colour that is compatible with the first of the gold eranthis or the early narcissus and the silvery grey of the season.
We have the white form of C. tomassinianus on the banks at the front of the house, where I will endeavour to keep it pure and unadulterated. You cannot buy the bulbs of 'Albus' cheaply so I have planted as many as I feel I should afford and am waiting to see if they naturalise. For the first time, five years later, I am beginning to see flowering seedlings and I'm hoping the seeding will now be exponential.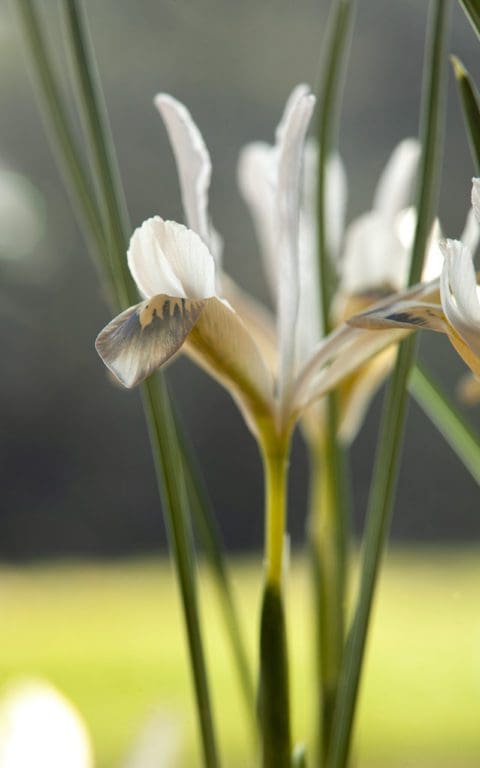 Every autumn we plant up a number of pans with early bulbs, planning for this moment to celebrate the break with winter. Each year we choose a selection of Iris histrioides and I. reticulata and then we experiment with other bulbs like narcissus, muscari and fritillaria, so that we get to know a plant before introducing it into the garden. This year we've played with a range of crocus to see which ones feel right here and might be worth trying in grass. Over the winter they have been carefully guarded from mice and out in the garden it is worth planting deeply to avoid them and other rodents, which tend to run at a shallower level. Squirrels or pheasants, if you have them, can annihilate a new planting so netting the bulbs in the first autumn and winter is often enough to keep the above ground critters at bay until the bulbs find their level.
I can not confess to being knowledgeable about several of the ones we are trialling in the pans, but I do know that Crocus chrysanthus and its forms are easy in grass on ground that drains freely.
C. chrysanthus 'Ard Schenk' is the simplest and perhaps most joyful of the named forms here, with satin white petals which splay open to reveal a disc of pure gold.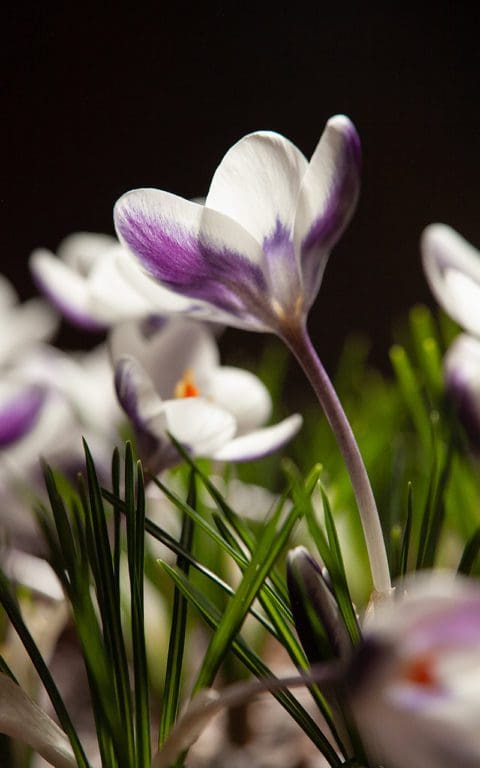 The exteriors of C. chrysanthus 'Prins Claus' are marked with blazes of deep purple and give little away of the paler lilac interior.
C. chrysanthus 'Cream Beauty' is well named and one of my favourites. The exteriors of its pale, straw-coloured flowers are elegantly brushed with inky-grey. Its soft colouring partners easily with others and provides a foil for vibrant orange anthers.
C. chrysanthus 'Blue Pearl' has a silvery-lavender exterior also darkening to grey towards the base, while the interior is clear violet at the tips fading to white with a gold marking at the base. In pots it doesn't look as strong, but I will try it in grass next year to see how they do.
C. chrysanthus 'Gypsy Girl' has a dramatic purple striping to the exterior which overlays yellow. The interior is a lustrous gold.
C. x leonidii 'Early Gold' is similar in appearance and not so easy to distinguish, but that might be down to cultivation. This is the first year I have grown it and reading suggests it might not be good in grass and needs a gritty soil to flourish.
The strong yellows and creams might be more easily grouped together, although the mixed crocus on the front lawns at Great Dixter are sweet-box magical. The secret is that they are all small-flowered forms and there is joy and abandonment in their numbers.
C. sieberi subsp. atticus 'Firefly' (main image) was the first to flower here, but I'm guessing it also needs a sharper drainage than turf culture. It has a golden base to the violet outer and a yolky throat that looks like it is illuminated from within.
C. minimus 'Spring Beauty' is perhaps my most favourite of all with dark purple striping and feathering to finely tapered buds. It is also one of the most delicate and, I'm guessing, prone to damage in wild weather.
Up close on the outdoor table, they all held their buds tight today, so we brought them inside where they opened within minutes. Like we do, when warming ourselves in front of the range and relaxing after a day in the winter garden.
Inside, you notice that many have a strong and honeyed perfume. Another lure to their blazing centres that you can see must beckon the first emerging insects. We feel much like those early bees do in their presence. Hungry, relieved and ready for more.
Words: Dan Pearson | Photographs: Huw Morgan
Published 18 February 2023