Once upon a time I had a very sweet tooth. Each Christmas Eve, close to midnight, as my overexcited brother and I lay feigning sleep in our bunk beds, dad would come and lay something heavy at our feet. We knew exactly what it was, and it called on all our reserves of self-control and superstition to prevent ourselves from peeking until it started to get light. When we did – and my younger brother was always the first to crack – we would haul the stockings (actually dad's nylon football socks) up the bed and start to unpack them. Always alongside this stocking was another made of net. A Cadbury's Christmas selection pack containing the usual suspects – Mars Bars, Twix, Milky Way, Marathon. We would slowly eat our way through these on Christmas morning and still somehow have room for lunch.
As a child I was always more interested in what was for 'afters' than the main event and my favourites usually involved chocolate, whether it was Bird's Angel Delight, mini rolls, steamed chocolate pudding, Viennetta ice cream or choc ices. At around the age of 9 I started baking my way through the Marguerite Patten recipe cards mum had collected and which sat in a specially made plastic box on top of the fridge freezer. Once I had become proficient with scones, jam tarts and sponges, I quickly moved on to Devil's Food Cake, chocolate Swiss Roll, Black Forest Gateau and, eventually, eclairs and profiteroles. My pièce de résistance, however, was Marguerite's Pots au Chocolat, which to me looked impossibly chic in the photo on the front of the card. The dark, velvet mousse in simple, white porcelain pots, decorated with elegant quills of dark chocolate. It made me feel very grown up the first time I served them. Looking back for that recipe now I find that they contained melted marshmallows. Certainly not the purist's idea of this classic French dessert, but one that, as a child, I was more than happy to accommodate.
As the years passed my palate became more refined. I graduated from Cadbury's Dairy Milk to Bournville, from milk to dark chocolate Bounty bars and got a taste for Fry's Chocolate Creams from my dad. (Mint, since you ask.) At university, I discovered Swiss and Belgian chocolate before, in my mid '20's, experiencing a revelation. I had moved into a house on Bonnington Square in Vauxhall and, unbeknownst to me, my new landlady was about to change my view of chocolate forever. She was Chantal Coady who, in 1983, had opened Rococo Chocolates on the King's Road. There were four of us renting rooms there and every month Chantal would bring home a box of 'bin ends', broken bars and trial new products from the shop and invite us for a chocolate tasting.
This may conjure images of a craven orgy of chocolate bingeing, but quite the contrary. The room was candle lit, a fine cloth on the dining table and a small selection of wines and spirits were available to be sipped in recommended partnerships with some of the 'sweets'. Chantal would break small pieces of chocolate onto plates and pass them round. We were instructed to place the chocolate on our tongues and to allow it to melt slowly – no chewing! – and to describe the flavours we were tasting. Chantal explained how fake vanilla, hydrogenated oils and sugar destroyed the true nature of chocolate and would get us to compare my childhood Dairy Milk to a high cocoa content milk chocolate to understand what she meant. She taught us to appreciate it like fine wine and I have never looked back.
Christmas always calls for chocolate, but as I have aged my taste for sweet things has tempered and I have decreased the amount of refined sugar I eat. I rarely order pudding in restaurants these days unless I am prepared both for the initial sugar rush and the almost immediate headachy comedown. At home, dessert usually takes the form of stewed fruit or a handful of figs or dates, rather than anything sweeter. But it's Christmas and I want chocolate, so I worked on this dessert recipe without refined sugar.
The combination of pumpkin and dates in the filling means that it needs no further sweetening, although if using chocolate with more than 82% cocoa solids you might want to and add honey or another sweetener to taste. If possible, use a drier-fleshed variety of pumpkin, otherwise you may need to drain the flesh before using as you don't want the filling to be too wet. The Kabocha pumpkin I use has the texture and flavour of chestnuts, which makes it particularly truffle-like.
Chantal was also a pioneer in the use of unexpected flavourings and this tart is also the perfect foil for your favourites. To my knowledge, she was the first to make cardamom flavoured chocolate, to which she introduced me and which is my habitual choice. However, you can infuse the milk and cream with any winter spice or herb you like. Bay is very good (a couple of leaves), or try a sprig or two of rosemary or thyme, a spoonful of ground fennel seeds or even some crushed juniper berries. A teaspoon of finely ground espresso coffee heightens the bitterness. Half a teaspoon of chilli powder warms the mouth and accentuates the flavour of the chocolate, while a few drops of rose or rose geranium oil add a different level of perfumed refinement. The addition of a couple of tablespoons of alcohol – rum, for instance – makes it definitely adults only. Although we have been eating it plain this week, for a truly festive plate this would be particularly good with brandy-soaked prunes or figs or pears poached in red wine. Definitely a chocolate dessert for grown-ups, not children.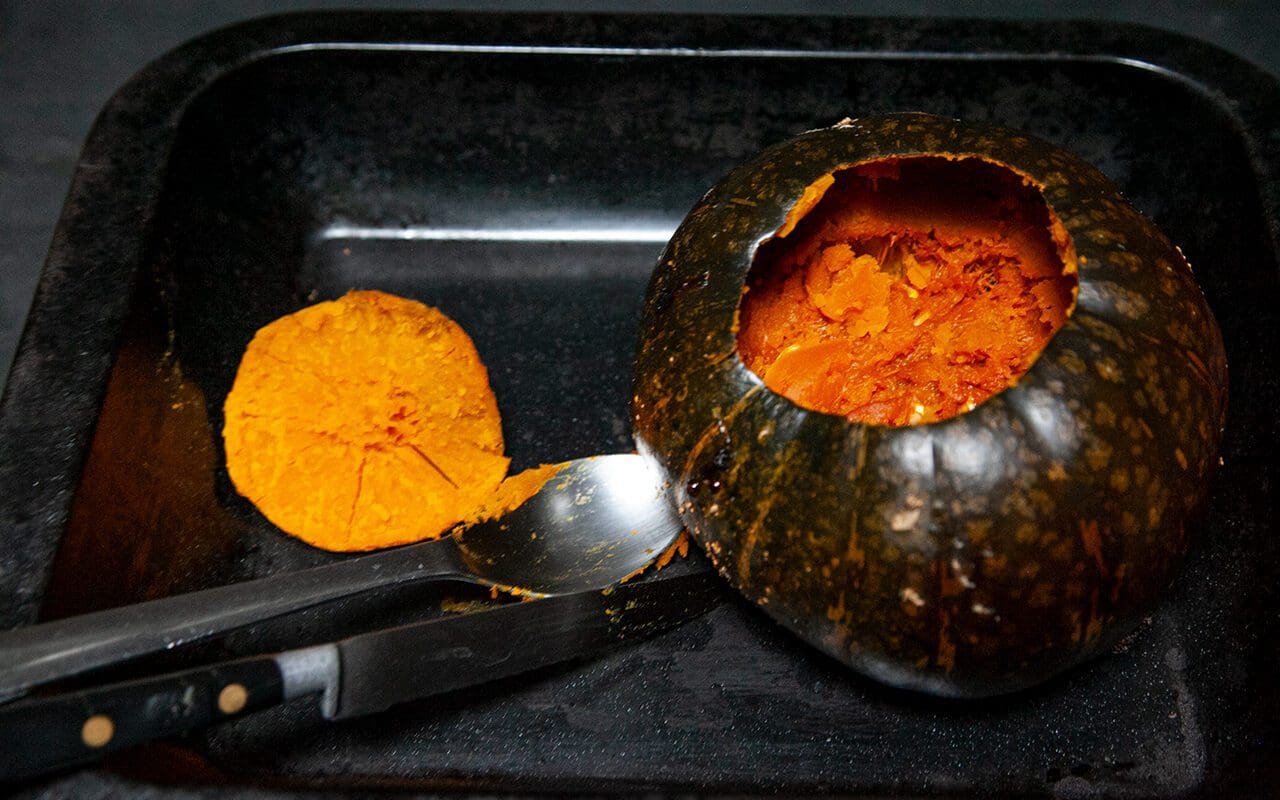 Serves 12
INGREDIENTS
Pastry
75g hazelnuts
150g plain flour
1.5 tablespoons honey or maple syrup
75g cold butter
1 large egg, beaten
A pinch of salt
Filling
200g cooked pumpkin
100g dates
100ml milk
250ml double cream
3 large eggs
200g dark chocolate (minimum 70% cocoa solids)
Seeds from 3 cardamom pods, finely ground or other chosen flavouring
You will need a 23cm round, fluted tart tin with a removable base.
METHOD
Set the oven to 180C.
Put the hazelnuts into a small baking pan and roast in the oven for 10 minutes until lightly toasted and fragrant. Remove and allow to cool, then put into a food processor and process into a medium-fine flour. Do not over process or you will end up with nut butter.
Add the flour to the hazelnuts and pulse mix. Cut the cold butter into 1cm cubes and add to the flour and nuts. Pulse again until the mixture resembles breadcrumbs. With the motor running slowly add the beaten egg and honey until the dough comes together. Stop the machine immediately and quickly remove the dough. It will be very soft. Form into a ball, wrap and put into the fridge for 30 minutes.
When the pastry has chilled, roll it out carefully on a floured surface until large enough to line the tart tin. The pastry is very short, so work quickly and carefully. However, if it falls apart just fit the pieces to the tin and press together gently to join. Remove any excess pastry from the rim, line with greaseproof paper and fill with baking beans. Bake blind for 20 minutes. Remove the baking beans and greaseproof paper and return to the oven for a further 5 minutes until it looks dry. Remove from the oven and allow to cool.
To make the filling heat the milk and cream in a small pan. Grind the cardamom seeds to a fine powder in a mortar and pestle and add to the milk. As soon as the milk comes to the boil remove from the heat, add the dates put a lid on the pan and leave to stand until cool.
Chop the chocolate coarsely and put into a heatproof bowl. Put into the oven for about 10 minutes until almost melted. Remove from the oven and then beat with a fork to ensure that all of the chocolate is melted.
Put the cooled dates and cream, eggs and pumpkin into the food processor and process until smooth. Add the chocolate and mix until fully combined. Pour the mixture into the prepared pastry case and bake for 35-45 minutes until the mixture just starts to crack at the edges, but still has a little wobble in the centre.
Leave to stand for 20 minutes before removing from the tin and transferring to a serving plate. Decorate with sieved icing sugar as you wish.
Serve warm.
This reheats and freezes well.
This can easily be made suitable for vegans, using coconut oil and sugar and no egg in the pastry. For the filling substitute the milk with vegetable milk, the cream with an equal weight of silken tofu (although do not heat this with the milk). Substitute the eggs with chia 'eggs' (1 tbsp ground chia seed mixed with 3 tbsp cold water for each egg).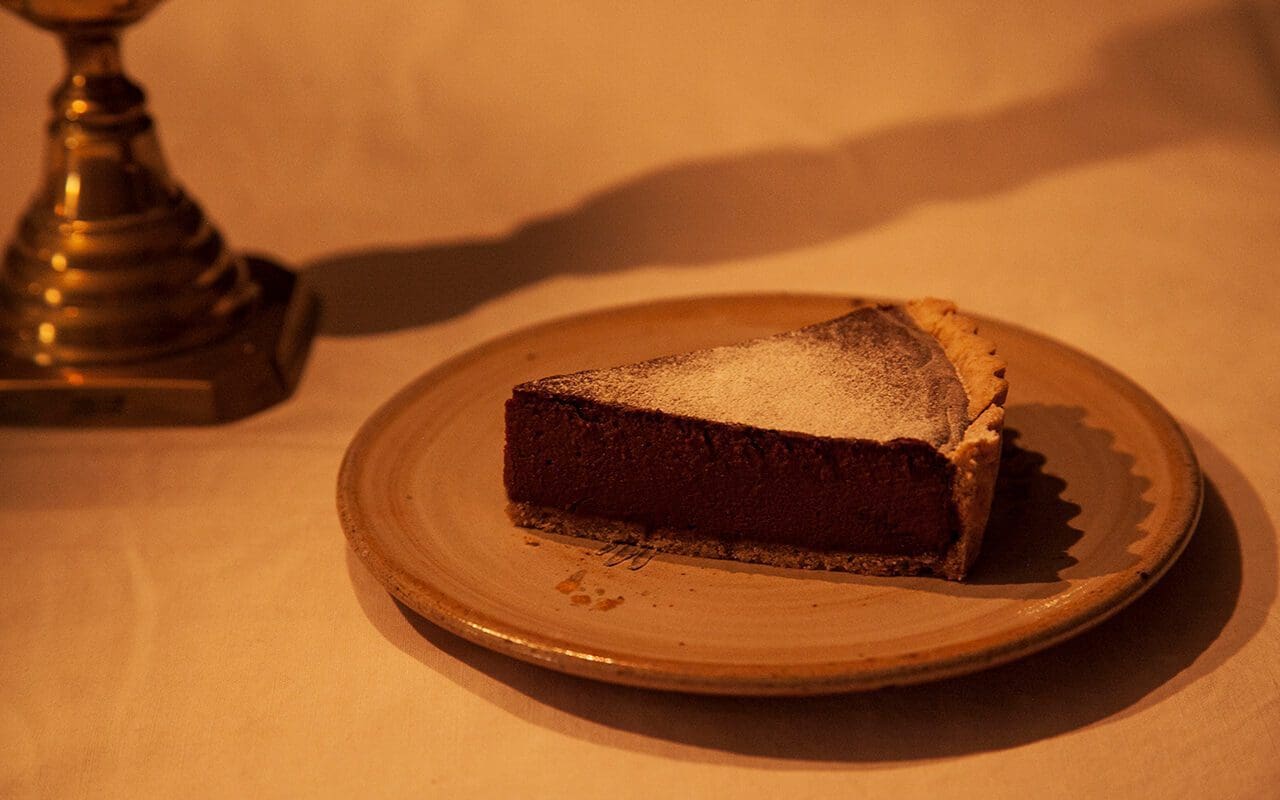 Recipe & photographs: Huw Morgan
Published 19 December 2020