As if in sympathy with the sicknesses, both physical and political, which have dominated the world since the beginning of the year, the kitchen garden got off to a half-hearted start this spring. The broad beans and peas were ravaged by mice, chard and brassicas were mildewed and slug-devoured and far too many of my first sowings germinated badly. The most concerning of these was the celeriac, which is a staple for us in the winter. We habitually plant 20 plants and eat them all.
Celeriac seed is small and notoriously erratic as it needs light and early warmth to germinate. It also has a long growing season and so needs to be started off in early spring indoors, under glass or in a heated propagator. We waited more than three weeks for ours to appear on a bright windowsill, before finally admitting that they probably weren't going to. And so, in the knowledge that we simply couldn't survive a winter without, I resorted to ordering some young plants from an online supplier. We hardly ever do this, but I am always grateful that they exist as you are effectively able to buy time and plug any gaps in the garden that might have appeared through misfortune or mismanagement.
However, what you do not have from mail order suppliers is control over the varieties, and I was obliged to buy 'Giant Prague', when our proven variety of choice for many years now has been 'Prinz'. We have never had a problem with 'Prinz', which has been easy to grow and a reliably heavy cropper, with roots of a kilo or more being standard. So I have been keeping an eye on the newcomers this summer to see how they compared. I quickly noticed their different growth habit, as they are much taller, more upright and leafier and so have shaded the plants behind more than the lower growing 'Prinz'. In late summer I also became aware that the roots were not bulking up as noticeably, despite the heavy watering that they like and regular feeding.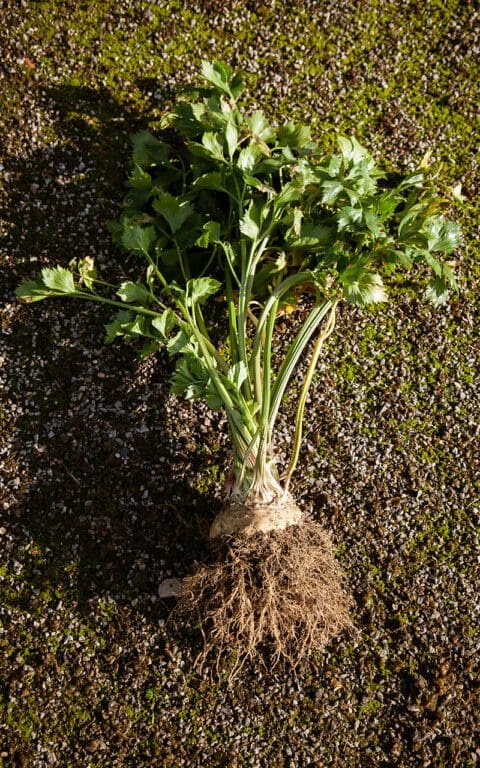 When I went to dig the first of the celeriac for this recipe this morning I was not impressed to find that several of the plants are bolting, and so have useless withered roots, and that the plants in the back row, in the deepest shade, have also failed to swell. Immediately the number of meals we have counted on them to provide is probably halved. Somewhat disheartening after all the effort and the ground given up for a disappointing crop of something we have taken for granted. At least it was good to know that I would be making the roots go further with the addition of chestnuts and windfall apples.
In the orchard the apple 'Peter Lock' has held onto its fruits the longest of all. This West Country variety has a long season of ripening, and so there are still apples on the branches that won't fall no matter how vigorously you shake. The ripe windfalls are cushioned by the long grass of the pasture in which they grow and so, if you can get them before the mice, jackdaws and wasps do, they are seldom badly bruised or damaged. 'Peter Lock' is a dual-purpose eating and cooking apple with creamy white flesh. It is tart, yet sweet, and makes the most delicious golden apple puree which we always have a container of in the fridge, both for breakfast or evening dessert with yogurt or cream respectively. The large fruits also store well into the new year.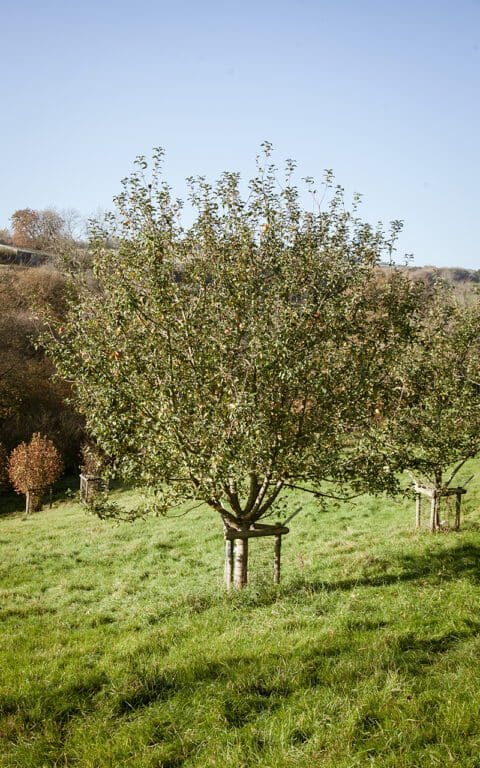 Our late spring frost on May 12th means we are without chestnuts this year, but the tree that Dan planted in memory of his dad has thrown out some good growth without the energy going into fruit so we hope, frost permitting, for a crop next year. Celeriac has an affinity with many nuts, particularly walnuts, hazelnuts and pecans. Here seasonal chestnuts enrich and thicken the soup. Wild mushrooms would be an appropriate addition. Rustic shards of bread fried in olive oil would provide textural contrast. The addition of cooked pearl barley would make it more substantial and go further. It would take well to the addition or substitution of other warming herbs and spices including rosemary, thyme, sage, winter savory, nutmeg and mace.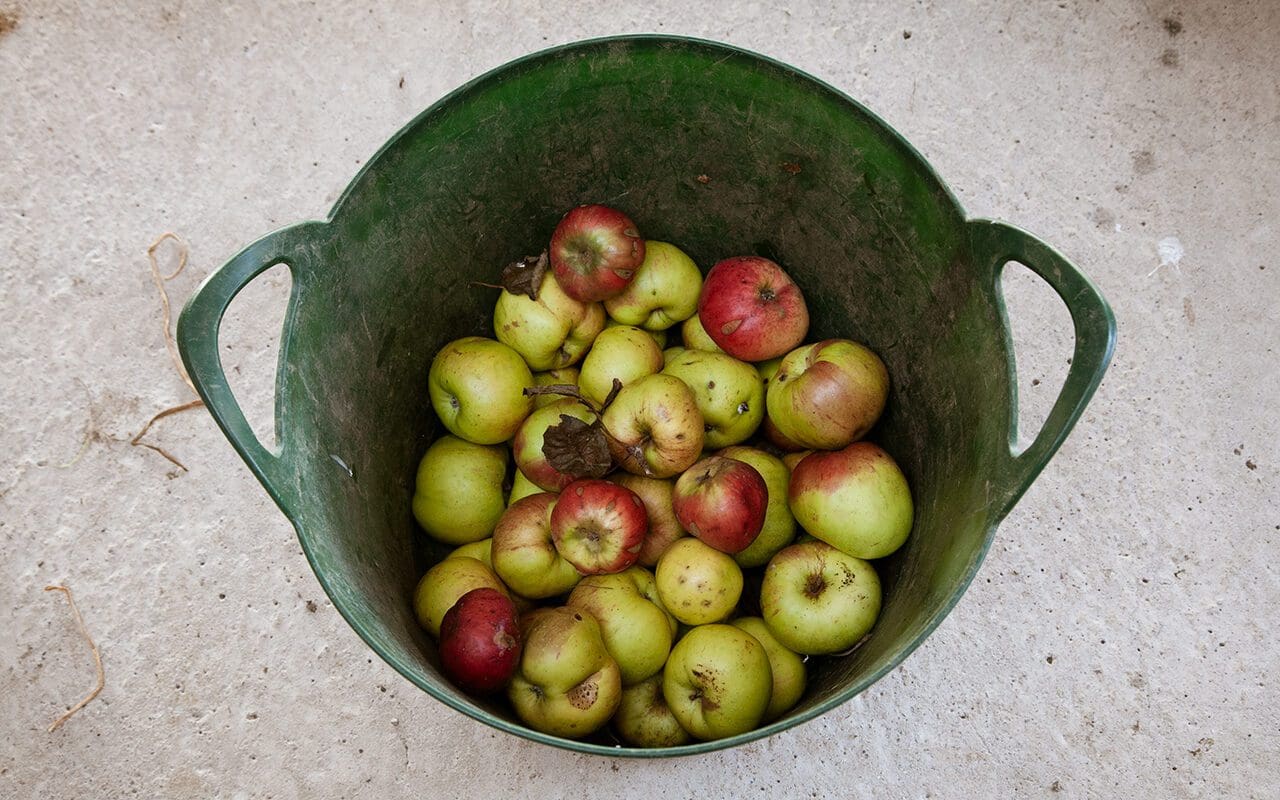 INGREDIENTS
750g celeriac, after peeling, coarsely cubed
1 medium onion, peeled and coarsely chopped, about 200g
350g cooking or eating apple, peeled and cored and coarsely chopped
300g cooked chestnuts
2 bay leaves
8 juniper berries, crushed
2 cloves garlic, finely chopped
A 2cm length of fresh ginger, peeled and finely grated
50g butter
1 litre hot vegetable or chicken stock
METHOD
Heat the butter in a large, heavy-bottomed saucepan until foaming. Add the onion and stir to coat thoroughly. Put on the lid and leave on a low heat to sweat. Stir from time to time and cook until translucent and golden.
Add the celeriac, garlic, juniper, ginger and bay leaves to the pan, stir everything together, and return to a low heat with the lid on. Stir from time to time and cook for around 15 minutes, when all should smell fragrant and the celeriac is starting to become translucent at the edges.
Add the hot stock and chestnuts, stir and return the lidded pan to the heat. Cook very gently for about 40 minutes until the celeriac is soft.
Add the apple and cook for another 10 to 15 minutes until it starts to break down.
Remove from the heat and use a potato masher to roughly smash the mixture into a course soup. Season generously with salt and black pepper.
Recipe & photographs: Huw Morgan
Published 7 November 2020