When I was a child we spent every summer holiday in Wales, staying with my maternal grandparents who lived near Gowerton, the gateway to the Gower peninsula. When the weather was good we would head straight to Horton beach after breakfast, with crab paste and ham sandwiches wrapped in foil, hard-boiled eggs, bags of crisps and a tin of Nana's homemade Welsh Cakes and pre-buttered slices of Bara Brith to see us through the day.
My grandfather was a Baptist minister, so on Sundays the day started differently. Nana was up even earlier than usual, housecoat on and getting lunch (or dinner as we called it in those days) prepared before we all headed off to chapel. All of the vegetables came from the back garden, which was given over entirely to food; potatoes, runner beans, peas, broad beans, lettuces, onions, beetroot, carrots, parsnips, swedes, cabbages and, of course, leeks. A tiny greenhouse was full to bursting with tomatoes and cucumbers. At the front of the house, the long bed running down one side of the path was filled with Dadcu's dahlias, tied to bamboo canes in regimented rows, a cacophony of colour in every shape available, like sweeties. On the other side of the path an assortment of exotics planted into the lawn, including a phormium, a bamboo and a pampas grass, provided me and my brother with a playtime jungle.
The chapel was just on the other side of the street so, as soon as the service was over, Nana would head back to the manse to get dinner on the table for Dadcu's return. Although a full roast dinner was not unusual on these sweltering summer Sundays, the meal I remember most clearly, and which was my favourite, was cold boiled ham with minted new potatoes and broad beans in parsley sauce. I loved the combination of the cold, salty meat, buttery potatoes and creamy beans and would ensure I got a little of each on every forkful.
Thinking back to this garden now I realise that, although Dad also grew veg in our North London garden, it was Dadcu's kitchen garden where I first really understood the connection between plant and plate. My brother and I would be sent out to help dig potatoes, getting a rush of excitement as the first pearly tubers were heaved from the rich, dark soil, scrabbling to grab them and put them in the bucket. Pulling carrots straight from the ground I would think of Peter Rabbit, although I was sure that, unlike Mr. McGregor, the Revd. Jones did not have a gun. And often I would sit on the back step with Nana and Mum easing broad beans from their pods, marvelling at their cushioned, fleecy protection and enjoying the plonking noise they made as they fell into a plastic bowl at our feet. I never questioned that what we ate at mealtimes had been grown just yards from the dining table, nor that there was work required to get it there. I think that even then those vegetables tasted better to me because they were so fresh and I had helped get them to table.
Broad Bean 'Karmazyn'
Although I can't profess to be as good a vegetable gardener as my grandfather, now that we have a kitchen garden of our own, I find it hard to buy anything other than lemons, melons or peaches from the local greengrocer in the summer. The feeling of being able to assemble a meal entirely from vegetables you have grown, harvested and prepared yourself has no equal. People say that vegetable gardening is hard work, and I agree, but I don't understand why this is seen as a negative. The time, care and nurturing that goes into producing your own food gives you a connection to it that is as nourishing as the food itself. When you understand the hard work involved in growing, tending and harvesting you stop taking food for granted and get some perspective on how much food should really cost.
So, to get back to the broad beans. We have grown two varieties this year. An unnamed heritage variety with very decorative, dark pink flowers and green beans from a late autumn sowing, and a variety named 'Karmazyn', with white flowers and beautiful rose pink beans, which were sown in March. Surprisingly, the later sown 'Karmazyn' have been the quicker to mature. Earlier in the season, as it became apparent that the plants were starting to overtake their autumn-sown neighbours, I was concerned that we were going to have a major glut when both varieties came together, but it now appears we will have a good succession from pink to the green. Close by the artichokes are producing almost faster than we can eat them. 'Bere', the variety we grow, is spiny with little meat at the base of the leaves, but the hearts are a good size, sweet and strongly flavoured.
Due to their synchronised production in the garden it is no surprise that broad beans and artichokes are commonly cooked together, with a variety of recipes to be found in French, Italian, Greek, Turkish and other Middle Eastern cuisines. What is common to many of them is the generous use of lemon and fresh herbs. This recipe is very loosely based on an Elizabeth David recipe for Broad Beans with Egg & Lemon from Summer Cooking, which would appear to be of Greek origin. Here the boiled vegetables are dressed with a light, creamy, herb-flecked sauce. A more refined and delicate version of my dear Nana's beans, although just as good with a couple of slices of cold, boiled ham.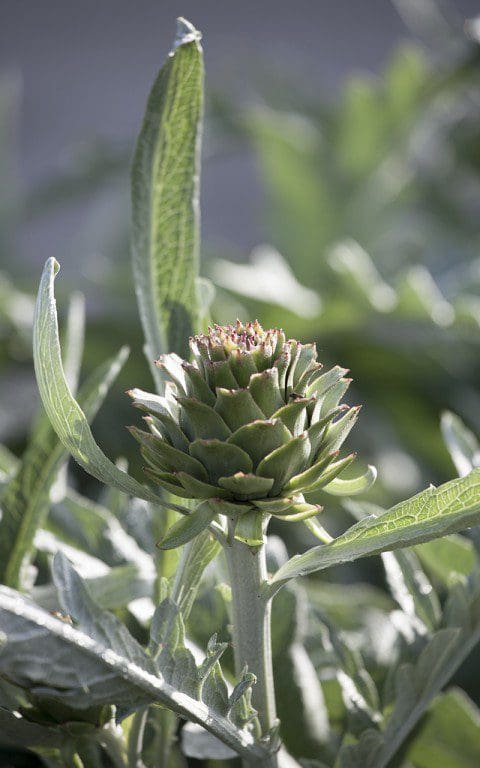 Artichoke 'Bere'
INGREDIENTS
Artichokes, 4 small per person
Broad beans, I kg in their pods to yield about 250g
Zest and juice of 1 lemon (reserve 1 tablespoon of juice for the sauce)  
Sauce
Butter, 25g
Garlic, a small clove, minced
Cornflour, 1 teaspoon
The yolk of a small egg, beaten
Single cream, 4 tablespoons
Tarragon or white wine vinegar, 1 teaspoon
Lemon juice, 1 tablespoon
Cooking water from the beans, about 200 ml
Fennel, 1 tablespoon finely chopped
Dill, 1 tablespoon finely chopped
Tarragon,  1 tablespoon finely chopped
Salt
Serves 4
METHOD
Bring a large pan of water to the boil. Cook the artichokes for 15-20 minutes until the point of a sharp knife can be easily inserted into the base. Drain the artichokes, run under a cold tap for a moment and then allow to drain and cool completely.
Put the lemon juice in a small bowl.  Cut the stalks from the artichokes and gently remove and discard all of the leaves until you reach the choke. Carefully scrape out the choke with the edge of a teaspoon. Tidy the hearts with a sharp knife removing any tough green bits. Rinse in a bowl of water to remove any clinging choke hairs. Dip each heart into the lemon juice as you go and put to one side in a bowl.
Bring a fresh pan of water to the boil. Throw in the beans and cook until just done. Freshly picked ones take only 2 or 3 minutes, older beans will take a little longer and may need to be slipped from their tough outer skins after cooling. When cooked remove 200ml of the cooking water and keep to one side. Then drain the beans and immediately refresh in cold water. Drain and reserve.
To make the sauce, in a pan large enough to take the artichokes and beans, melt the knob of butter until foaming. Take off the heat, put in the garlic and swirl the pan around to cook it lightly and flavour the butter. Still off the heat put in the cornflour and stir well. Add the cream and stir again. Add the egg yolk and stir once more. Then add about 150ml of the reserved cooking water, the vinegar and lemon juice. Season with salt. Put the pan back on a low heat and stir continuously until the sauce starts to thicken. Taste to ensure the cornflour is well cooked and adjust the seasoning. The sauce should be glossy and the consistency of single cream. If it is too thick loosen with some of the reserved cooking water. Put in the chopped herbs and lemon zest and stir through. Put the artichokes and broad beans into the pan and stir gently but thoroughly to ensure that all of the vegetables are well coated with the sauce.
Transfer to a serving dish, and strew some more herbs and lemon zest over the top. Serve warm or at room temperature.
Good enough to eat simply on its own or on toast, this is also a perfect side dish for poached salmon or trout, and cold roast chicken.
You can use any combination of soft green herbs that you have available. Chervil is particularly good, as are parsley and mint. For a more substantial side dish a couple of handfuls of the tiniest, boiled new potatoes make a fine addition. 
Recipe & photographs: Huw Morgan
Published 23 June 2018