When I returned to London in 1988 after four years at Manchester University, my first job was as a Wardrobe Assistant for the English National Opera at The Coliseum. I was responsible for half of the male chorus, laundering, pressing, mending and preparing their costumes for every performance, during which I and the team of other Wardrobe Assistants were on standby for intervals, quick changes and emergencies. Hours were irregular with late nights and early starts when there were matinees and, with a 4 day on, 3 day off shift, weekends were not always at the weekend. This meant that I was frequently in the West End at meal times and in the company of others, so very quickly I was introduced to, or discovered for myself, a number of eateries that were dependable, affordable and had an edge of West End dirty glamour to seduce this city returnee.
Many of these were institutions, but although some of them are still there, many are now sadly gone due to development. Gaby's Deli on Charing Cross Road, famed for falafel and kofta, the New World Dim Sum restaurant on Gerrard Place (only recently closed), where it was easy to get seriously stuffed on the trolleys that kept passing with delicious new dishes. Pollo Bar, with its greasy vinyl booths upstairs and smoky beatnik vibe in the basement, where huge bowls of pasta and endless carafes of red wine were cheap as chips, and Jimmy's Greek restaurant on Frith Street, where the clattery basement and copious retsina was conducive to increasingly raucous evenings. If you wanted something more traditional there was New Piccadilly, the classic greasy spoon or The Stockpot, where tomato soup, Shepherd's Pie and apple crumble and custard were the order of the day.
Another much-loved restaurant, although far from Soho, was Daquise, the Polish in South Kensington, which was my habitual destination after a visit to the V & A. The smell of the restaurant was very particular, a combination of boiled cabbage and meat overlaid with home-baked cakes that instantly transported you to eastern Europe. Favourites were the cheese and onion dumplings, boiled beef or schnitzel followed by their superlative cheesecake. However, no matter what else I ordered I would always order borscht.
This borscht was the first I had ever eaten and it became the benchmark by which I have measured all others. Clear, rich, jewel-bright stock, with enough vegetables to fill you up, but leaving just enough room for a plate of cheese pancakes with apple. Since then I have made any number of 'borschts', many of which I am sure would infuriate purists, but nothing comforts on a chill winter's day like beetroot soup. I came up with the version below as I had a hunch that the comparable earthy flavours of beetroot and wild mushrooms would work well together. When researching this piece, however, it came as no surprise, although some little disappointment, to find that the Polish had had this bright idea a long, long time ago. In particular an age-old borscht traditionally served on Christmas Eve is a clear beetroot broth with wild mushroom pierogi floating in it. Now on my list to try.
Here at Hillside we grow up to four crops of beetroot in a season, starting with an early sowing as soon as the weather warms in April and resowing every month or so. The last sowing is made in early August and these are the ones we leave in the ground to overwinter. One day, when we have a frost-free root store, we will lift them before the frosts in November and cover them in just damp sand. Until then, the roots take their chances with the weather and the slugs, but most make it to the table.
This year we have grown our standard favoured varieties. The flattened, dark 'Egitto Migliorata' which we tend to harvest young, the saffron 'Burpees Golden' and the long-rooted 'Cylindra', which is favoured in eastern Europe for pickling, as the long roots create many identical slices rather than the fewer central slices from a spherical root. Their upright shape means you get more plants to a row and, although they can reach up to 500g in weight, they remain sweet and not woody. It stands very well for us in the ground over winter.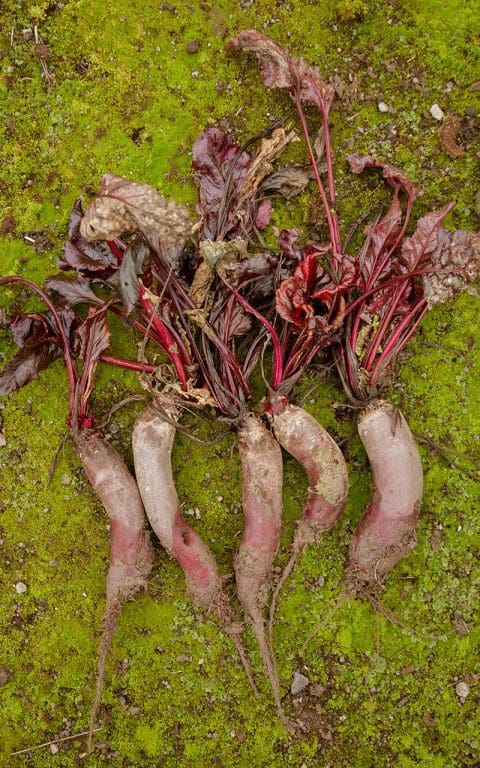 Serves 6
INGREDIENTS
2 medium onions, coarsely chopped
2 sticks celery, coarsely chopped
1 large carrot, diced
500g beetroot, peeled and coarsely grated
30g dried porcini or other wild mushrooms
1 large bay leaf
3 allspice berries
8 juniper berries
1.7 litres water or vegetable stock
2 tablespoons sunflower or rapeseed oil
Apple cider vinegar
Salt
Finely ground black pepper
TO SERVE
Soured cream or sauerkraut
METHOD
Bring 750ml of the water or stock to the boil in a pan. Remove from the heat, add the dried mushrooms and cover. Leave to stand while you prepare the vegetables.
Heat the oil in a large thick-bottomed pan. Add the onion, celery and carrot and fry, stirring frequently, until the vegetables start to brown and caramelise.
Finely crush the juniper and allspice in a mortar and add to the vegetables. Continue to cook over a low heat for a minute or two until fragrant.
Drain the soaked mushrooms and retain the soaking water. You should have around 700ml. Make up the total amount of liquid required with water or stock. Coarsely chop the mushrooms, add to the pan of vegetables and cook for another minute or two. Add the grated beetroot.
Pour the mushroom stock into the pan through a sieve. Bring to the boil and then reduce the heat and simmer with the lid on for 45 minutes until all the vegetables are soft and the flavours have combined.
Season with salt, pepper and brighten the flavour with vinegar to taste. I like my borscht to be well seasoned.
Ladle the soup into warm bowls. Spoon on some soured cream or sauerkraut. The golden turmeric sauerkraut from Bath Culture House I have used makes a nice contrast to the rich, ruby soup.
Recipe & Photographs | Huw Morgan
Published 25 January 2020