The late summer perennials are upon us. The components of this bunch have all been out for a fortnight and have steadied the garden through the latter part of August, a difficult month that can all too easily see gaps opening up where earlier performers are spent.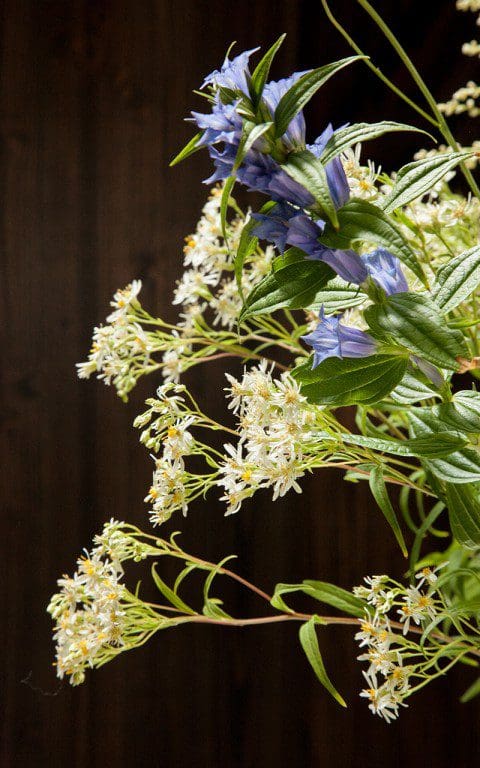 Gentiana asclepiadea with Aster umbellatus
Gentiana asclepiadea is the best-known to me. In fact this original plant is one that I have moved about with me since my Home Farm days, where I first used it. It is always listed as autumn-flowering, which is somewhat misleading, but I know when I start to see its colour that summer is ebbing.
Gentians are usually picky plants. We treated them casually when I worked on the Rock Garden as a student at the Royal Botanic Garden Edinburgh, but once back down south I soon learned that the majority prefer a cool, moist atmosphere with a humus-rich, acidic soil. Not so this lovely perennial. Grow it in retentive ground on the north side of something taller to give it a little shade in the hottest part of the day and it is remarkably adaptable.
It is a beautiful thing from the moment it emerges in spring, the leaves folded and shiny, like armour. The growth rises to no more than a couple of feet before arching under the weight of bud and revealing why it's common name is Willow Gentian. The arching habit is what makes it such a delightful companion, for it covers the ground gently without overwhelming smaller partners. Since Home Farm this plant has travelled with me for twenty years and was moved a third time this spring to make way for the new landscaping. I was surprised to find it had grown into a clump that was difficult to manhandle alone. I will divide it in April and put it amongst hellebores on the cool side of the little barn. Here it is teamed with the lofty Aster umbellatus, but in the garden the smaller growing Aster schreberi will add the lightness it benefits from.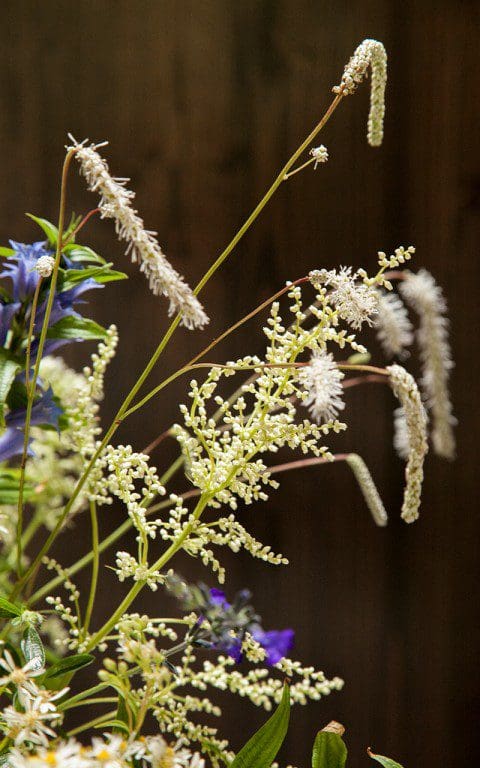 Sanguisorba tenuifolia 'All Time High' and Artemisia lactiflora 'Elfenbein' 
I grew the Aster umbellatus from seed Piet Oudolf gave me when I visited his garden late one autumn. It was out of flower, but stood proud and plateau-flat at two metres. This is its habit and why in America it is called the Flat-Top Aster. In the five years I've been getting to know it, it has never run from its clump or toppled or needed support. It is the first of the asters to flower here and I plan to use it with Sanguisorba tenuifolia 'All Time High', a Japanese burnet which has emerged as a good one in my sanguisorba trial. Its leaves are finely divided and help to keep the overall impression light and lacy. The flowers, dangling and scored like graffiti in bud, produce fine white filaments as they mature, like those of plantain flowers. They will hover around the aster's tabletop.
I must admit to having given up on Artemisia lactiflora 'Guizhou'. I liked the idea of its creamy verge-side appearance and the dark, finely-cut foliage, but it always got burnt and has never done well for me. So, it was a surprise to be given this form – Artemisia lactiflora 'Elfenbein' – by Chris & Toby Marchant at Orchard Dene Nurseries. Dark green foliage, finely divided again, is the foil to the creamy flowers. It is has been well-behaved to date, happy on our retentive ground and nicely clump-forming. As I look out of the window now, it is filled with afternoon light, caught in its inflorescence and allowing your eye to travel from one cream grouping to another.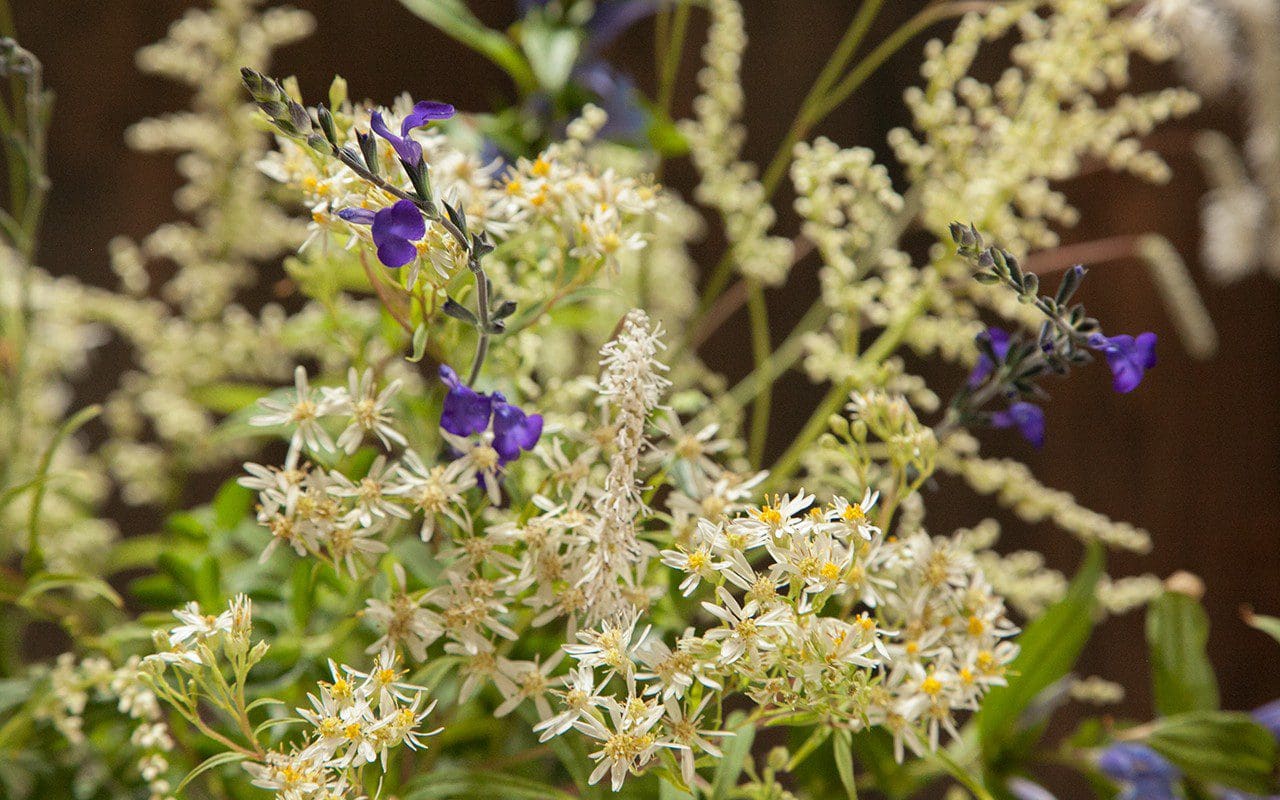 Salvia greggii 'Blue Note' and Aster umbellatus
Salvia greggii 'Blue Note' is not a plant I will combine with any of the above as it likes a hot, dry spot and is low-growing, but it does illustrate the importance of contrast and I like its inky darkness with the off-whites here. It is a great little plant, layering gently where it touches down and smelling muskily of blackcurrants when you brush the foliage. I see it combined with lavenders and have made a note to myself as a reminder to make the coupling next year.
Words: Dan Pearson / Photographs: Huw Morgan