We have just returned from Greece and a browned and dusty landscape that had not seen water since April. We arrived back to a season changed. Fields deep and lush with grass, hedges flashing autumn colour, dimmed as they reached into a shroud of drizzle. Our distinctive line of beech at the end of the valley all but hidden by cloud and windfalls shadowing the slopes beneath the apple trees in the orchard where, just a fortnight before, the branches had been weighted. It took a day to retune the eye, but here I sit not a week later with the sun streaming in over my desk and the studio doors wide open to the garden. It is the stillest, most perfect day of autumn and the garden has weathered well. Aged too by the window of time we have been away, but certainly not lesser now that we are in step again with the season.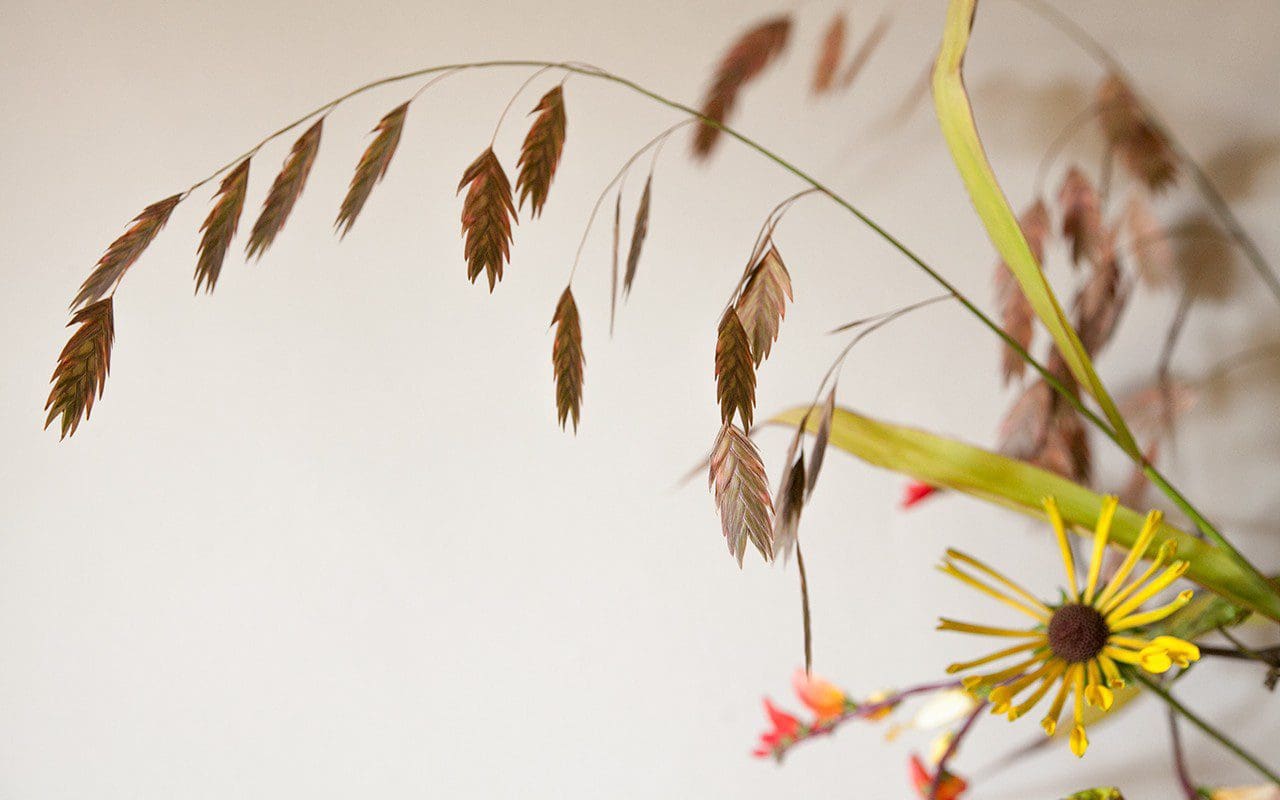 As a way back into the garden this morning we have picked a posy to mark a feeling of this change. The
Chasmanthium latifolium
are probably at their best, coppery-bronze and hovering above their still lime-green leaves. The perfectly flat flowers appear to have been pressed in a book. Like metallic
paillettes
they shimmer and bob in the slightest of breezes. I must admit to not having understood the requirements of this plant until recently and, though it is adaptable to a little shade
and
sun, it likes some shelter to flourish. Where I have used it in China in the searing heat of a Shanghai summer it has done superbly, spilling in a fountain of flower held well above the strappy foliage. It must like the humidity there. In the UK I have found it does best with some protection from the wind. My best plants here are on the leeward side of hawthorns, those in the same planting to the windward side have all but failed. It is a grass that is worth the time and effort to make its acquaintance. Though the seedheads which mark the life that come before them now outweigh the flower in the garden, we have plenty to ground a posy. Scarcity makes late flower that much more precious and I like to make sure that we have smatterings amongst the late-season grasses. Brick-red schizostylis, flashes of late, navy salvia and clouds of powder blue asters pull your eye through the gauziness. The last push of Indian summer heat has yielded a late crop of dahlia, which have yet to be tickled by cold. I have three species here in the garden specifically for this moment. All singles and delicate in their demeanour. The white form of
Dahlia merckii
and the brightly mauve
D. australis
have shown their cold-hardiness and remain in the ground over winter with a mulch, but the
Dahlia coccinea
var.
palmeri
in this posy is new to me.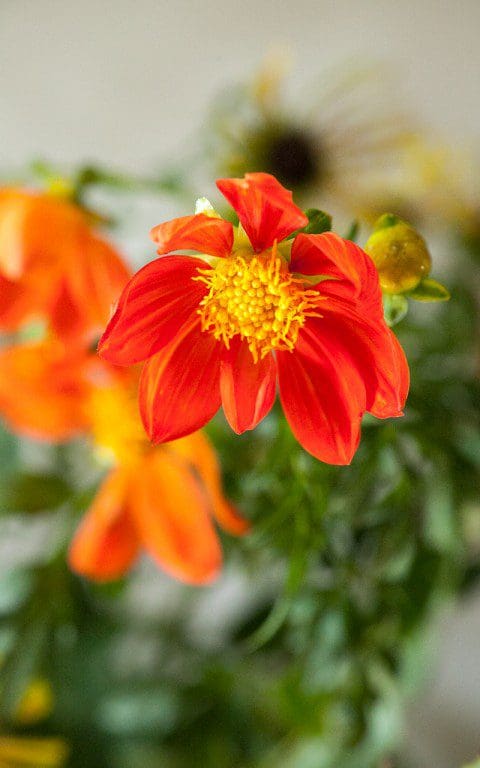 I hope it is hardy enough to stay in the ground here. As soon as frost blackens the foliage, each plant will be mulched with a mound of compost to protect the tubers from frost. Distinctive for its feathered, ferny foliage and reaching, wiry limbs, this first year has shown my plants attaining about a metre, two thirds of their promise once they are established. This is not a showy plant, the flowers sparse and delicately suspended, but the colour is a punchy and rich tangerine orange, the boss of stamens egg-yolk yellow. We have it here with
Rudbeckia subtomentosa
'Little Henry', which is also how it is teamed in the garden. 'Little Henry' is a shorter form of
R. s.
'Henry Eilers' and, at about 60 to 90cm, better for being self-supporting. Usually I shy away from short forms, the elegance of the parent often being lost in horticultural selection, but 'Little Henry' is a keeper. They have been in flower now since the end of August and will only be dimmed by frost. Where you have to give yourself over to a Black-eyed-Susan and their flare of artificial sunlight, the rolled petals of 'Little Henry' are matt and a sophisticated shade of straw yellow, revealing just a flash of gold as the quills splay flat at the ends.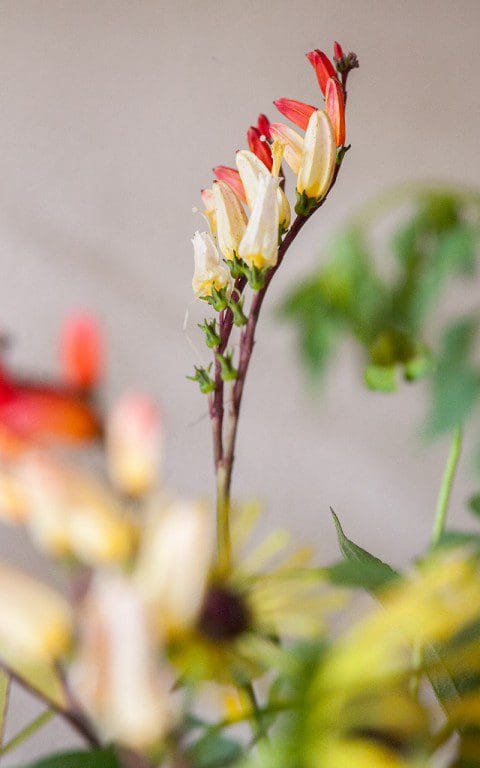 We have waited a long time this year for the
Ipomoea lobata
as it sprawled, then mounded and all but eclipsed the sunflowers. We always had a pot of this exotic-looking climber in our Peckham garden, but I have not grown it here yet and have been surprised by the amount of foliage it has produced at the expense of flower. Nasturtiums do this too in rich soil and, if I am to have earlier flower in the future, I will have to seek out an area of poorer ground. That will not suit the sunflowers, but I will find it a suitable partner that it can climb through. It is very easy from seed. Sown in late April in the cold frame and planted out after risk of frost, this is a reliable annual, or at least I thought so until I presented it with my hearty soil. Though late to start flowering this year, it also keeps going till the first frosts, its lick and flame of flower well-suited to the seasonal flare.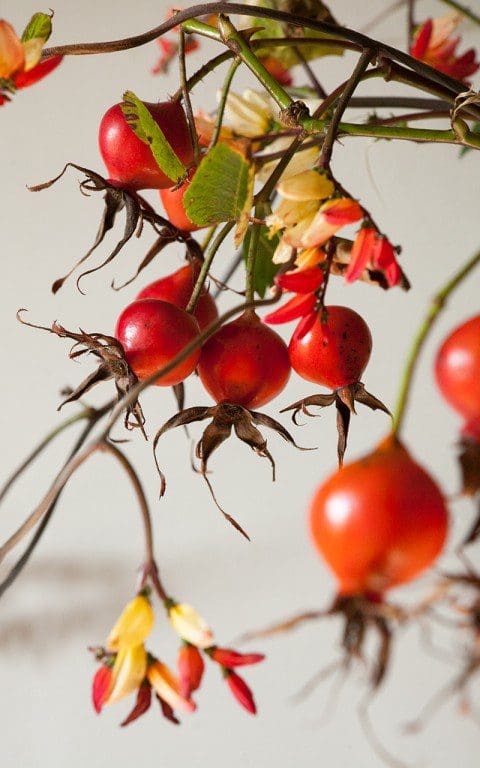 Roses that flower once and then hip beautifully are worth their brevity and we have included
R.
'Scharlachglut' here, a single rose that I wrote about in flower earlier this year. The hips are much larger than a dog rose, but retain their elegance due to the length of the calyces, which put a Rococo twist on these pumpkin-orange orbs. Despite its ornamental quality when flowering, it is a plant that I am happy to use on the periphery of the garden and one that, in its second incarnation, I can be sure of seeing the season out.