I love pumpkin, I really do, but given the success we have with them here, the number in the toolshed hardly seems to decrease through the winter, no matter how often we eat them. 42 (this year's total down on last year's 86, when we had a much larger pumpkin patch) is a lot of pumpkin to get through and the winter squash mountain creates a kind of recipe-blindness that renders me incapable of thinking up anything more exciting than soup, roast or mash.
Of course, we do make risotto, with thyme, saffron and bay, and pastas sauced with pumpkin and ricotta, served with crisp sage leaves fried in butter. I have made pumpkin gnocchi and pumpkin lasagne. Japan offers contrasting ways of experiencing squash, from the crisp succulence of paper thin slices of tempura to earthy, peasant stews of pumpkin and aduki beans, the comfort food of panko-crumbed pumpkin croquettes or hunks poached in shiitake mushroom stock with ginger and spring onions. But I am always on the lookout for new ways to diminish the pumpkin pile.
The natural sweetness of pumpkin lends itself to use in dessert dishes and, like carrot, parsnip and beetroot, can be useful if you are trying to reduce the amount of processed and refined sugar in your diet. However, the best-known sweet squash dish, pumpkin pie, has never really appealed, due in large part to those unappetising tins of pre-cooked pumpkin puree that appear in the shops before Halloween. I have also been a little wary of the Americanisation of our seasonal diet with the recent proliferation of pumpkin spice cupcakes and lattes. However, warm spices are a natural partner for pumpkin in both savoury and sweet dishes and I devised this spiced cake as a lighter option than the traditional heavy fruit cake, which can be too rich at this time of year. A hybrid of carrot cake, gingerbread and lebkuchen, it is also quick to make and to decorate at a time when every minute counts.
It is crucial to choose a dry variety of pumpkin, otherwise the water content can result in a wet, gluey cake. Having trialled many varieties over the years we now grow only kabocha ('Cha-cha') and onion squash ('Uchiki Kuri') as they have the best flavour and for us they are the best keepers. With its fudgy, chestnut-flavoured flesh the kabocha squash is the best choice here, but if you can't get it butternut squash is an acceptable replacement. The pumpkin can be cooked ahead of time whenever you are using the oven. Combined with dates and maple syrup it creates a cake that is naturally sweet and moist, making it a very good keeper, so it's useful to have one around at this time of year when unexpected visitors come calling. The balance of spices can be adjusted to personal taste or depending on what's in the pantry, but for the very best flavour they should all be as fresh as possible and ground in either a mortar or a spice mill.
If you have a Bundt tin this cake looks effortlessly festive with just a heavy coat of icing sugar. If making in a simple square or round tin I would be inclined to finish it with a dressier coat of cream cheese icing sweetened with unrefined icing sugar and maple syrup, and worked into snowy peaks.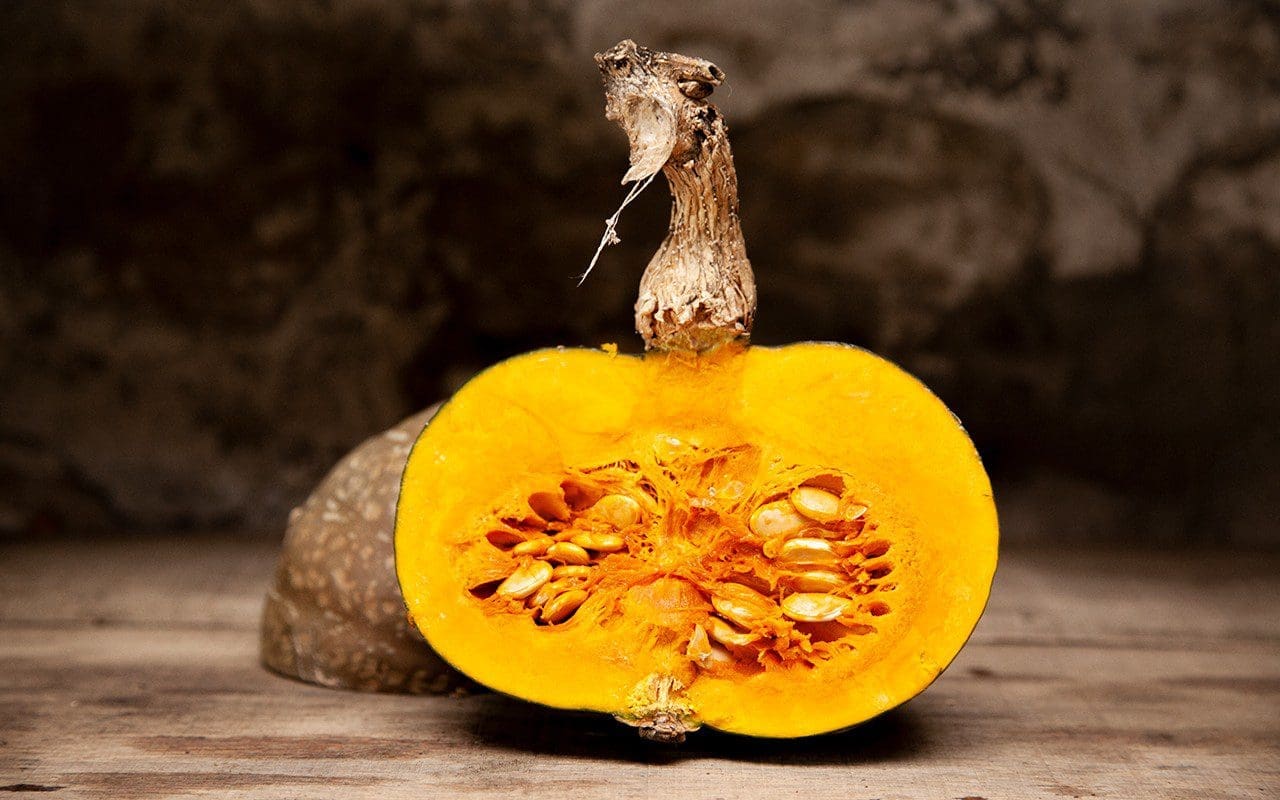 Pumpkin 'Cha-cha'
INGREDIENTS
Cake
300g cooked pumpkin
200g soft dates (weight with stones removed)
100ml maple syrup (or honey)
250ml rapeseed, sunflower or other light oil
50ml juice and zest of one orange
3 large eggs
200g plain flour
200g ground almonds
2½ teaspoons baking powder
1 teaspoon cinnamon, freshly ground
1 teaspoon nutmeg, freshly grated
1 teaspoon ground ginger
½ teaspoon ground allspice, finely ground
½ teaspoon black pepper, finely ground
7 cloves, finely ground
A blade of mace, powdered
The seeds from five cardamom pods, finely ground
150g marzipan
25g sultanas
25g dried cranberries
3 tablespoons brandy (or strong, freshly brewed tea)
Icing
4 tbsp maple syrup
2 tablespoons brandy (or orange juice)
Icing sugar
1 10 cup/2.3 litre Bundt tin (or a 20cm square or a 22cm round cake tin each about 6cm deep)
METHOD
Set the oven to 180˚C.
If you do not have a non-stick cake tin, lightly brush the inside with oil, then sprinkle with two teaspoons of plain flour. Shake and rotate the tin to ensure all surfaces are coated and then turn upside down over the sink to dispense with any excess flour.
Chop the dates and put in a bowl with the orange juice and maple syrup. Put the 3 tablespoons of brandy (or hot tea) in another smaller bowl with the sultanas and cranberries. Leave both to stand while you cook the pumpkin.
For 300g of cooked pumpkin you will need a piece of pumpkin of approximately 400g with the skin on and seeds in. Scrape out the seeds with a tablespoon and wrap the pumpkin tightly in kitchen foil. Place on a baking sheet and cook for 45-60 minutes until soft. Remove the foil and allow to cool, then scrape the flesh from the skin with a metal spoon. Dispose of the skin or use for stock.
Put the dates and their soaking liquid into a blender and process until smooth. Add the oil and process again. Then add the eggs, orange zest and vanilla essence and process again until well mixed. Finally add the pumpkin and process again until completely smooth. Transfer to a large mixing bowl.
Sift the flour, baking powder and spices into a bowl. Stir through the ground almonds. Carefully fold the dry mixture into the wet mixture, being careful not to overmix. Remove the soaked dried fruit from the brandy (or tea), squeeze to remove excess liquid and quickly fold in. Retain the brandy, if used, for the icing.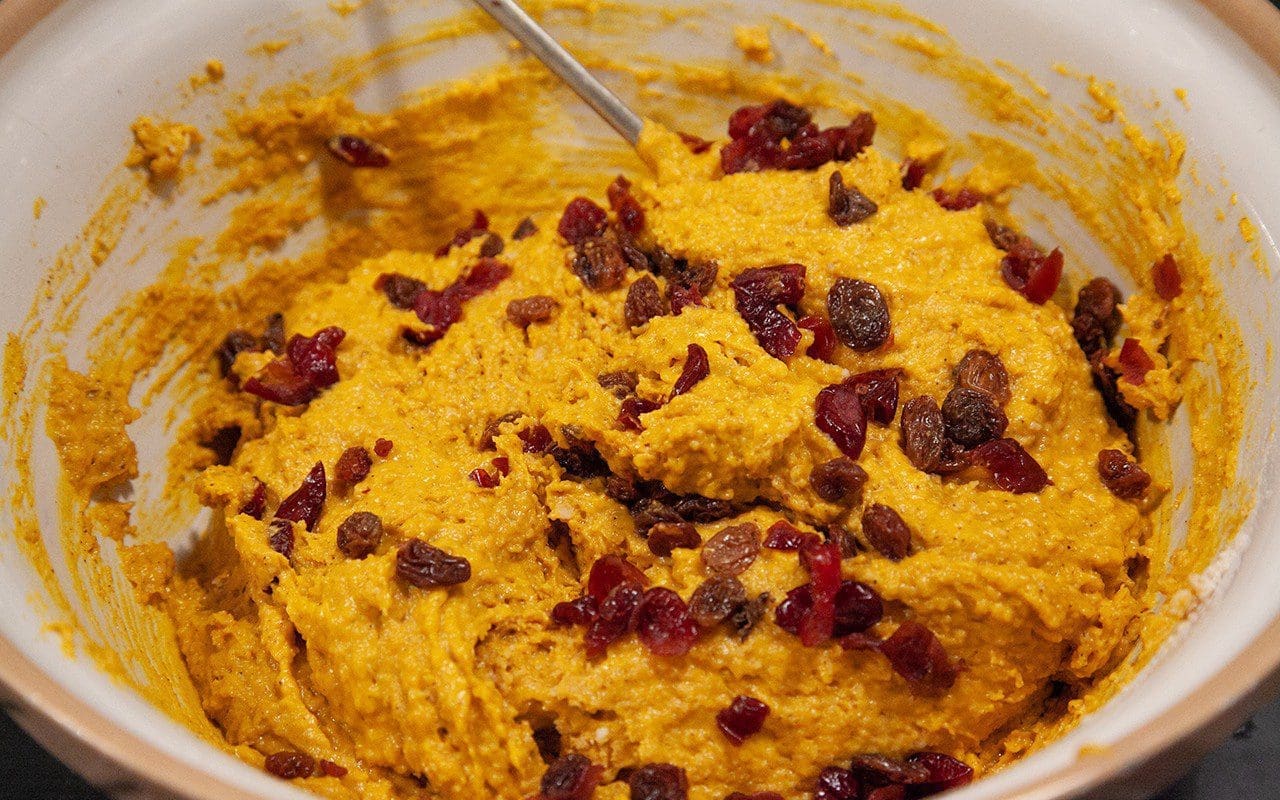 Spoon about half of the mixture into the tin. Divide the marzipan into three and roll each piece into a thick sausage about 1.5cm in diameter. Shape them to fit around the centre of the circular pan in the middle of the mixture. Spoon over the final half of the cake mix and carefully smooth the top. If baking in a square or round tin you can break the marzipan into thumbnail-sized pieces and fold gently into the mixture with the dried fruit.
Put the Bundt tin onto a baking sheet and bake for 45-55 minutes until a skewer comes out clean. Allow to cool in the tin for 15 minutes and then carefully turn out onto a cooling rack set over a piece of greaseproof paper.
To make the icing, mix together the maple syrup and brandy in a small bowl. While the cake is still warm coat the whole cake with one coat of the syrup using a pastry brush. Allow to cool completely, then paint once again with the remaining syrup and brandy mixture. Then dredge the cake heavily with well-sieved icing sugar. You may need to do this several times to achieve a suitably snowy coating.
Transfer to a large plate, decorate with seasonal berries or leaves.
Provides 16 slices.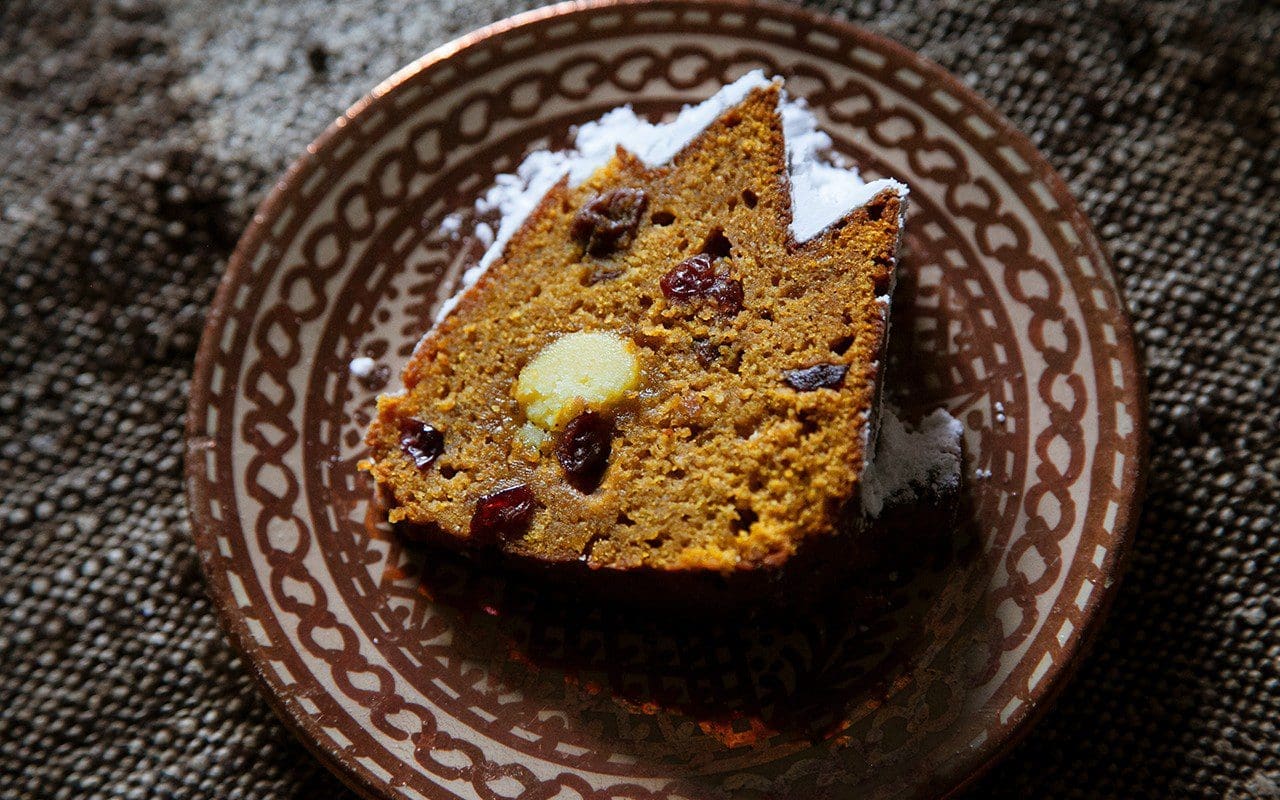 Recipe & photographs: Huw Morgan
Published 15 December 2018